So here it is, 3rd October, already!  Hope you've all got a lovely crafty day planned in honour of World Card Making Day!
To see my sneak preview for Kraftin' Kimmie Stamps today, please scroll down to the next post!  You won't want to miss checking out the adorable image designed by Crissy Armstrong!
To celebrate World Card Making Day, I am offering 10% off ALL in stock items over at Quixotic Paperie.  That's right, everything is 10% off for today and Sunday (3rd and 4th October 2009).   This offer excluses pre-order items.
In extra good news for your wallets – DCWV stacks have now shifted to a bargain 50% off, and Paper Pretties stamps are now 35% off.
As if that weren't enough, the Quixotic Paperie Design Team and I also all have mini candy available!  Whoo!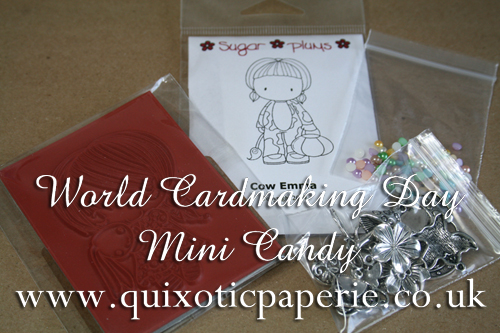 To enter the draw to win my mini candy, which includes two gorgeous stamps, a pack of charms and a pack of 4mm flat backed pearls, simply enter your name and blog address into Mr. Linky below.  If you don't have a blog, please simply enter your name along with this blog address and leave a comment so I have your email address to contact you.
If you're not already a follower of this blog, I'd love for you to become one (the widget is up at the top of my sidebar), but it isn't necessary to enter for the prize.
EDIT: I'd forget my head if it weren't screwed on!  I should have mentioned before that the draw for this candy closes on Saturday 10th October at 1pm UK time, so you've got a week to enter!  I will announce the winner here on this blog later that day.  If the winner hasn't made contact within three days of the announcement, another winner will be drawn!
Be in with a chance of winning even more candy by visiting the Quixotic Paperie Design Team blogs:
– Kim Dellow – Carole Middlehurst – Rowena Barnard – Judy Laing –
And just a quick reminder – you still have time to enter my Whimsy Stamps prize draw, which is open till tomorrow (Sunday 4th October).  Check it out here.
Have a fantastic crafty weekend!