Whoo!  It's release day for Kraftin' Kimmie Stamps and as usual there is a blog hop going on! 
There are 4 new fantastical images from Crissy Armstrong, 4 new fun and funky images from Annie Rodrigue, 4 adorable images from Jean Grant and two new sets of coordinating sentiments! You'll get to check out all the images throughout our fabulous blog hop.
Quick Note: If you're in the UK/Europe you can now order all the new Kraftin' Kimmie Stamps from Quixotic Paperie HERE – the stamps are in stock and ready to dispatch on Monday. If you're in the US/Canada then pop along to the Kraftin' Kimmie Stamps site!
If you have hopped over here from *** Donna's fabulous blog  *** then you are on the right track!  If not, then please go back to the start over at the Kraftin' Kimmie Stamps blog so you don't miss out on any of the gorgeous creations!
I've used another of Annie Rodrigue's Moonlight Whispers images for today's card.  What can I say?  I love them!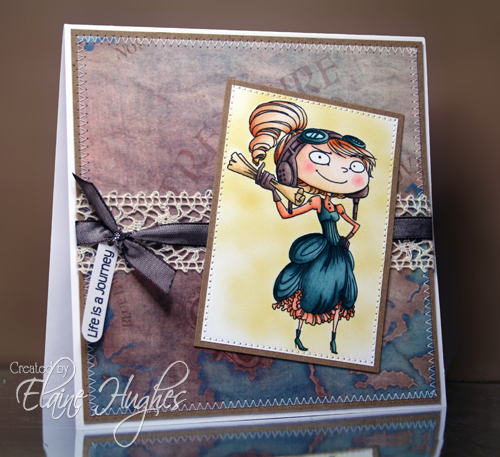 This is Genevieve, and she comes with a little map accessory stamp!
I've coloured Genevieve with Copics and airbrushed in the background.  The sentiment is, once again, from the new Steampunk Phrases set, which I may have mentioned that I love!
Your next stop on the hop is illustrator extraordinaire ***Crissy Armstrong ***, I just *know* she has something stunning to share with you!
Have a wonderful Sunday!