Ok, so this should actually have been blogged on Sunday.  Somehow the weekend didn't quite go according to plan and I totally lost track of time!  I spent much of it playing with spreadsheets.  I did manage some colouring though!
Firstly, I have a winner to announce for my latest Elaine's Sweet Selection candy draw!  The winner of the Magnolia stamp and papers/embellishments pack is….
Congratulations Wynneth!  Drop me an email with your details and some sweet candy will be winging its way to you!
There will be some more sweet candy posted shortly, so keep your eyes peeled!
Now, before I show you my card for today (and remember, lets pretend its still Sunday!), I have some BELLARIFFIC news to share!  The Stamping Bella DT call is now closed, and the new babes have been chosen.  There are THREE fantastic and wonderfully creative babes joining the group, so Bellariffic Fridays are going to be even more exciting from here on!  A big welcome to WENDY BOND, CATHY GRODEN and PAULINE GODFREY.  Do pop by their blogs and say hello!
So, finally, my card!  Today I've used one of the awesome male images from the Mo Manning for Stamping Bella line – GAME ON  (Game On and other Mo Manning for Stamping Bella images are all available in the UK at Quixotic Paperie).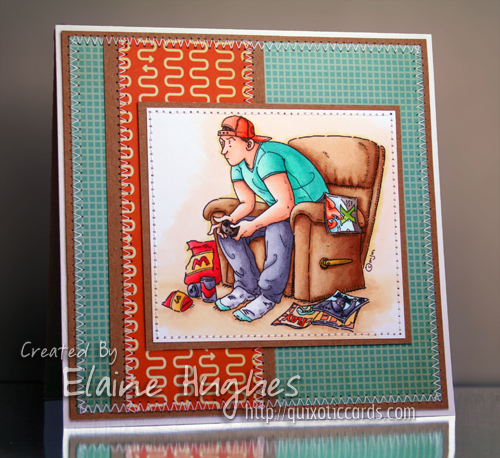 Perfect for most of the men in my life! 
Coloured with Copic Markers.
Skin: E000, E00, E11, Hair: E44, E47 Outfit: BG10, BG11, BG13, BG15, YR61, YR65, YR68, C1, C3, C5
Chair etc: E30, E31, E34, E35, Y21, Y26, Y28 Background Shading: YR0000, YR21, E50, E53
The papers are Cosmo Cricket Joy Ride (Joy Ride and other Cosmo Cricket Mini Decks are available in the UK at Quixotic Paperie).
You can now check out another set of TANTALIZING TOOSDAY offers over at Stamping Bella!  Pop on over and see what DA BELLA has for you this time!
ALSO – this week's Bellariffic Friday theme is ANIMALS!  Use any Stamping Bella animal stamp and email it to DA BELLA by Thursday evening to be in with the chance of winning some Bella Bucks!
Phew.  That's it from me for now!  Time to go back to playing catch up!  Will return later with some new candy and then my Quixotic Challenge card!