Well, as you can see, there hasn't been a whole lot going on here in the last week or so.  I'm feeling a little drained, creatively, so I'm taking a little time to recharge.  I will still be blogging, but for the next few weeks I'll be doing some slightly different stuff, including hopefully shooting a few more videos (with sound 😉 ).
A big thank you to all of you who left such lovely comments on my first Copic colouring video  and on my second Copic colouring video!  Hugely appreciated and I'm glad you all enjoyed them.
This is the final video featuring Mo Manning's "Kissy", shot in December, and after this I will be trying to shoot videos with audio!  In the meantime, the Copic colours used are captioned at each stage, and the videos are available in HD so you can get a clear view of how I colour.
This third video shows how I coloured the outfit on Mo Manning's "Kissy" for my Thanks Bunches card.
As you will see, I used my mid-tone first, rather than colouring from dark to light.  My starting colour very much depends on the colours I'm using, and the effect I want to achieve.  I also tend to do this if I'm using colours that have a tendency to misbehave, like the Reds.  You will see that I do layer a lot, but when I lay down the colour each time, I use fairly light strokes.
The completed image: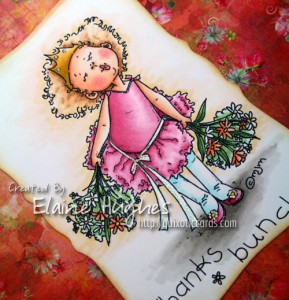 You can find the rubber stamp in the UK at www.quixoticpaperie.co.uk or in Canada direct from www.stampingbella.com.
The digital image is available from Mo Manning's store www.digitalpenciltoo.com.
Cardstock used is Neenah Classic Crest Solar White Super Smooth. 
If you have any questions at all, feel free to ask away in the comments section here and I will do my best to answer them! I hope you enjoy the video and find it useful – if you do, I'd love to hear from you.