Remember the adorable Peekers illustrated by Elisabeth Bell for SCACD Stamps?  I'm sure you do, as they have proved very popular!  Well, we're back again with more of these delightful images, in Elisabeth's second collection of Peekers from SCACD Stamps.
Over the next few days, the SCACD Team are previewing the new collection, so make sure you check in over at the SCACD Store Blog to see where you can find Peekers each day!
Release day is 29th July 2011, and the stamps will be available direct from Susana's Custom Art & Card Design OR for those of you in the UK/Europe from Quixotic Paperie!
Today is the first day of previews, and the lovely and oh so talented Janiel is joining me to show off the first of the new Peeker collection!  I'm definitely a fan of Janiel's work, so I'm excited to pop over and see what she has created today.
PRIZE ALERT: Leave a comment on both mine and Janiel's blogs today and you could be in with a chance of winning the gorgeous Peeker stamp we're previewing!  See the SCACD Store Blog for full details on the release and prize draws.
Without further ado, meet… SECRET GARDEN PEEKER!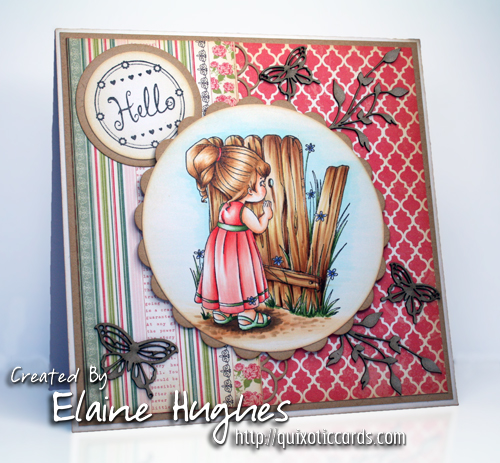 Isn't she adorable?  Such a sweet, sentimental image.  What do you think she's peeking at on the other side of the fence?
All colouring was done with Copic Markers on Make it Colour Blending Card.  If I were doing this one again, I'd probably colour the hair differently, to give a better contrast with the fence, but it doesn't look too bad.
The gorgeous paper was perfect for this card and comes from the Echo Park – Victoria Garden 6×6 pad.  I inked the edges of each layer with Distress Ink – Antique Linen just to add to the slightly vintage/memories of days gone by feel.  That Whimsy Shapeology Double Scallop Border Die came out again too along with the Bazzill Kraft Cardstock!
The sweet sentiment is from the "Hello Go Round" set by The Greeting Farm.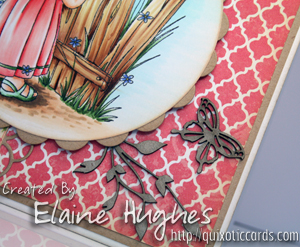 That delish chipboard?  It's all from the Make it Crafty Butterfly Leaves lasercut chipboard pack (available here in the UK at Quixotic Paperie).  I really love the Make it Crafty chipboard packs, the designs are so delicate and detailed, perfect for accenting cards as well as other papercraft projects.
If you're in the US, Susana has the Make it Crafty chipboard packs at Susana's Custom Art & Card Design so you can grab a pack or two when you pick up your Peekers!
Copics Used:
Skin: E0000, E000, E00, E93, E95 Hair: E50, E53, E55, E57 Outfit: R30, R21, R22, G0000, G82, G99 Fence: E31, E34, E57, Y21 Ground/Grass/Flowers: E50, E53, E55, E44, E47, G82, G94, B63, B66 Sky: B000, B0000
That's all from me!  Make sure you pop over and check out Janiel's creation, which will no doubt be utterly gorgeous!  And check back on the SCACD Store Blog tomorrow to see who has the next Peeker on show!