This morning, I suddenly realised that the last time I blogged was a week ago!  It really doesn't seem like that long!
So, what happened to me?  Not much really, apart from feeling a bit under the weather for a few days, and generally being busy.  Unfortunately the combination of not feeling one hundred percent and being busy, meant my creativity has taken a bit of a hit!  I'm only just getting back into the swing of colouring…and that has not been disaster free (I'll be telling you more about that sometime next week).
Anyway, there are a few bits and pieces of fun crafty news I can share, so here goes!
Firstly, the lovely Jo Nevill has a fab set of cards in this month's issue of Cardmaking & Papercraft magazine.  She has used Victoria Case for SCACD Stamps and Kraftin' Kimmie Stamps images that are all available over at Quixotic Paperie!  Well worth a look at the mag, as Jo's cards are truly fab – very fresh and summery!
If you click to make the pic bigger, you'll see one of Jo's cards on the front of the mag (bottom middle), featuring Victoria Case's "Hot Stuff" image from SCACD.
Speaking of SCACD Stamps – today has seen the release of four fun new stamps, details of which you will find over on the SCACD Store Blog.  All four stamps are making their way to Quixotic Paperie, so UK/Europe readers watch this space (and in the meantime check out the awesome selection we have in stock)!  US/Canada readers can grab the stamps now over at Susana's Custom Art & Card Design.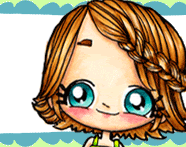 If, like me, you love the fun images from Some Odd Girl Stamps, you need to check out the Some Odd Girl blog for previews of the new clear stamp release!  Stamps are being released on 12th July 2011 and I have them here waiting for release day to arrive!  Previously released designs are all currently in stock.
As if that weren't enough, there is something very fun happening on 14th July 2011!  A joint digi release from Make it Crafty and Tiddly Inks!  I'm in LOVE with the whole collection, and have some very fun scenes in the works with some of the images.
Rubber addicts – don't despair, keep an eye on the release and I'm sure we can twist Zoe's arm to get some of the Make it Crafty images in rubber.  *wink*
In the meantime, check out the awesome selection of Make it Crafty rubber stamps currently in stock at Quixotic Paperie.  And even if you're happy with digi, you will want to check out the Make it Crafty Lasercut Chipboard – plenty in there to dress up those SteamPunk creations.  And don't forget the Make it Colour blending card if you're planning on colouring your digis with Copic or other alcohol based markers!
Finally, the Quixotic Paperie Design Team have been getting creative, as usual, and you can check out lots of gorgeous makes from them over on the Quixotic Inspirations blog!  Well worth a look, especially if you haven't yet checked out some of their tutorials.
I'll be back with something "creative" to share over the weekend!