Recently, my friend Zoe, fearless leader (hehe) of the Make it Colourful team and owner of Make it Crafty, posted a beautifully coloured image.  That in itself was no surprise, Zoe always posts beautifully coloured images.  This time though, the image had been stamped with a very pale ink, so the image when coloured had no outline.  The effect is very cool, rendering images that would look at home in a children's storybook.  Check out Zoe's post HERE.
Lots of people have been joining in, and posting their efforts in the Make it Crafty Facebook Group.  Some truly stunning work on show, and if you love colouring this friendly group is well worth joining.
So, finally, I have been brave.  I almost chickened out, because some of the images posted have been utterly amazing.  Zoe wasn't letting me get away with it though, so here's my effort!
I coloured the adorable Oliver from The Greeting Farm – Oliver & Amelia Surprise stamp set with Copics on Make it Colour Blending Card (which proved invaluable, as I did a lot of layering on the hair).  I stamped him with Adirondack Dye based Ink – Lake Mist, although it was still a little dark, so I stamped it on a piece of scrap paper first.
The results aren't perfect, but I'm pleased with my first effort!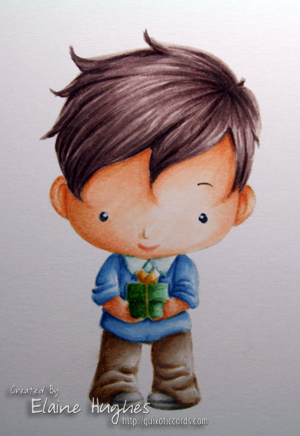 Colouring without the black outline definitely requires more thought in terms of shading, and I found it a very fun and rewarding exercise.  Definitely one I'll repeat again!
Copics Used:
Skin: E000, E21, E11 Hair: E70, E71, E74, E77 Outfit: B41, B45, BG70, BG72, E40, E42, E43, W00, W2, W3, W5 Gift: G0000, G82, G85, Y21, Y26, Y28
If you use FaceBook, do join the Make it Crafty FB Group and let us know if you give this a try, it's fantastic seeing everyone's images popping up!