Today Kraftin' Kimmie Stamps are releasing their new AUGUST stamps!
As you've seen over the last few days in our Krafty Peeks, we have lots of SPOOKTACULAR new stamps for you to play with for HALLOWEEN! There are three new ADORABLE LITTLE WITCHIES from Cheryl Alger, five new HALLOWEEN FUN stamps from Emilie Goulet and six awesome new BATTY PRINCESS AND FRIENDS stamps from Annie Rodrigue!!
You will get to see most of the new images today as you sit back and enjoy our KREEPY Krafty Hop! If you want to start from the beginning, just head over to the Kraftin' Kimmie Challenge Blog! As you hop from blog to blog, be sure to leave a comment at each and every stop because some lucky stampers will win packages of these frightening stamps from the new release!! And when you're done hoppin'…
You should have hopped over here from DEBORAH'S BLOG. If not, you can pop over to the Kraftin' Kimmie Stamps Challenge Blog to start from the beginning.
On my card today I've used one of Annie's spooktastic new images – BATTY AND CATTY.  So cute!  I had planned to create a little scene using last years Halloween House stamp, but unfortunately it has not been my week.  Hopefully I'll pick myself back up and find time to do it though, because I love the fun possibilities with all the Halloween images!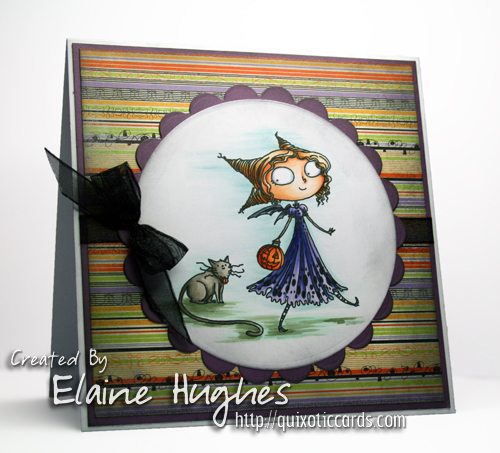 Coloured with Copic Markers on Make it Colour Blending Card.  The fantastic designer paper is from the new Fancy Pants Designs – Oct 31st 6×6 pad. Bow tied with the Bow-Easy template.
Hope you enjoyed checking my card out!  Happy hopping and happy shopping!
Your next stop on the hop is LORI'S BLOG.