Before I talk about the Kraftin' Kimmie Stamps Sept release, I'd like to say a big thank you to everyone who left such lovely comments on my last post, and to those of you who emailed with best wishes.  All your comments and thoughts were much appreciated.  It has been an emotional week.   I am fine though, and slowly getting my creativity back.  It's all still a little bit raw, so I won't dwell on it here, but I wanted you all to know that I am ok!
Now, on to the Kraftin' Kimmie Stamps release previews, because that's what today is all about!  If you missed the first day of previews, pop over to > this post < on the Kraftin' Kimmie Stamps blog and see who had peeks to share of the adorable Cheryl Alger nativity set.
Today, the Krafty Girls are showing off the new images from the Emilie's Etchings range by Emilie Goulet.  I have fallen in love with Emilie's illustrations over the past few months.  Love her fun style, and the images are great fun to colour.  These Christmas images are NO exception!  SO much fun, and I will definitely be colouring them all.  LOVE!  Check out > this post < on the Kraftin' Kimmie Stamps blog for all the details and to see who else has a peek to share!
The new release will be available direct from

Kraftin' Kimmie Stamps

in Canada AND




from Quixotic Paperie

in UK/Europe on Sunday 18th September 2011

.
On my card today I have used the fantastic Gift Wrapping Elf.  Love the joy on her face and that huge bow she's tying!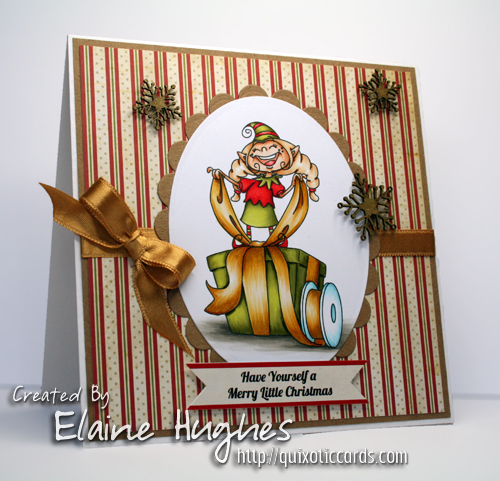 Papers are from the Echo Park Season's Greetings 12×12 collection kit (also available as a 6×6 paper pad).  I love the stickers in this particular kit, and have used one of them instead of a stamped sentiment – I simply stuck it to a piece of scrap card and cut round it, then mounted on foam pads.  The bow was tied using the Bow-Easy template, and those gorgeous snowflakes are from the Make it Crafty Lasercut Chipboard – Snowflake Stars pack – I simply covered them with a gold glitter pen and popped them on foam pads.
The images was coloured with a mixture of Copic and Shinhan Touch Twin Markers on Make it Colour Blending Card.
NOTE: As you pop around to visit the Krafty Girls sharing sneak peeks today, please make sure to leave comments on all their blogs. Kimmie will be drawing THREE winners from the comments…two winners will each receive three of Emilie's new stamps and the third winner will receive the Christmas Interior Sentiment Set!!  The winners' names will be posted tomorrow morning on the Kraftin' Kimmie Stamps Blog. Good luck!
That's all from me, for today.  I'll be back tomorrow with the next peek at the new Kraftin' Kimmie Stamps release, when we will be showing off Annie Rodrigue's new Moonlight Whispers images (they are gorgeous)!