Our youngest niece recently turned one, so of course, I had to make her a card!  She loves pictures of animals, so I knew I wanted to incorporate them on her card somehow, plus I fancied a bit of a colouring challenge, and one of Crissy Armstrong's images came to mind!
When I step outside of my comfort zone in colouring, I often study someone else's work to see how they've approached an image, and fairly often that someone happens to be Crissy!  Before I started colouring the image, I studied Crissy's card.  I loved how Crissy created the cast shadows, and the colours she used, so I attempted to create something similar when colouring.  So, once again, thank you for the fab image and inspiration Crissy!
The image I used is one of Crissy's digital images, available from Whimsy Stamps - Noah's Ark.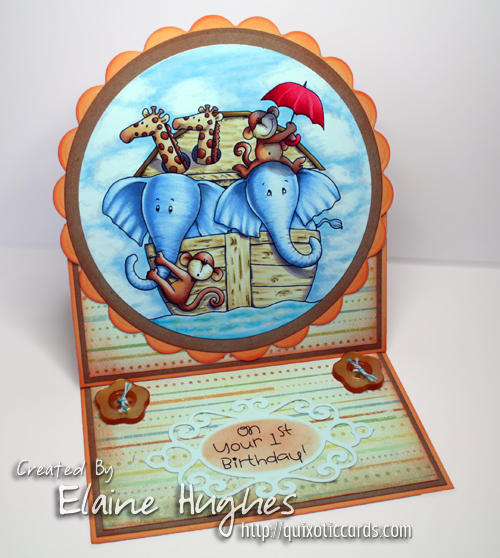 The image was coloured with ShinHan Touch Twin Markers on Make it Colour Blending Card.  See the pic below for details of the marker colours used.  I used Spellbinders Grand Nestabilities to cut out the circle and scalloped layers, and another Spellbinders die for the pretty frame I used for the sentiment.  Papers are from an old favourite Crate Paper line.  I created an easel card because they always look so good in person, and the recipients always seem to enjoy them (in this case the parents moreso than the child!!).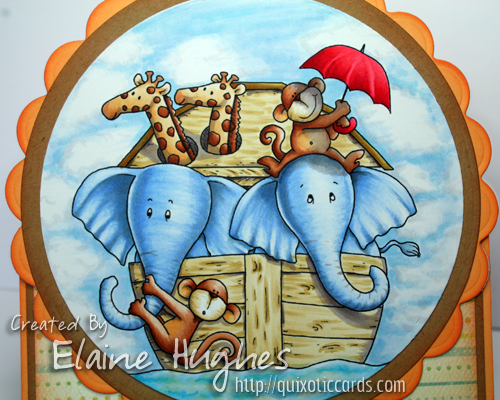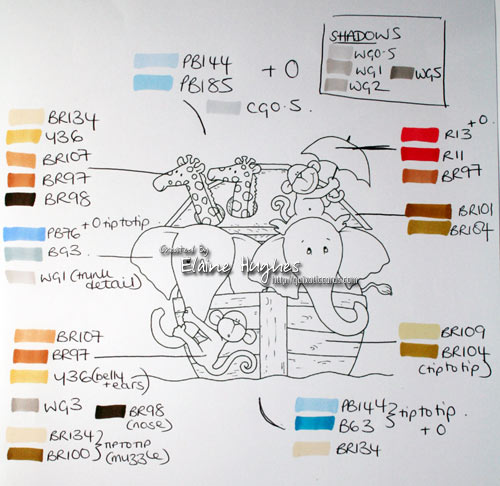 As a little bonus, I have a video showing the colouring of this image.  There's no audio, just a "speed colouring" video showing the process – I always find them quite fun to watch, so I hope you at least enjoy it and perhaps find it a little helpful to see where I started colouring and how it progresses.
That's it for today!  Hope you're having a great week so far – not long now till the weekend!