Has it really been ten days since my last post?  It REALLY doesn't seem like it has been that long.  I swear the universe is playing tricks on me.
We've been enjoying some gorgeous sunshine here in the UK, or rather, the dog has been enjoying it while I've been slaving away indoors.  Alright for some!
Today I can finally share something I have been working on this month.  The lovely (and very talented) Beate asked me to create a guest tutorial for Splitcoast Stampers on "No Line Colouring" and it is live on the SCS website today!  If you receive the weekly SCS newsletter you should see it in there, or you can click >HERE< to go directly to it on the website!
A bit of blurb:
In late 2011, my wonderful friend Zoe McGrath of Make it Crafty caused a stir among stampers with her idea to colour an image with "no lines".  This technique involves stamping an image using a light coloured ink rather than the usual black, brown or dark grey.  As you colour your image, the lines start to disappear, which results in a beautiful effect.
A little more care is required in building up the shading of your image and developing the shadow areas, as you will have no stamped outline to rely on for definition.  On one hand this can be taxing and requires some patience, but it can also allow you more freedom in colouring, particularly when defining hair or other features.  Without building definition using shading, images will look flat.
NOTE: In my tutorial, alcohol based markers (ShinHan Touch Twin) have been used, but the technique would be similar for other mediums such as coloured pencil and of course for other brands of alcohol based marker.
A card:
It seemed fitting to use one of the gorgeous Make it Crafty rubber stamps for the tutorial.  I chose "Sweet Angel" and as with all the Make it Crafty rubber stamps, she is available direct from Make it Crafty in Australia and also in the UK/Europe from me at Quixotic Paperie.
For those of you in the US Make it Crafty stamps are also available from my other wonderful friend Susana at Susana's Custom Art and Card Design.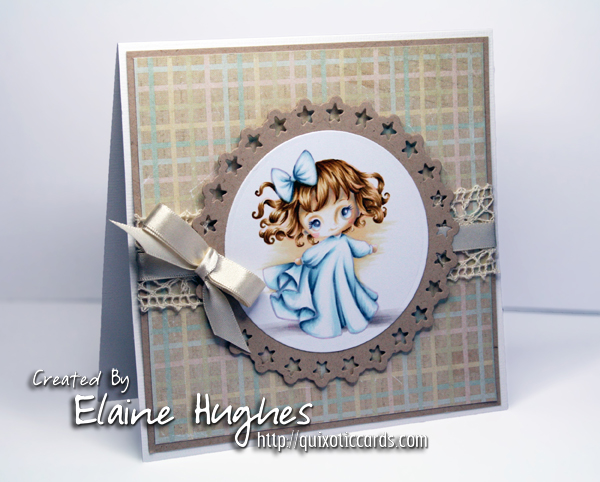 Colouring was done with ShinHan Touch Twin Markers, and as you may know, Susana has these in stock in handy combo sets put together by me at Susana's Custom Art & Card Design.  I stamped the image in Memento Angel Pink on my favourite paper – Make it Colour Blending Card.
A video:
Along with the tutorial I also created a little video (and I won't go into the technical nightmares I had, suffice to say there were tantrums – I REALLY need to sort out my video camera set up!), which features a brand new stamp from my friend Susana's new Susana Loves Stamps line!  When I saw this release I fell head over heels – absolutely love them and can't wait to show you the rest.
Markers used in the video are from the ShinHan Touch Twin Brush Marker combo sets available from Susana's Custom Art & Card Design.
You get a free peek in the video as the new stamps won't be available until Friday!  On Friday 30th March 2012 you will find them here in the UK at Quixotic Paperie along with many other stamps from SCACD, and you will of course find them direct at Susana's Custom Art & Card Design in the US!  More on the release on Friday when you can join us for the hop!
That's it, thanks for dropping by!  Hope you enjoy the tutorial and video, I'd love to hear from you if you do.