I may have mentioned a few times now that I love the latest stamp release in the Susana Loves Stamp range from SCACD Stamps.  Well, I'm going to say it again!  This release has definitely helped renew my creative spark and has had me delving into the supplies I have long been neglecting while obsessing over markers and colouring!  Once upon a time, I used to play with things other than line art and pens, and I'm enjoying exploring that again and learning some new techniques.  Lucky I reorganised my room so I can actually find all the relevant stash!
In case you missed it, here's a link to my previous post, which shows off the first make featuring some of the new Susana Loves Stamps – Blank Canvas Collection – stamps.  You may have noticed in my Project Organisation post that my little "Be" tag book is hanging on my die storage drawers, as a constant reminder!
Today I'd like to share my favourite so far, a tag featuring one of the shells from the Susana Loves Stamps – Elements Collection stamp set (also available in the Shells Set without the other elements).  I stamped the shell with Versamark clear embossing ink onto a tag cut from Make it Colour Blending Card, and embossed with clear embossing powder.  I then covered the tag in Distress Inks using a blending tool.  I used a few different colours to create the water and sky.  To give the impression of waves, I used a Ranger Acrylic Paint dabber in "Snowcap" very lightly in the area where the blue and orange tones meet.  Pretty cool, no?  I finished off the tag with some gold mica flakes for a gorgeous sparkly sand effect, and added some printed twill ribbon across the middle.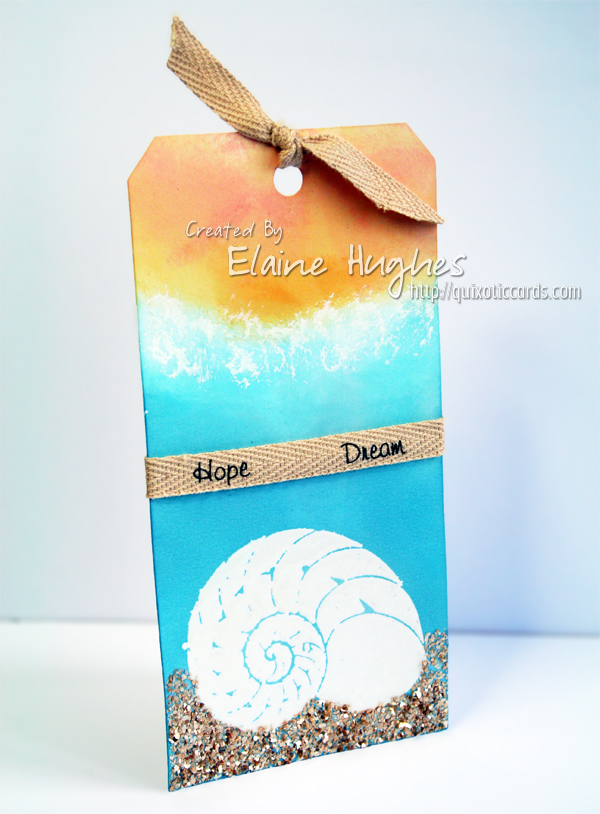 I always feel calm and somewhat hopeful when looking at the sea, and this tag seems to convey some of that.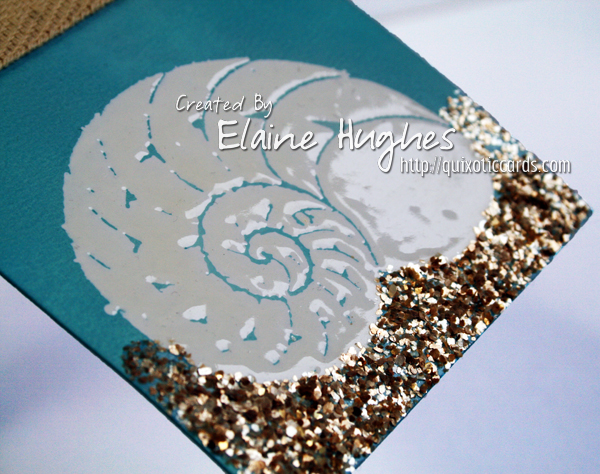 Hope you've enjoyed stopping by and checking out something a little different!  I'm enjoying "mixing it up" here, and perhaps inspiring you to do the same!
SUPPLIES USED: