Today is a big UK Scrappers sponsor blog hop!  I'm excited to be taking part in what is sure to be a popular event, and am definitely looking forward to checking out the other sponsor posts.
If you are visiting from the UKScrappers Sponsor Blog Hop you may have come here from PAPERMAZE.  After commenting (and BE SURE TO MENTION YOUR UKS USER NAME in your comment) hop on to SCRAP 365.  If you lose your way, hop to the UKS post to see the whole linked list. Be sure to reply in that thread when you complete the hop!
Make sure you reach the bottom of this post because I have a prize to give away and a special offer for hoppers!  Details at the end!
Note: Comments on this blog are moderated, and will be checked and approved regularly throughout the day.
Colouring With Alcohol Based Markers – Basic Colouring Step by Step
I have created a basic tutorial for some fairly simple colouring with alcohol based markers.  The step by step photos below cover colouring the whole image, from skin through to grounding the image.   Bear with me, there are lots of photos!
BASIC TIPS
Use a light hand and lay colour down gradually.  It is easier to add more colour than it is to take colour away, and you don't want to over saturate the paper.
Colour in light feathered strokes/flicks rather than in a circular motion.  This will help you to avoid over saturating the paper and will make blending easier.  Practice your strokes on a piece of scrap paper and try to find a grip you are most comfortable with for holding the marker while doing this.
Choose a smooth uncoated paper.  My preference is for Make it Colour Blending Card.
Don't give up too quickly! An image will go through stages of looking messy or a little weird.  Persevere and keep colouring, the image will start to take shape and come together.  Most mistakes can be fixed – this will be easiest if you use a light hand as mentioned above.
When assessing your colouring and evaluating areas that need more work, hold your colouring at arms length.  Don't judge your image from very close up.
Use an object or a pencil mark on your paper to help you remember your chosen light source.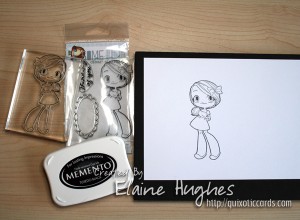 Stamp your selected image on a suitable paper/cardstock using an ink that is compatible with alcohol markers. My personal preference is for Make it Colour Blending Card, as it stands up well to a lot of layering. I also use Memento Tuxedo Black ink with all alcohol based markers, as it will not smear.
The image in this guide has been coloured with ShinHan Touch Twin Markers, but the same technique applies for other brands such as Copic.
I have chosen a relatively simple image – Sweet Thinkin' Mae from the Some Odd Girl Stamps clear stamp range.  The Some Odd Girl images are a great size with plenty of space for colouring, and as the details aren't too fine they are great to practice on and develop your colouring skills.
Before colouring, decide which area to tackle first.  On a character image I usually begin with skin, followed by hair, and then clothing.  This is firstly because the skin tends to be the most "routine" area to colour, especially if you often colour stamps of a similar style. The last thing you want to do is spend a significant amount of time colouring an image, only to spoil it with a mistake on one of the less time consuming areas.  Secondly, as you colour the image it can go through stages of looking messy and a bit strange – as you build up the colouring the different areas come together.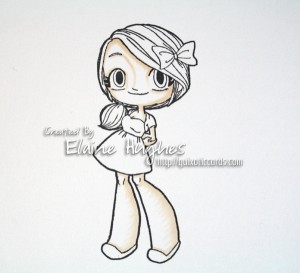 Choose your light source (in the above image I have chosen to have the light coming from the left hand side), then begin mapping out the areas you envisage being the darkest using your LIGHTEST shade.  This will give you a nice base for the darker markers to sit on and allow you to create a nice blend.  Plus, it helps to have a guide.  Leave plenty of white space at this point – you will be gradually building up colour and layering, and you don't want your highlight areas to be too dark.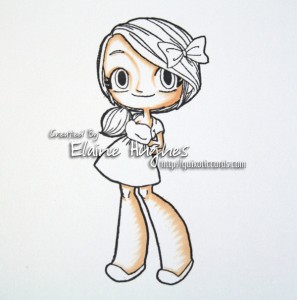 Lay down your MEDIUM shade over the areas you mapped out in the previous step, covering them completely.  Do this with a light touch, taking care not to lay down too much ink.  Remember – build the colour gradually.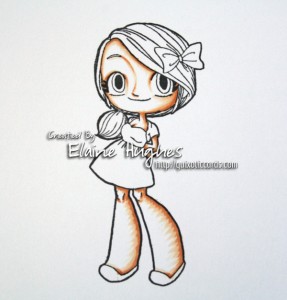 Add your darkest shade sparingly where you feel the shadows would be deepest.  Again use a light hand and this time only lay down a fine line of colour.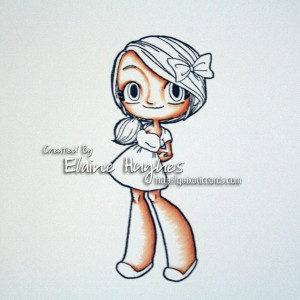 Take your MEDIUM shade again and blend the dark colour out towards your light areas.  Use a light feathering or flicking motion.  Don't colour too far into your light areas.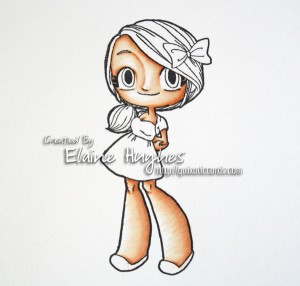 With your LIGHTEST shade continue to blend out towards your highlight areas, still using a light hand and a feathering/flicking stroke.  Try and avoid going over your darkest shade, as the light shades can start to remove some of the colour, and depending on the markers you are using this can lead to a speckled/patchy appearance.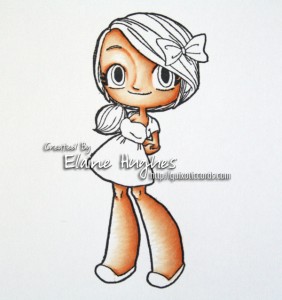 Repeat the above steps until you are happy with the result.  Just be careful not to over saturate your paper or you may end up with a shiny or blotchy appearance (Make it Colour Blending Card stands up to quite a lot of punishment in this respect, which is why I love it).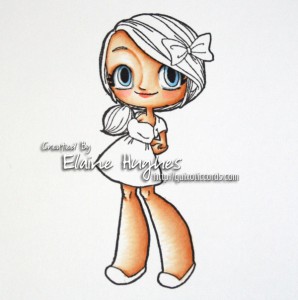 At this stage I like to colour in the rest of the facial details – eyes, cheeks, lips.  TIP: Sometimes on a stamped image the solid areas such as the pupil of the eye can have a slightly grainy appearance.  I like to use a dark grey marker (e.g. CG8) to go over the pupil area.  This can really help to lift the face and make it pop.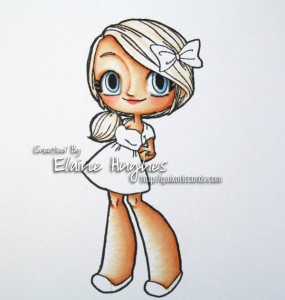 Tackle the hair in much the same way as the skintones.  The main difference is that if you want to achieve a vaguely realistic hair effect, you should colour in fine strokes, following the direction of the hair.  Use your lightest shade first to create the base.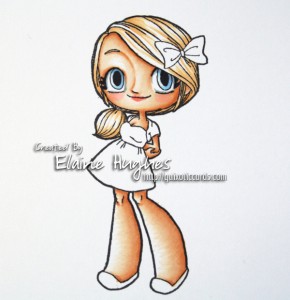 Now take your medium shade and start to build up the colour and the strokes, so that you get a strand like appearance (this will be fairly bold, we're not trying to colour individual strands here, rather creating the suggestion of hair).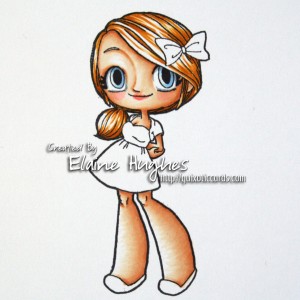 Then take your darkest shade and add more fine strokes over the top, maintaining a light touch and not covering too much of the previous shade.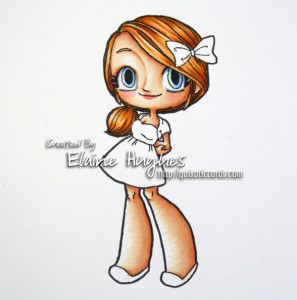 Return with your medium shade and soften the strokes a little.  Don't blend out too much as the strokes will disappear and you will lose the texture.  Depending on the image and the scale of the hair you have to cover, you can repeat these steps until you are happy with the result.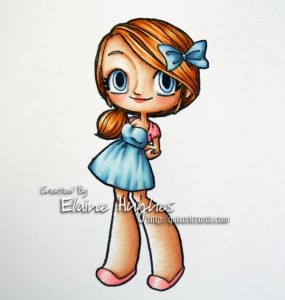 Your character's outfit can be tackled in much the same way as the skin and hair, applying the same colouring techniques to build up colour and depth.  Pay attention to the detail in the image, as often there will be clues that help guide your colouring.  For example on Sweet Thinkin' Mae's dress there are little crease lines – follow these and add in a few of your own to build up the detail in the dress and create interest, as with the hair and skin, do this gradually and with a light hand.
When colouring an outfit that has different elements with different colours, concentrate on one colour area at a time.
With your light source in mind, use grey markers to create a shadow on the floor to ground your character.  This really helps to finish it off.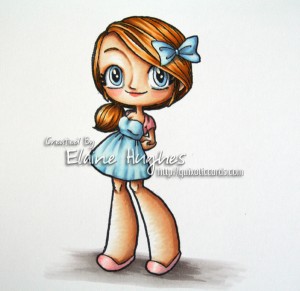 Finally, give your image a once over and pick out any deep shadows and cast shadows with greys i.e. where the hair goes behind the head, underneath the bow in her hair, along the hair hanging over her face, under the hem of her dress.
Use cool greys over cool tones and warm greys over warm tones.
You can also use a white gel pen or white acrylic paint and a brush to create the highlights in the eyes if applicable!  The Some Odd Girl characters are great for this with their large manga style eyes.  I leave this step till I have completed colouring as you should avoid colouring over paint with your markers.
*************************************************************
That's that!  I hope that this post has been useful in some way, and perhaps given you some encouragement to get to grips with your markers.
If you are looking to improve your marker skills, and indeed your colouring with any medium, I highly recommend studying the work of people you admire and trying to emulate their results.  Study carefully to see where they added shadow detail and how they approach colouring hair or folds in clothing. Check out their notes to find new marker combinations.
Above all else – practice!  The more you practice and play with your markers the more comfortable you will be with them, how they behave and what they do!
I do have some colouring videos available on my Youtube Channel, which may also be of interest!
PRIZE INFO!
Today I am giving away a 25 sheet pack of MAKE IT COLOUR BLENDING CARD  to one lucky commenter on this blog!  I will draw a random winner from the comments left.  Draw closes at MIDNIGHT tonight, so be quick!  Make sure you leave your email address in the appropriate box when commenting (it will not be displayed to the public) so that I can contact you.
SPECIAL OFFER!
As a special offer for today's hoppers I am offering FREE P&P for UK based orders over £10!  Simply enter the code UKSBLOGHOPJUL2012 in the coupon box at checkout and you will enjoy free P&P!
SUPPLIES USED:
LATEST ARRIVALS AT QUIXOTIC PAPERIE