Some of you may remember me posting the coloured image on this project over on FaceBook a while ago, well, I FINALLY decided what to do with her!
I spent quite a while colouring the image, and as it is a favourite, it seemed fitting to create a little something for myself.  So, I found a cheap 8″x8″ black frame, removed the glass and used it to create this project.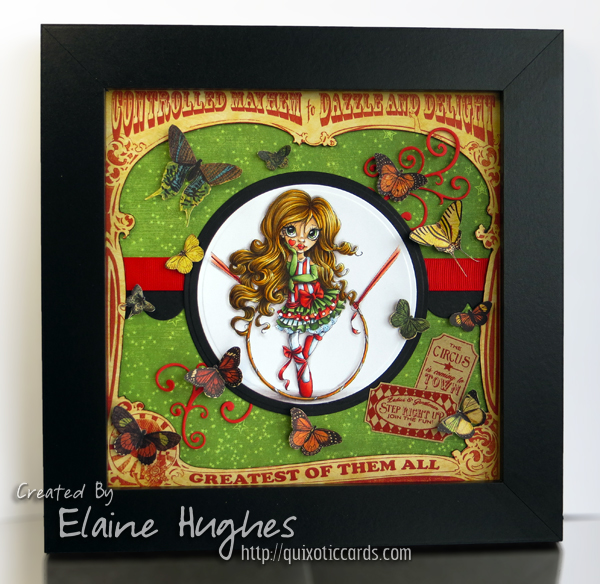 The image is Saturated Canary – Circus Trixie, and she is now available in lovely rubber from Little Darlings Rubber Stamps.  All the Saturated Canary rubber stamps are in stock here in the UK over at Quixotic Paperie.
For the image I used my favourite Make it Colour Blending Card and coloured with ShinHan Touch Twin Markers (full details below).
One of my other great loves is Graphic 45 paper.  I love it so much that I rarely use it!  I end up saving most of the papers for special projects and altered items, which I usually don't find the time to create.  It was fantastic to actually use some of it for a fun keepsake project.  The pads I used for this were Le Cirque and Olde Curiosity Shoppe for the butterflies.
The circus tickets are from a new favourite stamp/die set – MFT Die-Namics – Lisa Johnson Designs – Circus Spectacular.  You will be seeing more of that one here very soon!  I also used the MFT Die-Namics Fancy Flourish die.
Thank you for stopping by today, I hope you've enjoyed checking out my project.