We woke up this morning to a blanket of snow.  It has been snowing all day, and people have been out making snowmen and having fun.  In this house we're all tucked up inside toasty and warm (after a couple of little essential trips).  There has been some work, and a little play.  The rest of the afternoon will be dedicated to making cards from some of the images I have coloured over the last few months.  Fun!
It is of course, Bellariffic Friday today, and our challenge for the week was to be inspired by the photo provided!
As you can see, I chose to be inspired by the colours, although my tones ended up being more muted as I found I wanted to go with a vintagey feeling.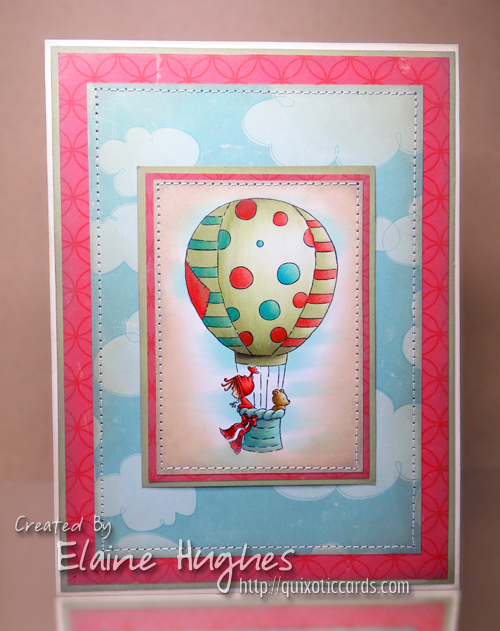 I also decided that I would get my sewing machine out, after neglecting it for a couple of years!  I used to sew on my cards all the time, and I love the look, but over the past couple of years I have spent so much of my creative time in a rush that it was just one of those things that fell by the wayside.  Time to pick it up again!  I was pretty impressed that all went smoothly – I was expecting to be a bit wobbly after being out of practice for so long.
The image is Stamping Bella Ramona & Teddy In Their Balloon.  I love the Amariah Rauscher images, they are so sweet.  This stamp is also available in the UK from me at Quixotic Paperie.
I stamped the image with Memento Tuxedo Black ink on Make it Colour Blending Card and coloured with ShinHan Touch Twin Markers (details below).  The designer papers are from an old Echo Park 12×12 kit and I sponged all the layers with Versamagic Chalk inks.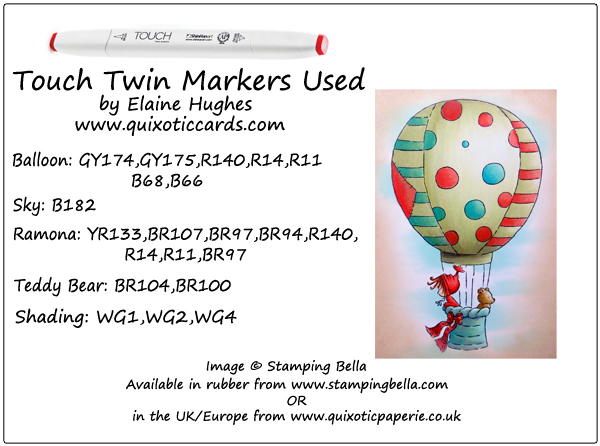 Before I tell you about the various challenges going on at the moment, have you seen the gorgeous new Stamping Bella blinkie?
Love it!  You can grab it for your blog sidebar HERE.
BELLARIFFIC FRIDAY NEWS: the next challenge is a sketch (see below)! Follow it using a Stamping Bella stamp (or more than one!) and email your entries to Emily at Stamping Bella by the end of Thursday 24th January to be in with a chance of winning some Bella Bucks.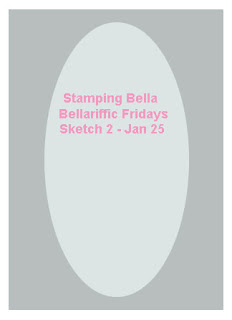 LATEST SCS CHALLENGE: Don't forget to play along with the latest challenge over on Splitcoast Stampers.  Join in with the theme "A Picture is Worth a Thousand Words" – no sentiments, just let your image do the talking, and you could win $20 in Bella Bucks!  Pop on over HERE to the thread to read all about how to enter. We really want to see you getting those Stamping Bella stamps all inky! You have until the end of Monday 21st January to enter.
Also, come and chat with us over on the Stamping Bella forum at Splitcoast Stampers.  We're chatting it up about crafty tools, sharing pics of our craft desks and more.  Join in the chatter – we want to get to know you all.
Have a great weekend! I'll be back tomorrow with another card.