This week has been pretty productive. Along with the usual Quixotic Paperie work, I've progressed further with Operation Declutter, and also with Operation Use Your Stash! 😉   Still plenty to do, but I feel like I'm getting somewhere.
Friday is upon us again, and I'm pretty happy that the weekend is in sight! Plenty of relaxation is in order this weekend.  Before I start plotting what I'm going to do to chill out, I'd better share my Bellariffic Friday card with you.
This week we had a sketch to follow.  I love very simple sketches, mostly because I tend to make quite simple cards, but also because I can build on them easily and add embellishments as I please.
My card today is quite different from my usual.  This is part of Operation Use Your Stash!  I have lots of paints, sprays, mists, mediums etc that have hardly been touched, because the past couple of years have been such a rush.  I'm slowing myself down and trying to play with some of the awesome products I have been hoarding.  Guess what? I'm having a ball!
I posted this photo on Facebook yesterday: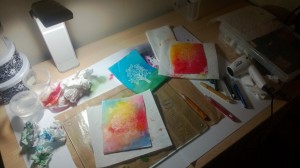 I did some heat embossing, got my previously almost untouched Smooch Spritz bottles out, and got a little messy.
The stamp is one of my favourites from the Stamping Bella I AM journalling range – Follow Your Dreams.  Previously I have used her as a plain black outline on notebooks and a card, but I thought she was really crying out for a bright colourful background.  What do you think?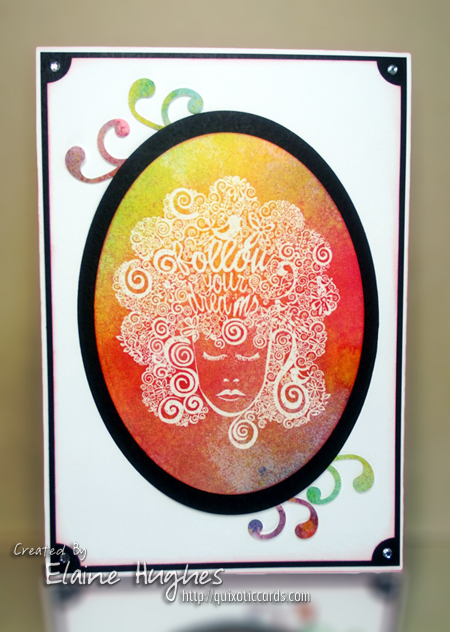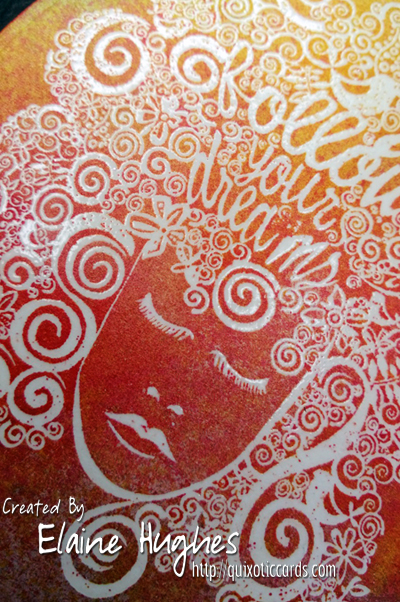 You can't really see how shimmery it is in the photos unfortunately. I love it though!
BELLARIFFIC FRIDAY NEWS: the next challenge is "SO SWEET" – pretty easy considering all the adorable/sweet stamps in the store! Use a Stamping Bella stamp (or more than one!) and email your entries to Emily at Stamping Bella by the end of Thursday 31st January to be in with a chance of winning some Bella Bucks.
LATEST SCS CHALLENGE: Don't forget to play along with the latest challenge over on Splitcoast Stampers.  Join in with the theme "Lovey Dovey" – create something love themed, and you could win $20 in Bella Bucks!  Pop on over HERE to the thread to read all about how to enter. We really want to see you getting those Stamping Bella stamps all inky! You have until the end of Monday 4th February to enter.
Also, come and chat with us over on the Stamping Bella forum at Splitcoast Stampers.  We're chatting it up about crafty tools, sharing pics of our craft desks and more.  Join in the chatter – we want to get to know you all.
Have a great weekend! I'll be back tomorrow with another card.