This week's Bellariffic Friday was a sketch.  I'll admit, I haven't been feeling very inspired this week.  I've been feeling a little "blah", and have definitely been lacking motivation. So, I went with something simple.
I think I've mentioned that I'm having a little "off blog" fun playing with inks/paints etc and making a mess.  So, this is another "messy play" card.  It's not perfect, it didn't turn out quite the way I wanted it to, but I like it anyway, because it represents some relaxing and fun "play".
I used one of the stamps from Stamping Bella – Happy Silhouettes (available in the UK at Quixotic Paperie).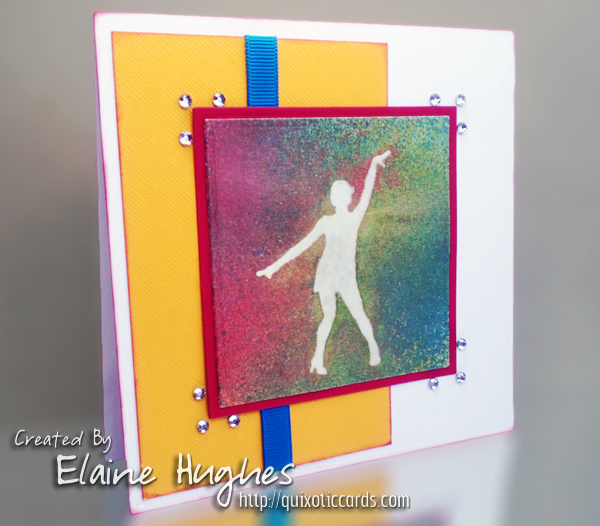 That's it!  Pretty simple.  Colour makes me happy, so I went with lots of colour!
SPLITCOAST STAMPERS FORUM FUN: Don't forget to play along with the latest challenge over on Splitcoast Stampers.  Join in with the theme "Thoughts of Spring" – create something Spring themed, use a Spring image/papers/embellishments, whatever, and you could win $20 in Bella Bucks!  Pop on over HERE to the thread to read all about how to enter. We really want to see you getting those Stamping Bella stamps all inky! You have until the end of Monday 18th February to enter.
NEXT WEEK'S BELLARIFFIC CHALLENGE: the next challenge is SO easy – ANYTHING GOES! Just make something using a Stamping Bella stamp (or more than one!) and email your entries to Emily at Stamping Bella by the end of Thursday 14th February to be in with a chance of winning some Bella Bucks.