Thank whatever….it's Friday! I'm here today with my Bellariffic Friday card to share, and a promise that there will be more posts here very soon.  In fact, I have three lined up for the next few days.  Blog posts are like buses, you wait for ages and then three come along all at once. 😉
This week was an "Anything Goes" theme, so I took the opportunity to indulge in one of my favourite pastimes – chopping the legs off Uptown Girls!  Well, this time I butchered an Uptown Couple – bonus!  I do love how cropping the Stamping Bella Uptown Couple Brett and Brenda stamp (also available in the UK at Quixotic Paperie) means you can easily use this wedding themed image for a more general "love" themed card such as Valentine's Day or for an anniversary.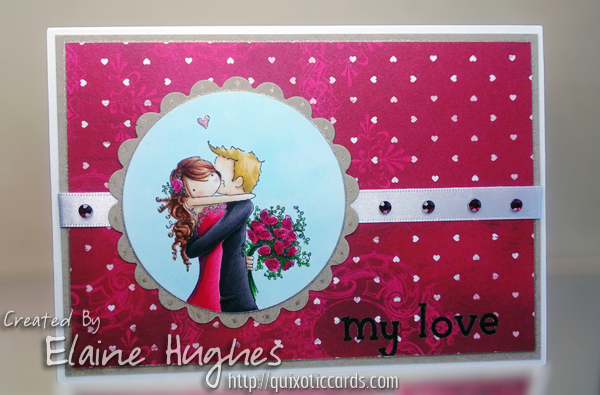 I stamped the image with Memento Tuxedo Black ink on Make it Colour Blending Card and coloured with ShinHan Touch Twin Markers.  I cropped the image using a Spellbinders circle die.  The designer paper is from an old Marianne Designs pad and I added the lettering with some Doodlebug rub-ons.
SPLITCOAST STAMPERS FORUM FUN: Don't forget to play along with the latest challenge over on Splitcoast Stampers.  Join in with the theme "Thoughts of Spring" – create something Spring themed, use a Spring image/papers/embellishments, whatever, and you could win $20 in Bella Bucks!  Pop on over HERE to the thread to read all about how to enter. We really want to see you getting those Stamping Bella stamps all inky! You have until the end of Monday 18th February to enter.
PLUS TUNE IN TOMORROW FOR DETAILS ON OUR SCS LOVE FEST CHALLENGE!
NEXT WEEK'S BELLARIFFIC CHALLENGE: the next challenge is another fun sketch (see below)! Just make something following the sketch and using a Stamping Bella stamp (or more than one!) and email your entries to Emily at Stamping Bella by the end of Thursday 21st February to be in with a chance of winning some Bella Bucks.