Well, once again, the weekend is very welcome indeed!  This week has been a little stressful, and I am worn out.  Whining over – I have a Bellariffic Friday card to show you!  Before I do though, some news stuffs!
Emily is having a sale at Stamping Bella!  Some lines are retiring and have already been put on clearance, but because she's a little crazy, Emily is also giving you 15% off storewide!  Yep, the 15% offer code ineedtopurge2013 will stack with existing sale discounts.  But, only till midnight on Sunday 3rd Feb 2013, so be quick!
This week's theme was "You are so sweet", so I chose a sweet image.  You can't get much sweeter than Amariah Rauscher's little characters.  This is Matilda on her Swing (also available at Quixotic Paperie here in the UK).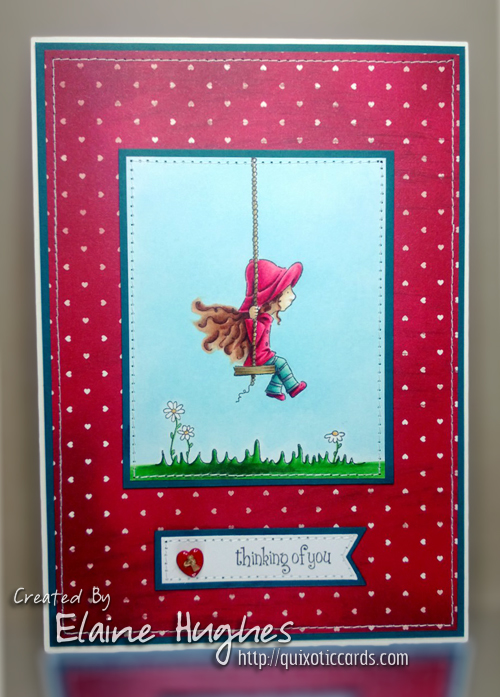 Adorable.   I stamped the image with Memento Tuxedo Black ink on Make it Colour Blending Card and coloured with ShinHan Touch Twin Markers.
SPLITCOAST STAMPERS FORUM FUN: In the first of what will hopefully be many threads, I have posted a step by step look at how I coloured little Matilda!  You will have to visit the Stamping Bella forum over on Splitcoast Stampers to check it out HERE.
Lots of pics, plus full marker info and a few notes along the way.  I'd love to hear from you over there, so feel free to drop in with any comments and questions!
PLUS don't forget to play along with the latest challenge over on Splitcoast Stampers.  Join in with the theme "Lovey Dovey" – create something love themed, and you could win $20 in Bella Bucks!  Pop on over HERE to the thread to read all about how to enter. We really want to see you getting those Stamping Bella stamps all inky! You have until the end of Monday 4th February to enter.
NEXT WEEK'S BELLARIFFIC CHALLENGE: the next challenge is a sketch (see below)! Follow it using a Stamping Bella stamp (or more than one!) and email your entries to Emily at Stamping Bella by the end of Thursday 7th February to be in with a chance of winning some Bella Bucks.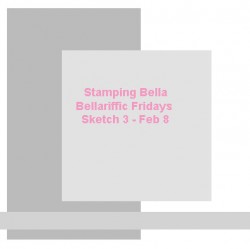 Have a great weekend, whatever you're up to!