If you saw my blog post on Friday – "My Heart Bleeds – Something Different for the SCACD Release Hop", you'll be aware that I'm having a lot of fun getting inky/painty and exploring my less cute and cuddly side (which is actually the side I'm most comfortable with 😉 ).  Today I've got another tag to share with you, along similar lines.
I love making tags.  There's just something fun about working within the confines of a tag, and it's not as daunting as a full journal page or a canvas. I actually have another couple lined up to share with you soon, so I hope you're enjoying them!  I'd love to hear from you, so please do feel free to leave a comment. 🙂
For today's tag, I decided to join in with the Tim Holtz Tattered Floral Challenge.  It is running until Friday 22nd March, so there is still time to play!
I of course, used the Tim Holtz Tattered Floral die from the Sizzix Alterations range (and possibly the mini movers and shapers one too, I think – I die cut lots of flowers from both dies and played around).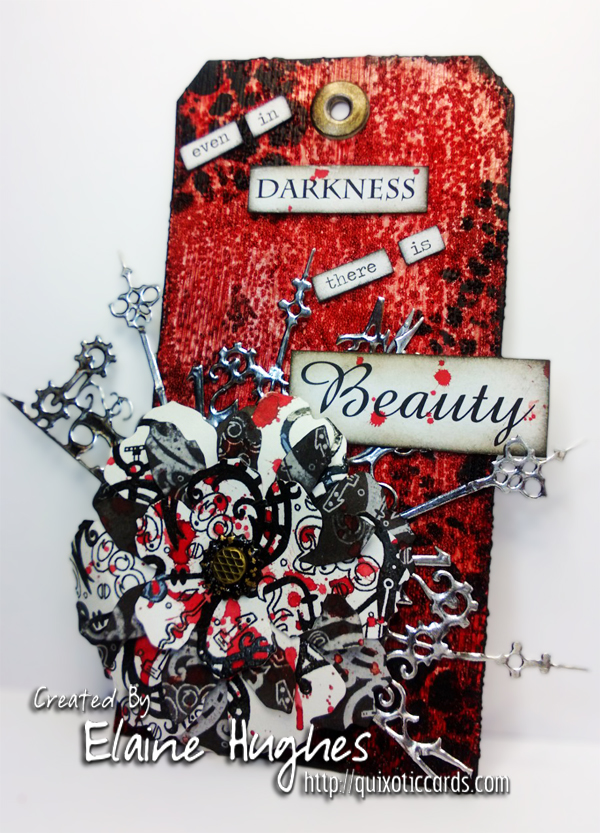 The flowers were stamped with the "Wonky Clock" stamps from the new Susana Loves Stamps (SCACD) mixed media release.  This stamp is available in either the "Follow Your True Heart" set, or in the full Complete Accessories Collection set.  I embossed the stamp image and then used Distress Inks to colour the black flowers before layering them up to create the large flower.  In the centre I used a Prima Marketing Inc Vintage Trinkets brad and a Make it Crafty Lasercut Chipboard Cog Works cog covered in Fran'tage embossing enamel.
Behind the flower, I used one of my favourite dies – the Dies by SCACD "Alice's Clock Statement Corner" die, which I used to cut some thin metal foil sheet.
The tag itself was first covered in a Golden Gel Medium with glass beads in it, which I then covered in a combination of Adirondack spray and Distress Stain, before applying some black acrylic paint through a stencil.
Phew!  Don't worry, I'm not hanging up my marker tote, I'll still be sharing lots of colouring fun too, but I do hope you will enjoy my little journey into mixed media as much as I am!