I've been feeling more creative again lately, with lots of tedious paperwork behind me (mostly) and the bulk of our big clear-out completed. So, I finally cracked open a Moleskine journal to enjoy some "just for me" time and find a way to express some of the ideas that have been rattling around in my brain for a while.
This is what happened when I sat down at my desk on Sunday afternoon with a vague idea and lots of supplies. 😉
The journal is a Moleskine Sketchbook
(130mm x 210mm). I glued the pages together before working so they are sturdier. On this spread I covered the pages with Tim Holtz Tissue Wrap, which I then inked with Distress Ink in Vintage Photo. Over the top of this I painted layers of Luminarte Silks (African Jade and Wine & Roses) and Matte Gel Medium, which resulted in a really nice aged look, with a subtle hint of iridescence. I stamped in random places using Impression Obsession Cover a Card – Script and Ranger Archival Ink without a block, just to add some subtle texture.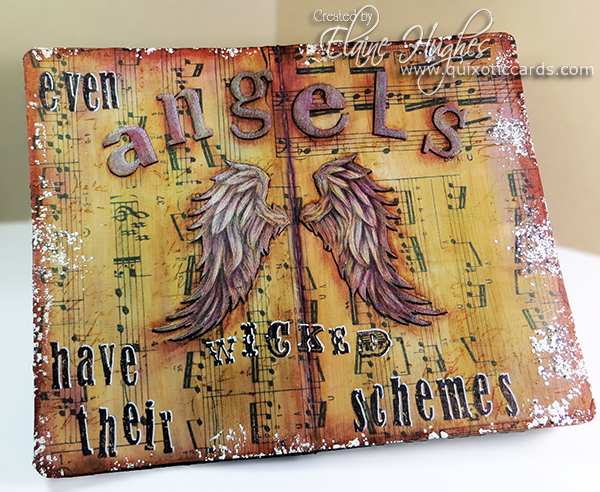 The word "angels" was die cut from sticky back canvas with the Tim Holtz Alterations "Word Play" die from Sizzix.  Before die cutting, I covered the canvas with same Distress Ink and Silks I used on the pages.
The wings from the Sheena Douglass A Little Bit Sketchy – Divine Inspiration stamp set were stamped on hot press watercolour paper and coloured with Copic markers (info below), then cut out and adhered to the page with gel medium.  I then sealed them and the die cut letters to the pages using gel medium before going over them with Silks to increase the intensity of the colours and add some beautiful shimmer.
The rest of the wording was created using Stampendous alpha stamps and Ranger Archival Ink. Then I added some interest to the edges of the pages using Frantage embossing powder from Stampendous.
Copics: E40, E42, E44, B52, RV63, Y26
Phew! I thoroughly enjoyed creating this spread, and the process was definitely therapeutic. I'm looking forward to some more "me time" very soon.