Over the weekend I took a break from work and my epic "To Do" list and had a little crafty playtime "just because". I knew I wanted to play with one of the new Zen Beauties fairies from SCACD Stamps, so I picked "Serenity" and made the rest up as I went along. 😉
I stamped the image using a pale ink on Make it Colour Blending card so I could colour it using the "No Lines" technique (see end of post for more info and links to other examples). Because I intended to airbrush the background, I also stamped the image in black on scrap paper to cut out and use as a mask.
The Card: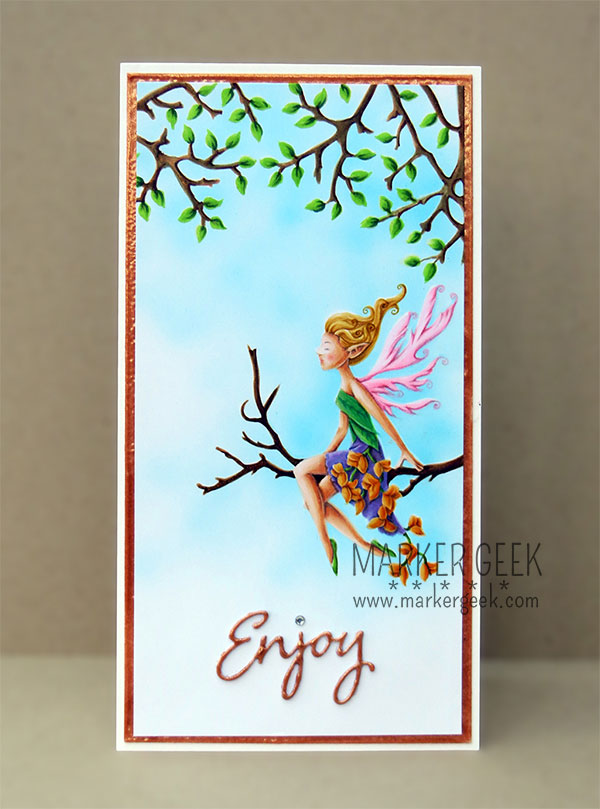 The Details:
I took the Dies by SCACD Breezy Branch corner die and die cut a few from scrap paper to use as masks for airbrushing to create a scene around my stamped image. You can see an example of this using another Dies by SCACD die in my 2012 blog post HERE which includes step by step photos of the process.
I trimmed my scene to mat and layer on a DL size card. I created the mat using a plain piece of white cardstock which I inked with Versamark ink (just on the edges to create a border) and embossed using Lindy's Stamp Gang Embossing Powder in Byzantine Bronze. I used the same embossing powder on the "Enjoy" word die cut (the die is from a TGF set which is now unavailable).
US Readers: Zen Beauties – Serenity and other SCACD Stamps designs can be found at Susana's Custom Art & Card Design along with Dies by SCACD and a host of other products!
No Line Colouring Examples & Info:
In 2012 I created a step by step tutorial and video on No Lines colouring for Splitcoast Stampers. You can see my 2012 blog post HERE and you can visit the Splitcoast Stampers tutorial page HERE. I like to think my own colouring has changed/improved somewhat since then, but the tutorial covers the technique pretty well. I used ShinHan Touch Twin markers in the video, but the technique is the same for Copics and other alcohol based markers, along with other mediums.
You can see other examples of No Line colouring in the following posts:
Saturated Canary Colouring Fun
It Ain't Over
Tilda with Big Tulips
A New Love: Lollyrot
A Belated Christmas Post
A Slightly Different Look for Oliver
Thank you for stopping by! I hope you've enjoyed my post and perhaps found a little inspiration.