Read on for a fun little Christmas card, tips for adding simple winter backgrounds to your stamped images and some waffle about why I've been so quiet recently.
The Waffle:
You might be wondering what on earth happened to me after my last post. I was doing so well with regular posts and info for you, and then tumbleweeds! I'm probably more disappointed than anyone because I have so much stuff I want to share, but so little time and energy at the moment.
Those of you who follow me on Facebook will be aware that our dog Taika aka Miss Pig is still not 100%. We are currently trying to get to the bottom of the issues she's been having, which has meant trips to see specialist vets and some worrying possibilities. At the same time there is quite a lot of other background family and general life "stuff" going on. As such, I'm a bit drained!  I will keep plodding along, but might just have to accept that I can't quite manage everything I'd like to right now.
I promised a post on Touch Twin Marker reds to follow my post discussing Copic Marker reds, and that is still coming, I just didn't manage to finish it last week.
I haven't done a great deal of colouring in the past week, but I did find time one afternoon to add some background colouring to finish off Stamping Bella images I had already coloured. That was actually a nice low pressure task that helped me relax a little. While doing that I came up with some simple tips for adding winter sky backgrounds to your images, which you will find below.
The Card: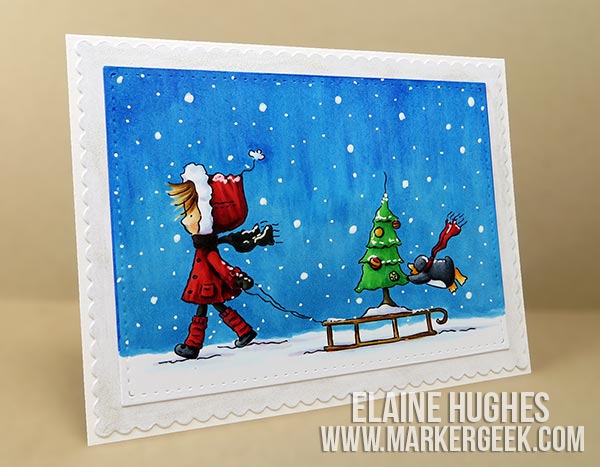 Happily this card fit with last week's Bellariffic Friday theme "holiday cards". If you would like to join in with the Bellariffic Friday challenges, pop on over to Bloggabella to find out all about the latest one and see how you can join in (plus check out all the inspiration from the Babes and Sistahood)!
The Details:
The adorable image on my card is Mister Penguin Goes for a Ride from Stamping Bella. I love the cute Ramona and Mister Penguin stamps, they are so sweet and fun to colour. Just look at him hanging on to that tree for dear life! *melts*
UK/Europe Readers: Stamping Bella Mister Penguin Goes For A Ride available from Quixotic Paperie.
US/Canada Readers: Mister Penguin Goes for a Ride available direct from Stamping Bella (US shipping).
I stamped the image with Memento Tuxedo Black ink on my favourite Make it Colour Blending Card before colouring with Copic markers. I added some falling snow to the scene using a Signo Uniball white pen.
Once again I used my current favourite die set – Mama Elephant Femme Frames – to create the frame and mat for the card. The lovely Tara at Make the Day Special stocks Mama Elephant products – that's where I buy mine from! I cut the image layer and a mat from white cardstock which I then added sparkle too with my Wink of Stella Clear Glitter Brush Marker (yes I am addicted and I don't care!).

Here are the simple tips I promised for creating snowy or starry winter sky backgrounds. They are so easy to do and really help to add the "wow" factor to your coloured images. Watch out for some more cards featuring these little techniques over the next week.
White Paint/Gel Pen – add a random assortment of spots and dots in varying sizes.
Copic Colourless Blender Pen – on Copic marker coloured backgrounds, use the colourless blender pen to "remove" spots of colour. Make the spots different sizes and hold the pen in place longer on some or revisit spots to get a stronger effect.
VersaMark Watermark/Embossing Pen – create spots of varying sizes and in a random assortment, then sprinkle with white embossing powder and heat emboss. Make sure you use an anti-static bag over your image first so powder only ends up sticking where you want it to.
Glue Pen & Glitter – create an assortment of spots on your background using a glue pen before sprinkling with glitter to create a sparkly festive background.
Rubber Stamp – use a background stamp like the new Make it Crafty Falling Snow stamp together with a nice white pigment ink (Hero Arts Unicorn White is a good one) or VersaMark ink and embossing powder. Remember to mask your coloured image first!
Stencil – use pigment ink through a stencil, or acrylic paint, or with Copic coloured backgrounds dab colourless blender solution/isopropyl alcohol through the stencil (don't make your cloth too wet or it will seep under the stencil and make a mess).
Brush & Acrylic Paint – use acrylic paint like Copic Opaque white or whatever you have and add dots with a small brush. Alternatively, for a very random look, mask your image and using a toothbrush or fan brush flick paint on to your background (practice this on a piece of scrap paper first).
Puff Paint, Pearl Pen or Stickles – for a dimensional look add your spots and dots with a puff paint pen and heat it, or with a pearl pen (Viva Decor pens are nice and hold their shape well) or Stickles (Viva Decor glitter pens are also nice) for a sparkly look.
Colourless Blender Solution/Isopropyl Alcohol – using a fan brush or toothbrush flick colourless blender/rubbing alcohol on to your Copic coloured background to create a random pattern of tiny dots. Mask your image first and make sure you practice on a piece of scrap paper to ensure you are happy with the results.
To create a starry sky with the Colourless Blender pen on your Copic coloured background, use the same approach as listed above, but on some of the larger dots make cross shapes with your pen, to give the impression of larger twinkling stars.
To create a snowy AND starry sky, mix and match some of the ideas i.e. use the colourless blender pen to create the impression of stars in the sky, and add falling snow using a white paint pen.
One very important tip to remember, which goes for all of the above: work quickly and don't think about it too much! You want to create a natural looking scene, with "snowflakes" of different sizes, not all uniform and falling at the same time. If you think too hard about the placement, it won't work as well!
Thanks for stopping by!
I hope you have enjoyed today's post as much as I enjoyed creating it for you. Watch this space for more Winter/Christmas themed cards, videos and colouring information.
Don't want to miss out on future posts? Subscribe to my RSS feed in your favourite blog reader or subscribe via email using the form over in the sidebar.
News from Quixotic Paperie
Lots of new arrivals in stock over at my store Quixotic Paperie, plus restocks of lots of popular stamps. I have many festive/winter themed stamps to choose from, so if you're like me and just getting to grips with the idea of Christmas, drop by!
Until midnight on Monday 1st December 2014 you can enjoy 15% off everything in stock apart from Make it Colour Blending card which is a whopping 25% off!