It has been a while, but finally I have found the motivation/energy to deal with digging out and setting up my video camera! Last weekend I decided to play and shoot a little video for you which I'm sharing in today's post. The video is a little under ten minutes long and there is no commentary, just colouring. I will be sharing more videos in future, so if you enjoy watching them make sure you subscribe!
I hope you'll enjoy taking a little glimpse at how I coloured the sweet little dragon image from Make it Crafty. I have a card and Copic Marker Colour Palette to share as well, so read on for the fun stuff!
The Card: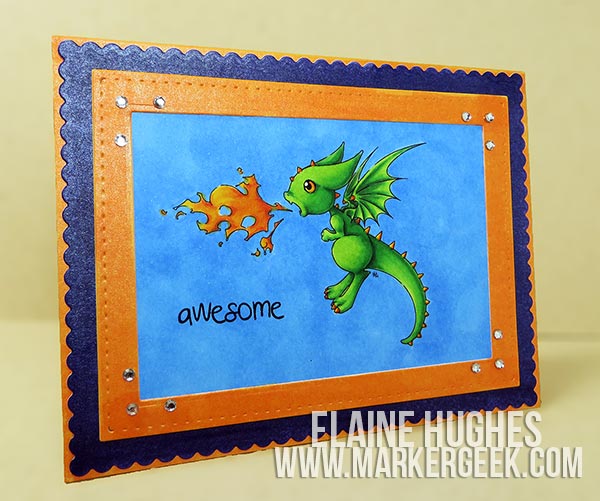 The Details:
Make it Crafty Fiery Baby Dragon is available as a rubber stamp or as a digital image. I have used the digital image printed at the same size as the rubber stamp image.
Digital Image: Fiery Baby Dragon at Make it Crafty.
Rubber Stamp: Make it Crafty Fiery Baby Dragon at Quixotic Paperie.
Fiery Baby Dragon was printed on my favourite Make it Colour Blending Card before colouring using Copic markers. Details on markers used are available below as a pinnable Copic Marker Colour Palette.
I used a combination of Mama Elephant Femme Frames dies and WPlus9 Holiday Apertures dies to create the frame and mat for the card. The lovely Tara at Make the Day Special stocks WPlus9 and Mama Elephant products – that's where I buy mine from! I cut them from white pearlescent cardstock which I then coloured with Copic Markers as shown in the handy pinnable graphic in my Stamping Bella Merry Christmas with Uptown Girl Savannah post. I finished the card off by stamping the sentiment (from a Some Odd Girl clear stamp set) with Ranger Archival Ink in Jet Black and embellishing the corners of the frame with some of the flat back gems I am trying to use up!
Colouring Video:
Watch the video below or watch the video in HD at YouTube.
Copic Marker Colour Palette: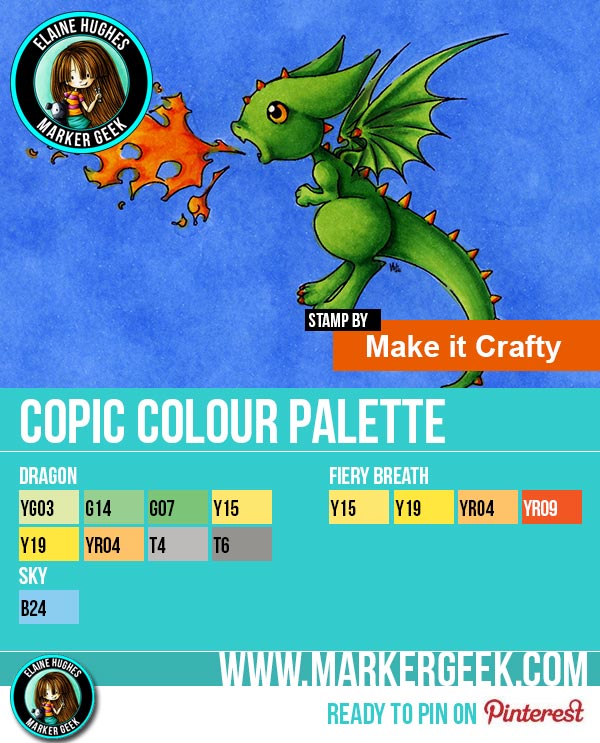 Thanks for stopping by!
I hope you have enjoyed today's post as much as I enjoyed creating it for you. I will have more videos coming in future, so watch this space! I may even have one for you this weekend… 😉
Don't want to miss out on future posts? Subscribe to my RSS feed in your favourite blog reader or subscribe via email using the form over in the sidebar.