Today I've got another fun Stamping Bella card to share with one of the latest releases, so read on for some inspiration and to see a new "first" for me!
I've already shared a card using one of my favourites from the new Stamping Bella line "The Woodsies", if you missed it you can see that one in my blog post from earlier this week: Adorable New Stamps From Stamping Bella.
Today I'm going to share a card featuring an image from one of the other new Stamping Bella lines: Hoppy Poppy. She's a sweet and quirky little bunny illustrated by Hannah Cummings. Very fun and perfect for sweet and simple cards for all occasions. I coloured her using Copic Markers for the release, but I'm thinking she would look pretty awesome coloured with pencils so watch out, I may well be dusting my pencil sets off very soon.
The Card: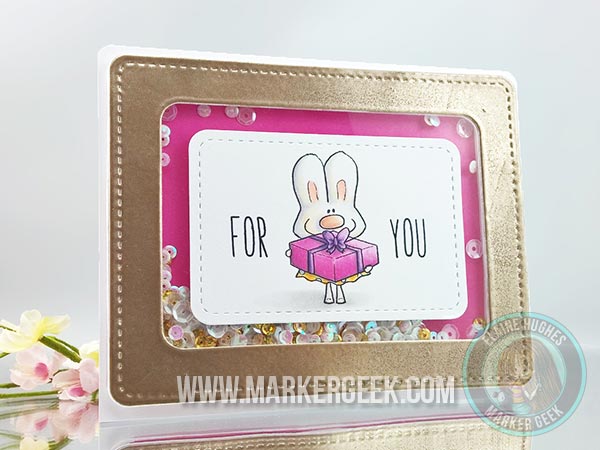 I've recently been a little obsessed by shaker cards. There are so many fun and creative designs popping up all over blog land that I just had to have a go! Would you believe this is my first ever shaker card? I know, right?! It seemed like the perfect way to show off little Hoppy Poppy with her huge prezzie, plus I have loads of little embellishments that I should really use and shaker cards are ideal for that.
I watched some of Jennifer McGuire's videos to pick up some tips for creating shaker cards. I particularly like her idea of using die cut fun foam instead of strips of foam tape. I didn't have any on hand for this card, but I think it would have been a much neater solution, so I'll be picking some up soon and trying again!
The Details:
US/Canada: Grab the new releases direct from Stamping Bella
UK/Europe: Pre-order the new Stamping Bella releases from me at Quixotic Paperie with 10% off until 16th February 2015! I expect the stamps to arrive in stock before the end of February.
I wanted the shaker window to be part of the frame around the focal image, so I used my Lil' Inker Designs Stitched Rounded Rectangle dies (available here in the UK from my friend Tara at Make the Day Special) to create the window, which I covered with acetate and then when everything was assembled, I adhered my Hoppy Poppy layer over the centre of the acetate.
To colour the die cut frame I used Ranger Liquid Platinum embossing powder.
Hoppy Poppy was stamped with Memento Tuxedo Black ink on my favourite Make it Colour Blending Card before colouring with Copic markers.
The sentiment was created using the Lawn Fawn Milo's ABCs alphabet stamp set (available here in the UK from my friend Tara at Make the Day Special).
Colouring Info:
If you want to find out the details of the Copic markers I used to colour Hoppy Poppy, when you purchase the stamp from Stamping Bella or any retailer you can get a free Colour Map with all the marker details broken down for you. These are available for all of the newest images, and older images will become available soon.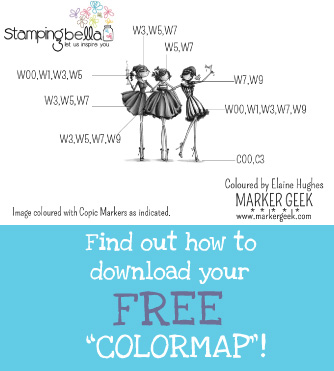 Thanks for stopping by!
I hope you have enjoyed today's post as much as I enjoyed creating it for you.
Don't want to miss out on future posts? Subscribe to my RSS feed in your favourite blog reader or subscribe via email using the form over in the sidebar.