Happy Monday! Keep reading to see my latest card. It features an utterly adorable image, don't say I didn't warn you. 😉
There is a list of things that I am powerless to resist and which make me go SQUEEEEE! It is a somewhat odd and eclectic list.
Today I'll share that two of the things on The List are toadstools and guinea pigs. If a stamp features a toadstool it is almost a guarantee that I will end up buying it. It probably has a lot to do with my love of woodland creatures and the illustrated stories about them which I gorged myself on as a child.
I explained my love for guinea pigs in my earlier blog post featuring the Gilbert has a Snack stamp.
The Card: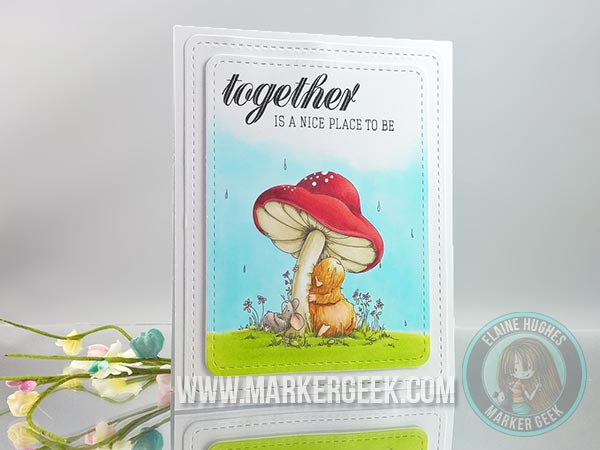 Just. Look. At. His. Little. Pink. Belly. That is all.
The Details:
US/Canada: Grab the new releases direct from Stamping Bella
UK/Europe: Pre-order the new Stamping Bella releases from me at Quixotic Paperie with 10% off until 16th February 2015! I expect the stamps to arrive in stock before the end of February.
I stamped Gilbert & Maisy Under The Toadstool with Memento Tuxedo Black ink on my favourite Make it Colour Blending Card before colouring with Copic markers.
As with my Gilbert has a Snack card I die cut the image using a die from the Lil' Inker Designs Stitched Mats Rounded Rectangles die set (available here in the UK from my friend Tara at Make the Day Special). I also cut a couple of pieces from a slightly heavier weight white cardstock and layered them all together to create a nice sturdy piece. I wanted to give the image layer a little dimension to stand out from the card and give a nice slightly more substantial feel to the card overall.
The sentiment was created using stamps from Mama Elephant sets.
Colouring Information:
If you want to find out the details of the Copic markers I used to colour Gilbert & Maisy, when you purchase the stamp (which you absolutely should because I want to see lots of Gilbert cards out there in blog-land) from Stamping Bella or any retailer you can get a free Colour Map with all the marker details broken down for you. These are available for all of the newest images, and older images will become available soon.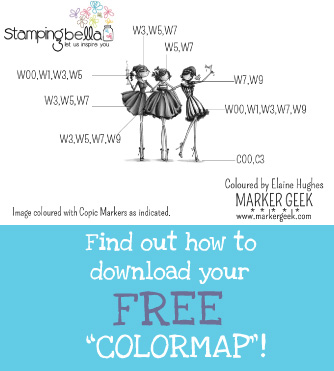 Thanks for stopping by!
I hope you have enjoyed today's post as much as I enjoyed creating it for you.
Don't want to miss out on future posts? Subscribe to my RSS feed in your favourite blog reader or subscribe via email using the form over in the sidebar