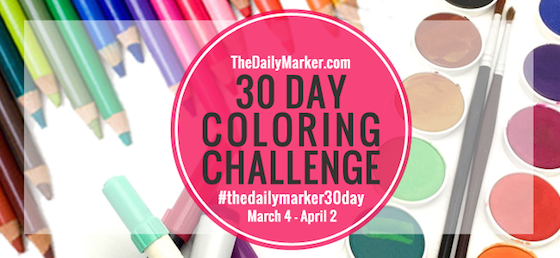 It's Day 13 of the 30 Day Colouring Challenge!
I have still been keeping up with The Daily Marker 30 Day Colouring Challenge, I just haven't had the time to do full images and blog posts to go with them over the past few days.
I do have a fun little Copic coloured image and Copic Marker Colour Palette for you today though, so keep on reading!
The Waffle:
Today was spent packing orders from my online store's big Spring sale – check it out over at Quixotic Paperie for some awesome stamping bargains. A huge thank you to everyone who has ordered so far!
Towards the end of last week I was preparing for the big sale and over the weekend we were visiting family, so I didn't have much time for colouring at all. I did manage to do a little every day except Sunday and you can see what I got up to by checking out my Instagram feed.
I am also in total Spring Cleaning mode at the moment. Lots of reorganising and clearing out in general. I'll be blogging about that very soon, so if you're looking for decluttering/reorganising motivation watch this space…
The Challenge:
When you're done checking out my post, make sure you pop on over to Kathy's blog The Daily Marker to get all the challenge info and join in with the fun. Kathy has posted another awesome card today along with another equally awesome giveaway so make sure you check it out. If you haven't already, I highly recommend subscribing to Kathy's blog for lots of fun colouring and card-making inspiration.
My Day Thirteen Colouring:
Today's image is one I stamped up a while ago. I have a box full of images I have stamped because I like to have a stash of images to just flick through and grab on a whim, but also because I very often stamp an image with the best of intentions and end up not managing to colour it then and there.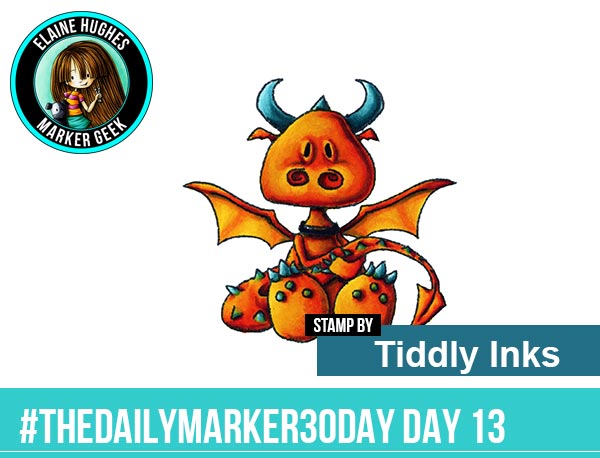 I had to colour this one in fairly quickly, or I would have gone over the dragon's head a little more to soften the shadow lines. He's still pretty cute though! 🙂
The Details:
The stamp I used is from the Tiddly Inks Hello Pet clear stamp set (currently available at 25% off over in the big Spring clearance sale at my online store along with the Tiddly Inks Treasured Friend stamp set which is a perfect companion set for creating scenes).
I stamped the little dragon with Memento Tuxedo Black Ink on my favourite Make it Colour Blending Card before colouring with Copic Markers.
Copic Marker Colour Palette: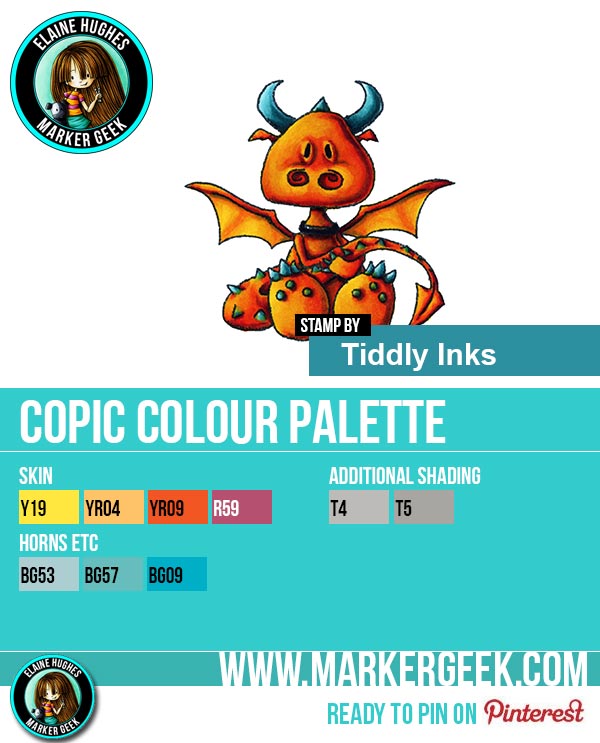 Thanks for stopping by!
I hope you have enjoyed today's post as much as I enjoyed creating it for you. Pop back tomorrow to check out a fun St Patrick's Day card and colouring video!
Don't want to miss out on future posts? Subscribe to my RSS feed in your favourite blog reader or subscribe via email using the form over in the sidebar.