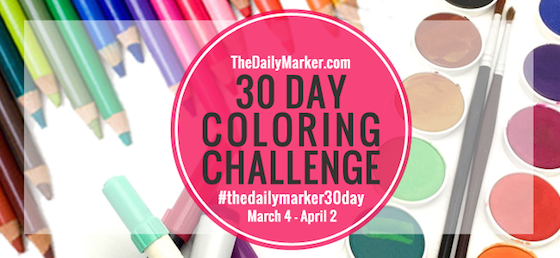 This is my second post for today, don't be alarmed, it won't be happening too often. 😉 If you want to check out my earlier post scroll on down or click HERE.
Why the second post? One of my favourite bloggers – Kathy at The Daily Marker – is hosting a fun challenge, and it seemed like the perfect way to make sure I do a little colouring every day this month. Like Kathy, I won't be making a card every day (that would be more than a challenge) but I will be doing a little colouring. I'm sure some days I will manage something a little more involved and others will be short and sweet. Today I've got a few adorable bunnies to share, inspired by Kathy herself, and a little colouring video to go with them!
The Daily Marker 30 Day Colouring Challenge:
Kathy at The Daily Marker has been one of my favourite bloggers for quite a while. She always does something fun, and her colour choices are particularly inspiring. I love the Copic combos she comes up with.
It seemed appropriate to start the colouring challenge off by using some Copic marker combos from Kathy herself. Most of these were picked up in the Online Card Classes Copics for Card-makers Class which I took last year and thoroughly enjoyed (even if you're not a beginner, you can always learn something fun). The brown combo came from watching Kathy's Colouring Challenge Day 1 video today. Funnily enough in her video Kathy coloured images from the same Tim Holtz stamp set I used for my earlier post today.
You can join in with the challenge by linking up on Kathy's blog or by sharing on Instagram (the details of how are in her post linked below). I'm hoping to do both, just because. So if you are on Instagram make sure you check out and follow my Marker Geek Instagram feed where I often post colouring progress photos and other little snapshots.
My Day One Colouring: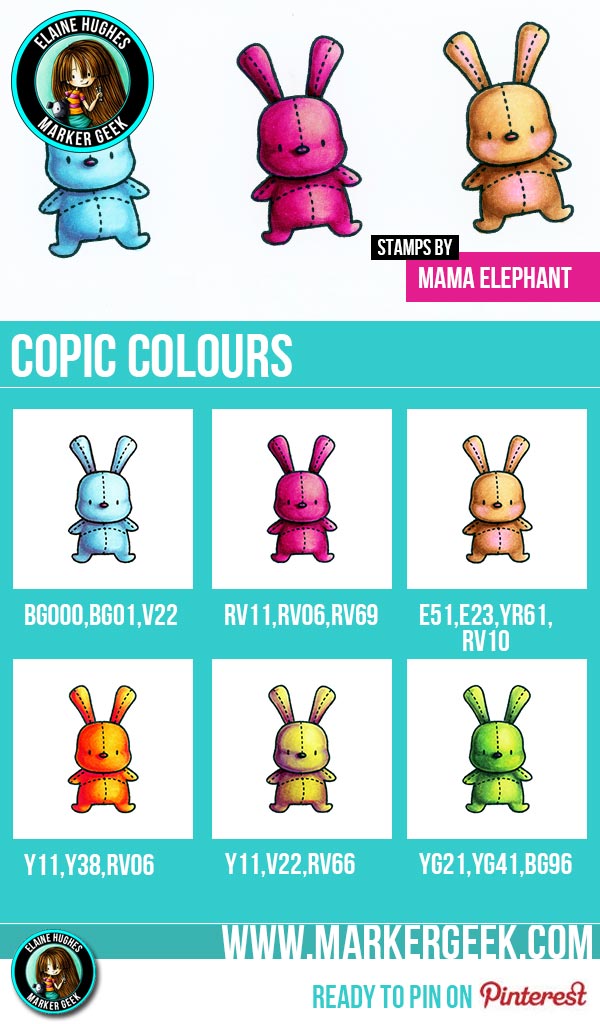 For all the info on the challenge and how to join in, check out Kathy's blog post: The Daily Marker – Day One 3 Day Colouring Challenge. Make sure you check out the video further down in this post first though! 😉
The Details:
I stamped the adorable Mama Elephant bunnies using Memento Tuxedo Black ink on my favourite Make it Colour Blending Card before colouring with Copic markers.
The stamp set is Mama Elephant Honey Bunny. I purchased mine here in the UK from my friend Tara at Make the Day Special which is where I buy most of my Mama Elephant stamps and dies.
Copic Speed Colouring Video:
Watch the video below or watch it in HD on YouTube.
Thanks for stopping by!
I hope you have enjoyed today's post as much as I enjoyed creating it for you.
Don't want to miss out on future posts? Subscribe to my RSS feed in your favourite blog reader or subscribe via email using the form over in the sidebar