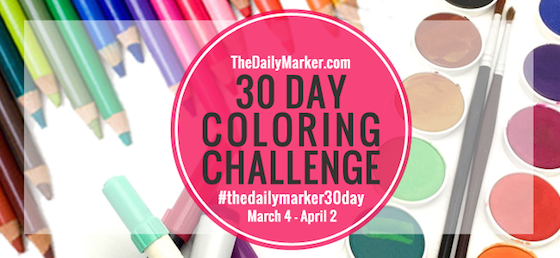 It's Day 14 of the 30 Day Colouring Challenge!
I have a fun little Copic coloured image and Copic Marker Colour Palette for you today, so keep on reading.
This is my second post of the day, so make sure you scroll down and check out my St Patrick's Day card and video!
The Waffle:
Today was spent packing more orders from my online store's big Spring sale – check it out over at Quixotic Paperie for some awesome stamping bargains. Another huge thank you to everyone who has ordered so far, every order means less to count at the end of the month! 😉
I'm still Spring cleaning! Well, we are still in the moving stuff around/throwing stuff out/making stacks of stuff to sell stages, but we're getting there. Every time I do this we end up with less junk, which definitely makes me happier. I've got some shopping to do this week for storage/organisational items and a new piece of furniture arriving next week which I'm pretty excited about, so it's all going well. 😉
The Challenge:
When you're done checking out my post, make sure you pop on over to Kathy's blog The Daily Marker to get all the challenge info and join in with the fun. Kathy has posted another awesome card today along with another equally awesome giveaway so make sure you check it out. If you haven't already, I highly recommend subscribing to Kathy's blog for lots of fun colouring and card-making inspiration.
My Day Fourteen Colouring:
Today's image is another one I stamped up a while ago. I have a box full of images I have stamped because I like to have a stash of images to just flick through and grab on a whim, but also because I very often stamp an image with the best of intentions and end up not managing to colour it then and there. Poor little Tress has been sitting in there for quite some time, waiting for Spring to come around again. 😉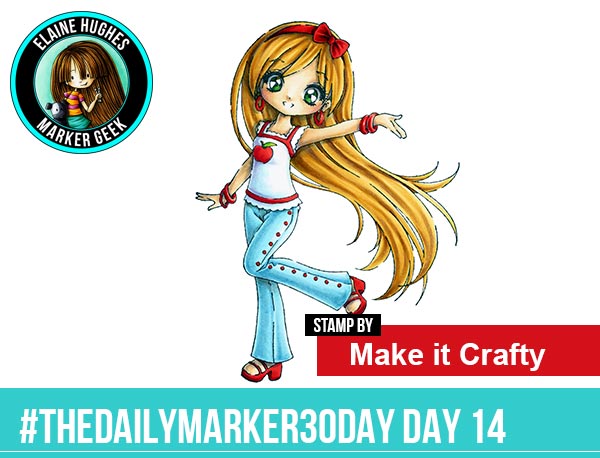 I kept Tress fairly simple and similar to Zoe's original coloured example, aside from the hair colour. I just love how fresh and happy she looks.
The Details:
The stamp I used today is Tress Joyful from Make it Crafty currently available in rubber at 25% off in my huge Spring clearance sale over at Quixotic Paperie! You can grab all of the Tress images individually or as a complete set (stocks are fairly low though, so be quick). If you have a browse around the Make it Crafty section you will find lots of fun characters and some awesome background stamps to go with them.
I stamped Tress Joyful with Memento Tuxedo Black Ink on my favourite Make it Colour Blending Card before colouring with Copic Markers.
Copic Marker Colour Palette: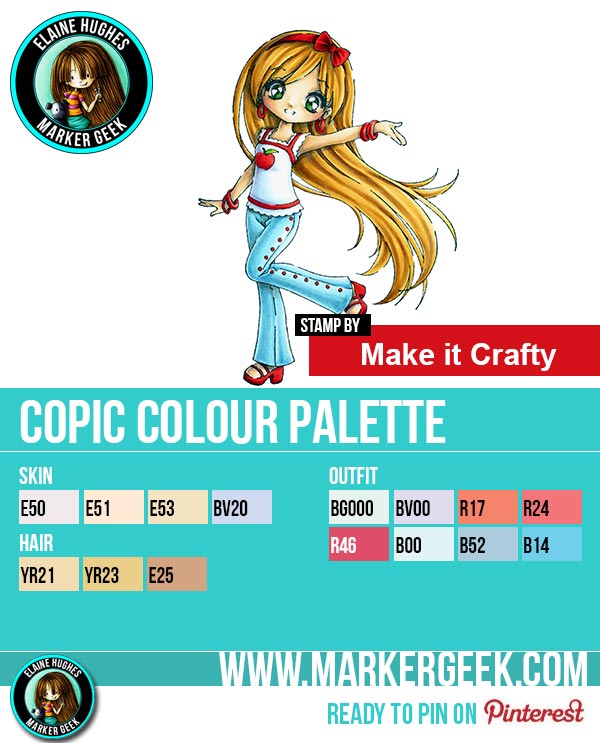 Thanks for stopping by!
I hope you have enjoyed today's post as much as I enjoyed creating it for you. If you haven't already, make sure you check out my earlier post today: Happy St Patrick's Day with Mo's Digital Pencil which includes a Copic Colour Palette and a speed colouring video.
Don't want to miss out on future posts? Subscribe to my RSS feed in your favourite blog reader or subscribe via email using the form over in the sidebar.