I've got another sweet clean and simple (CAS) card to share today featuring a Stamping Bella stamped image from the new "Woodsies" collection.
Read on to see the card along with a Copic speed colouring video and info on how to grab the "colour map" for this image.
The Waffle:
If you're following my Instagram feed you will be aware that in spite of my total lack of mojo at the moment I am still keeping up with the 30 Day Colouring Challenge!
As you may know, one of the things keeping me busy and away from my colouring is the huge sale I currently have over in my online store. I'm mentioning it again at the risk of sounding like a stuck record, because I really hate stock-taking and counting all those stamps. 😉 With that in mind, if you're looking for a crafty bargain or if you'd just like to save my sanity, pop on over to my UK based online store where the Spring Clearance discounts on many items have been increased! You can now enjoy up to 50% off many items.
Until midnight on 31st March you can also enjoy 15% off everything else in stock too!
NOTE: I will be closing over Easter to do the aforementioned dreaded stock-take, so get your orders in before Tuesday 1st April.
The Card: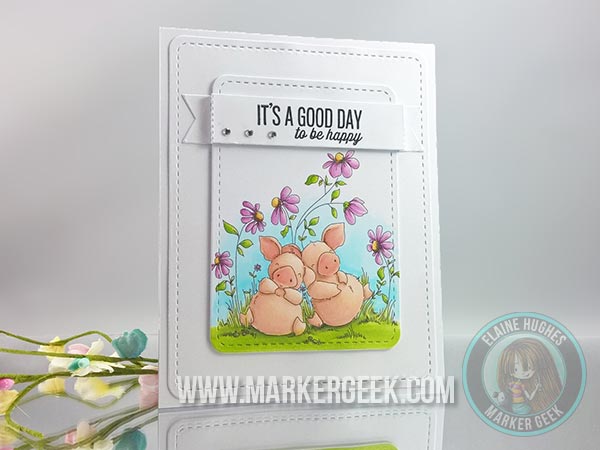 This image comes with an adorable sentiment, but I was going for a different theme with my card so I chose a different stamp from my collection. Always mix and match those sentiments to maximise the use you get from your stamps, no need to limit yourself!
The Details:
The stamp I used is Stamping Bella – Petunia & Penny Take a Break available now with 15% off until 1st April from my online store here in the UK (along with all the other recent releases).
US/Canadian readers can find Petunia & Penny and the other Woodsies direct at Stamping Bella!
I used a Lil Inker Designs stitched rounded rectangle die set to cut the image and mat to fit on my card front. The stitched rectangle dies are perfect for creating clean and simple cards that look nicely finished.
I stamped the image with Memento Tuxedo Black ink on my favourite Make it Colour Blending Card before colouring with Copic Markers.
The sentiment is from the Mama Elephant Up and Away clear stamp set. I stamped it with Jet Black Archival Ink on a banner cut using a Mama Elephant die.
I buy the majority of my Mama Elephant stamp sets/dies and Lil Inker Designs dies from my friend Tara at Make the Day Special here in the UK.
Copic Speed Colouring Video:
Watch the video below or in HD over on Youtube.
Colouring Information:
If you want to find out the details of the Copic markers I used to colour Petunia & Penny, when you purchase the stamp from Stamping Bella or any retailer you can get a free Colour Map with all the marker details broken down for you. These are available for all of the newest images, and older images will become available soon.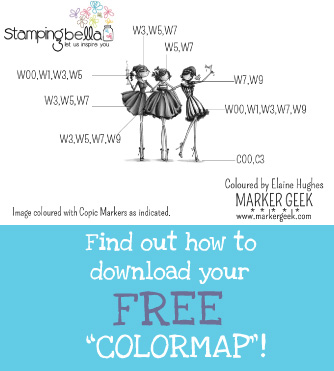 Thanks for stopping by!
I hope you have enjoyed today's post as much as I enjoyed creating it for you.
Don't want to miss out on future posts? Subscribe to my RSS feed in your favourite blog reader or subscribe via email using the form over in the sidebar.