Today marks the end of a six year chapter with the closing of my online store Quixotic Paperie. As of writing this post the store is still open, but it will close for good at midnight UK time tonight (as mentioned previously I will continue to sell Make it Colour Blending Card and will post details regarding that soon).
Since I opened the virtual doors at the start of June 2009 so many things in my life have changed. Much of it has been a case of me not changing things but the world around me having the audacity to go ahead and change anyway. Not all the changes have seemed good, there have been deaths, illnesses, near misses and general stresses, but it has all led to this point. Right now, I am feeling more like myself than I have in years. That can only be a good thing.
Quixotic Paperie was for the most part a Good Thing. It allowed me to immerse myself in something I loved. Somewhere along the way however, it became clear that it was not The Right Thing. So, while I hugely appreciate the lessons and opportunities it brought with it, I feel fantastic about my decision to move on, seriously fantastic. The events and life changes of the past couple of years helped me to recognise the problem and this year I have found myself in the right mind-set to make the final decision. Right here, right now, I am feeling good and that tells me I'm on the right path.
Truly, I do feel more like myself at the moment, happier in my own skin and content to explore things I've been longing to do for some time. I'm slowing down to take some time for me and I'm very happy about that. When I have dispatched the final orders I will take an hour just to sit, drink some tea and reflect before moving onwards and hopefully upwards!
Happily the closure of Quixotic Paperie and the extra free time and brain space that brings coincide nicely with the start of another Daily Marker 30 Day Colouring Challenge over at Kathy Racoosin's blog The Daily Marker!
I am so looking forward to joining in with Kathy's challenge again, and fingers crossed I can make the whole 30 days this time. I'll be sharing both here on the blog and over on my Instagram feed each day, so make sure you drop in. For me it will be the perfect way to get back in to creativity and blogging, which is exactly what I want to be doing. I do love a happy coincidence!
On a slightly less cheerful note, our little four legged miss is off to the vet in a few days for some dental work and to remove what is hopefully just an overgrowth of gum. Keep her in your thoughts if you will, I'm moderately concerned given her liver and blood sugar related problems. She is in very good hands though, with our caring and conscientious vets so fingers crossed she will be back home the same day with a brighter smile and minus a weird piece of gum.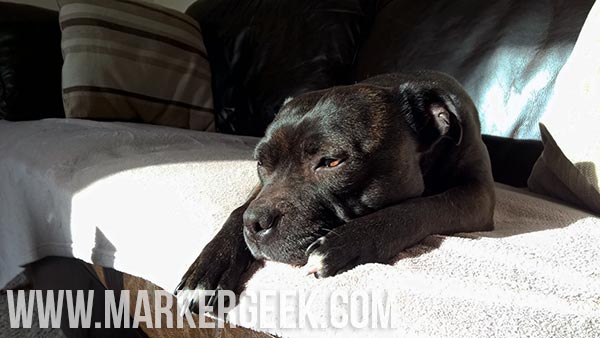 Thank you for stopping by today!
To all of my customers, thank you for all of your support over the years. I hope you will continue to drop by here for inspiration featuring some of your favourite stamp brands and to see what I'm up to. I love to hear from you, so don't be shy – leave a comment!
I will be back tomorrow with my first dose of 30 Day Colouring Challenge fun. Come back to see what I'm colouring – I will be playing with my markers, so you can expect a Copic Colour Palette to accompany the image.