Read on to see my Copic coloured scene card for today featuring a lovely Little Miss Muffet Stamps character digi and a Make it Crafty digital background stamp, plus a full Copic Marker Colour Palette to go with the scene!
Waffle:
I'm delighted to be joining in with raising awareness today for a crafty friend's family! Barbara aka Forgotten Scraps is one of the many wonderful and creative friends I have made through card-making and more specifically colouring.
Barbara's 11 year old daughter Cassandra is Deaf. She attends a public school in Texas and has asked for real-time captioning (RTC) to assist her in school. RTC is where a captionist will type up what is spoken in class and display it on a tablet so she can read information that she has missed. Without it, she struggles every day and has to guess at the meaning of half-heard words and sentences.
I'm joining in today, posting a card here on my blog to help raise awareness and to spread the word.  You can read more about Cassandra's story HERE and sign the petition HERE.
If you have any questions or just want to know more about why this is an issue, make sure you check out the CART for Cassandra page, as Barbara has provided in-depth explanations for things many of us may not be aware of.
For each signature on the petition, the school administrators receive an email. Let's fill up their inboxes and help Cassandra get the most from her time at school!
To support this petition and spread the word, Little Miss Muffet Stamps has released a dozen new images to play with.  Plus there is a freebie in the store so everyone can join in.  We'd love to see what you'll create, but more importantly we hope you can help Cassandra by signing the petition and spreading the word.
If you do make a card and would like to send it to Cassandra in support and encouragement, here's the address to send it to!
CART for Cassandra
P.O. Box 163462
Fort Worth, TX 76161-3462
The Card: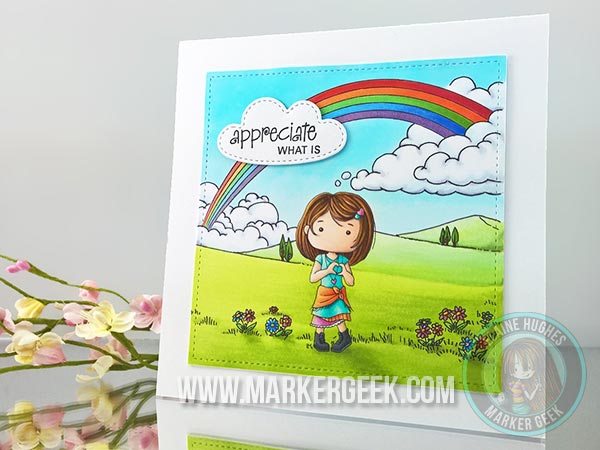 The Polka Dot Pals characters from Little Miss Muffet Stamps are adorable, and Barbara is very encouraging regarding creative colouring of these images. As I have done here, you can leave them simple and featureless or you can have a go at building the facial features with your colouring medium. See my 2013 post (where has all that time gone?!) Little Miss Muffet Polka Dot Pals – Facial Feature Fun to see how I coloured one of the other characters!
Stamp & Other Details:
I created the scene on my card using two digital stamp images. The sweet character is Little Miss Muffet Stamps – Polka Dot Pals – Amelia and the background is Make it Crafty – Rainbow Meadow.
I printed the image on Make it Colour Blending Card (my favourite for colouring with Copic and other alcohol based markers) before colouring with Copic Markers. I use a CANON Pixma iP7250 printer * to print my digital stamp images, it takes the 250gsm Make it Colour card and thicker cardstocks nicely and the PIXMA ink plays nicely with Copics in my experience. See below for the full Copic Marker Colour Palette to go with my scene!
To die cut the image layer and create my card I used the largest die from the Lawn Fawn Large Stitched Squares Lawn Cuts die set. I added a sentiment from a Hero Arts clear sentiment set (CL129) on a cloud from the Mama Elephant Stitched Sky Creative Cuts die set.
I create my own card blanks using a Fiskars High Precision Personal Paper Trimmer *, a Martha Stewart Scoring Board * and bone folder * (I don't like the plastic scoring tools, I use a bone folder and have had mine for several years).
Copic Marker Colour Palette: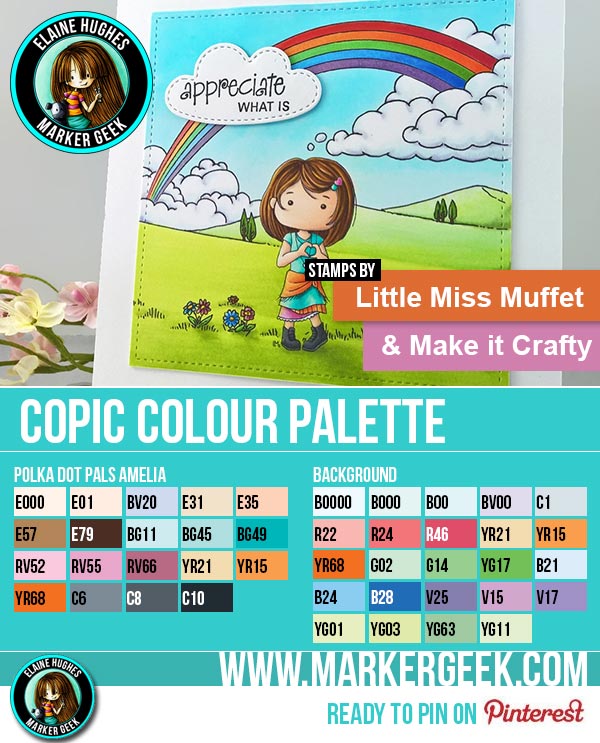 Thanks for stopping by!
I hope you have enjoyed today's post as much as I enjoyed creating it for you.
Don't want to miss out on future posts? Subscribe to my RSS feed in your favourite blog reader or subscribe via email using the form over in the sidebar.
If you want to keep an eye on what I'm colouring, follow me over on Instagram where I share frequent peeks at the colouring I'm doing along with other day to day snaps.
Please note that in order to assist with the running of this blog I do use affiliate links from time to time and there may be some in this post, denoted with a *. Please see my About Page for more details.