Read on to see my card for today featuring one of Stamping Bella's beautiful and sweet Woodsies animal stamps.
Waffle:
Today I'm sharing another card featuring a stamp from one of my favourite Stamping Bella ranges "The Woodsies". Love the sweet humour in these images, a common theme across the Stamping Bella range.
If you want to keep an eye on what I'm colouring and creating on a daily basis (and the occasional dog pic), follow me over on Instagram.
The Clean & Simple Card: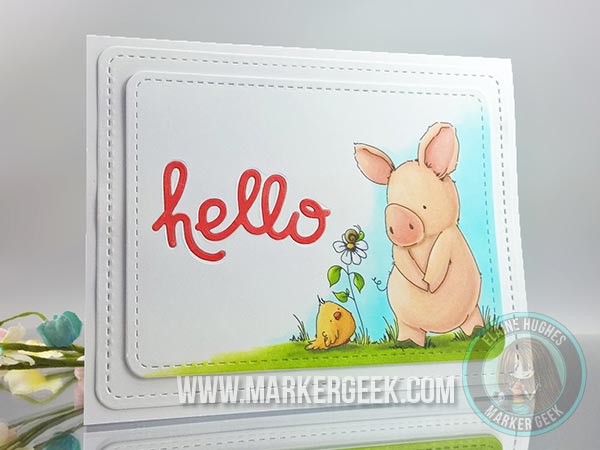 I used a die to create the sentiment for this card, but this stamp does come with its own lovely sentiment which reads "You're always there for me…that's what I love the most about you.".
Stamp & Other Details:
US and International readers: you can find Especially For You Petunia and the rest of the Woodsies range direct at Stamping Bella (shipping is from the US).
UK/European readers: the very latest Stamping Bella releases can now be found at Make the Day Special here in the UK. Tara doesn't currently have older designs like The Woodsies in stock just yet, but I know that she does plan to in future, so if you want to see this stamp or others from the Stamping Bella range included, drop Tara a line via her website. I highly recommend Tara's store for the speedy dispatch and awesome customer service.
I stamped the image with Memento Tuxedo Black ink on Make it Colour Blending Card (my favourite for colouring with Copic and other alcohol based markers) before colouring with Copic Markers. The word "hello" was die cut with a Paper Smooches die using the inlaid die cutting technique. I used my Copic markers to colour the die cut word.
To die cut the image layer and create my card I used a couple of Lil' Inker Designs Stitched Mats Rounded Rectangles dies available here in the UK from Make the Day Special (who also stock Paper Smooches).
I create my own card blanks using a Fiskars High Precision Personal Paper Trimmer *, a Martha Stewart Scoring Board * and bone folder * (I don't like the plastic scoring tools, I use a bone folder and have had mine for several years).
Copic Marker Colour Palette:
If you purchase or already own the Stamping Bella "Especially For You Petunia" stamp, you can obtain a free Copic Colour Map from Emily at Stamping Bella showing how I coloured it. See HERE for details.
Copic Colouring Video:
If you'd like to get an idea of how I colour Petunia the pig, you can take a look at the video I created for one of the other Woodsies stamps. Watch below or over on my Youtube channel in HD.
The stamp featured in the video is Petunia & Penny Take a Break and my original blog post is HERE.
Thanks for stopping by!
I hope you have enjoyed today's post as much as I enjoyed creating it for you.
Don't want to miss out on future posts? Subscribe to my RSS feed in your favourite blog reader or subscribe via email using the form over in the sidebar.
Please note that in order to assist with the running of this blog I do use affiliate links from time to time and there may be some in this post, denoted with a *. Please see my About