Read on to see my card for today featuring another Copic Marker Galaxy background along with a full Copic Colour Palette!
Waffle:
Today's card features another example of the Copic Marker Galaxy background I shared earlier this week. Click the banner below to check out that post which includes a step by step tutorial you can try out yourself! If you do, please do share a link to your own colouring in the comments section or tag me over on Instagram (@markergeek) I'd love to see!

My card today was actually inspired by one of my favourite bloggers – Alice Wertz – she created an adorable card a while ago which stuck in my mind and was perfect inspiration for creating this fun little "star signs in a galaxy" card. You can see Alice's card HERE.
The Card:
Stamp & Other Details:
The adorable stamp set I used on today's card is Cosmic Stars by Mama Elephant. I also used their Femme Frames die set and the Starry Night sentiment set.
US and International readers: you can find Cosmic Stars, Starry Night and the Femme Frames die set at Mama Elephant.
UK/European readers: you can find Mama Elephant – Cosmic Stars stamp set (there is also a die set available for this), Mama Elephant – Starry Night stamp set and Mama Elephant Basic Set Creative Cuts (includes Femme Frames) at Make the Day Special here in the UK. I highly recommend Tara's store for the speedy dispatch and awesome customer service.
I stamped the images with Tim Holtz Distress Ink – Antique Linen on Make it Colour Blending Card (my favourite for colouring with Copic and other alcohol based markers). One of the many reasons this is my favourite is for techniques like this background. Make it Colour Blending Card is one of the best papers I have used for colourless blender techniques, moving colour around with the colourless blender is a breeze on this paper.
Copic Marker Colour Palette: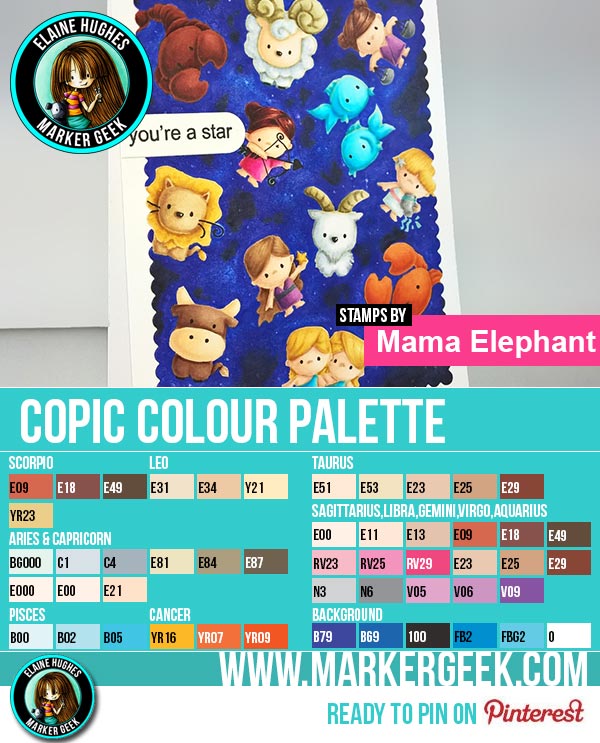 Thanks for stopping by!
I hope you have enjoyed today's post as much as I enjoyed creating it for you. I really hope that you find the little step by step tutorial helpful. If you do, please do share a link to your own colouring in the comments section or tag me over on Instagram (@markergeek) I'd love to see!
Pop back tomorrow when I will hopefully have a video to share with you, giving you a better look at how I coloured the Copic galaxy background!
Don't want to miss out on future posts? Subscribe to my RSS feed in your favourite blog reader or subscribe via email using the form over in the sidebar.
Please note that in order to assist with the running of this blog I do use affiliate links from time to time and there may be some in this post, denoted with a *. Please see my About Page for more details.