Read on to see my card for today and to get a step by step colouring tutorial to go with it!
Waffle:
I had every intention of getting today's post ready for yesterday to get the month off to a great start. Total failure! Tuesday was a long hot day followed by a long, hot and not very restful night. Wednesday was just a humid sticky mess of a day, and I did not get very much done at all! Thankfully today is much fresher and we're enjoying some lovely rain, perfect for catching up on work. 😉
I know that like me, some of you are already missing the Daily Colouring Challenge. Don't worry though, I will have lots of inspiration for you and plenty of Copic Colour Palettes to share this month, plus a few step by step tutorials and videos here and there. In fact, I'm starting the month off with a fun little step by step that I hope will give you a little nudge to play with background colouring and get you colouring a simple Copic cloudy sky.
The Card: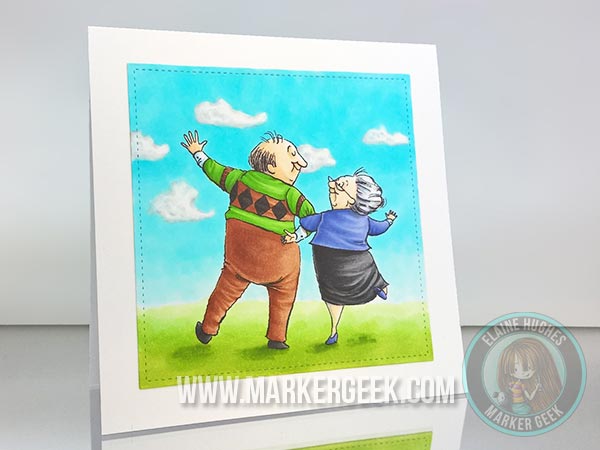 Stamp & Other Details:
This lovely stamped image is from Stamping Bella's latest release. It is from the Christine Grove range of stamps and is called "Forever My Always". The stamp actually includes a separate sentiment which reads "You Will Forever Be My Always" (I used the sentiment on the inside of my card).
US and International readers: you can find Forever My Always and the rest of the new stamps direct at Stamping Bella (shipping is from the US).
UK/European readers: you can now find Forever My Always and the other latest Stamping Bella releases at Make the Day Special here in the UK. I highly recommend Tara's store for the speedy dispatch and awesome customer service.
I stamped this image with Memento Tuxedo Black ink on Make it Colour Blending Card (my favourite for colouring with Copic and other alcohol based markers).
I kept the card very simple and simply die cut the image with a Lawn Fawn Large Stitched Square Stackables die (the largest one in the set) purchased here in the UK from the lovely Tara at Make the Day Special, then placed it on a square white card blank.
Copic Marker Cloudy Sky Step By Step:
(click the image to view a larger version)

Thanks for stopping by!
I hope you have enjoyed today's post as much as I enjoyed creating it for you. I really hope that you find the little step by step tutorial helpful. If you do, please share a link to your own colouring in the comments section or tag me over on Instagram (@markergeek) I'd love to see!
Pop back tomorrow to see another example of this cloudy sky background on a cute clean and simple card.
Don't want to miss out on future posts? Subscribe to my RSS feed in your favourite blog reader or subscribe via email using the form over in the sidebar.