Read on to see my card for today featuring some adorable new clear stamps and an older digital image, plus a Copic Colour Palette to go with it!
Waffle:
When I saw the previews for the Mama Elephant stamps on today's card I knew I'd be stalking the Make the Day Special website as soon as they were released. I'm a sucker for cute/kawaii images. These two new sets illustrated by Luli Bunny are too cute and so much fun.
At the end of this post you will find a Copic Marker Colour Palette for the Make it Crafty background image and a separate set of Copic Combo suggestions for the animal images in one handy pinnable image!
You can see all of my posts that include Copic Marker Colour Palettes HERE if you're looking for some suggestions for your own colouring.
If you want to keep an eye on what I'm colouring, follow me over on Instagram where I share frequent peeks at the colouring I'm doing along with other day to day snaps.
The Card: 
Ridiculously cute, isn't it?
Stamps & Other Details:
Background digital stamp: Make it Crafty – Hilly Lane
Clear Stamps: Mama Elephant Tandem Ride & Mama Elephant Tandem Extras available from Make the Day Special here in the UK.
I printed the background digital image on Make it Colour Blending Card (my favourite for colouring with Copic and other alcohol based markers) before colouring with Copic Markers. I use a CANON Pixma iP7250 printer * to print my digital stamp images, it takes the 250gsm Make it Colour card and thicker cardstocks nicely and the PIXMA ink plays nicely with Copics in my experience.
I used Lawn Fawn Large Stitched Rectangle dies to cut the frame for the card front. To cut the images out I used the coordinating die sets Mama Elephant Tandem Ride Creative Cut and Mama Elephant Tandem Extras Creative Cut. I don't always buy the coordinating die sets for stamps, just when I know I am going to want to create cards like this and the sets have small and fiddly images. As it happens, I did a little extra cutting on the bike image as there is a spot the die doesn't cut which didn't really work for my card.
I create my own card blanks using a Fiskars High Precision Personal Paper Trimmer *, a Martha Stewart Scoring Board * and bone folder * (I don't like the plastic scoring tools, I use a bone folder and have had mine for several years).
Copic Marker Colour Palette & Combos:
Firstly I have a Copic Marker Colour Palette for the Make it Crafty background image: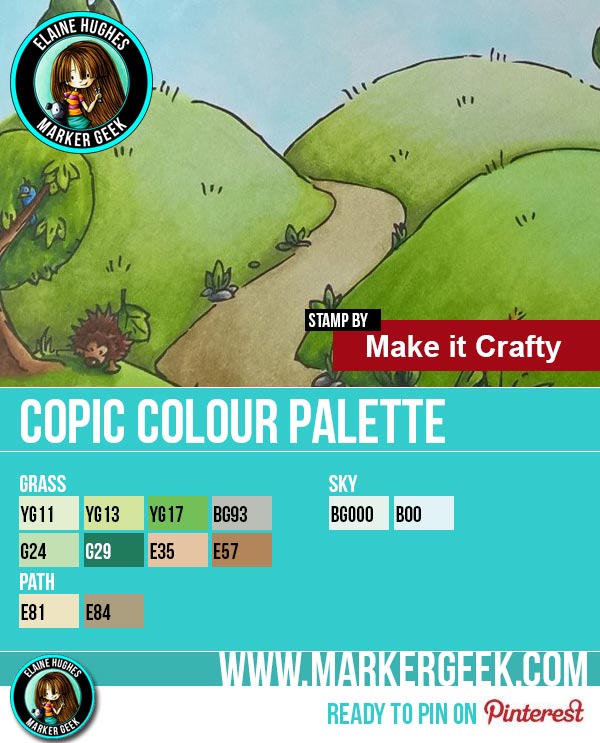 Secondly, because I played around with a few different options for the animals I thought I'd share the Copic combos with you. I used the second option for both the bunny and chipmunk on today's card.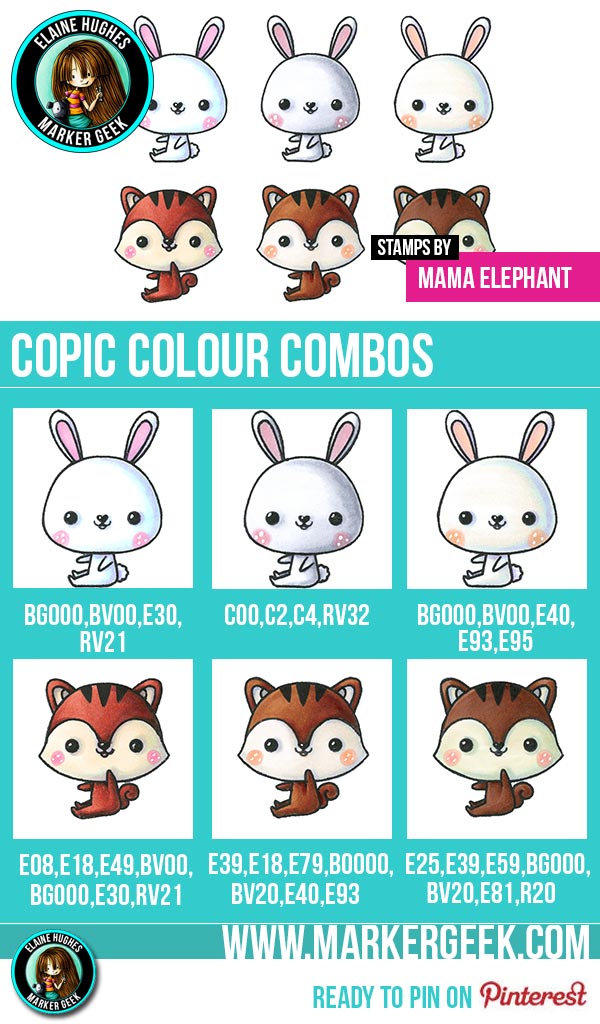 Thanks for stopping by!
I hope you have enjoyed today's post as much as I enjoyed creating it for you.
Don't want to miss out on future posts? Subscribe to my RSS feed in your favourite blog reader or subscribe via email using the form over in the sidebar.
Please note that in order to assist with the running of this blog I do use affiliate links from time to time and there may be some in this post, denoted with a *. Please see my About page for more details.