Read on to see my card for today featuring another Copic Marker Galaxy background and a fun Stampotique image with a full Copic Marker Colour Palette.
Waffle:
Today's card features another example of the Copic Marker Galaxy background I shared earlier this month. Click the banner below to check out that post which includes a step by step tutorial you can try out yourself! If you do, please do share a link to your own colouring in the comments section or tag me over on Instagram (@markergeek) I'd love to see.

Thank you to those who have tried it out and shared so far, I'm so happy that you found the video useful!
The Card: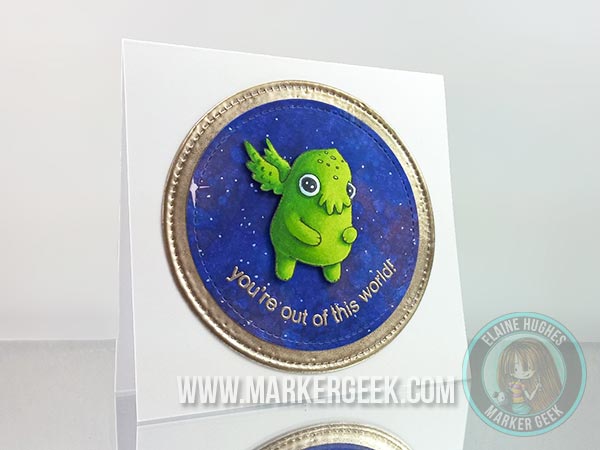 I'm not just geeky about markers so yes, I know that technically this galaxy wouldn't be the standard habitat for little Baby Cthulhu (one of my very favourite stamps). I have however silenced my inner anal retentive geek girl, because he looks adorable floating in space and I had some practice galaxy scraps that were just too pretty not to use up. 😉
Here's the reason this is one of my favourite stamps. 😉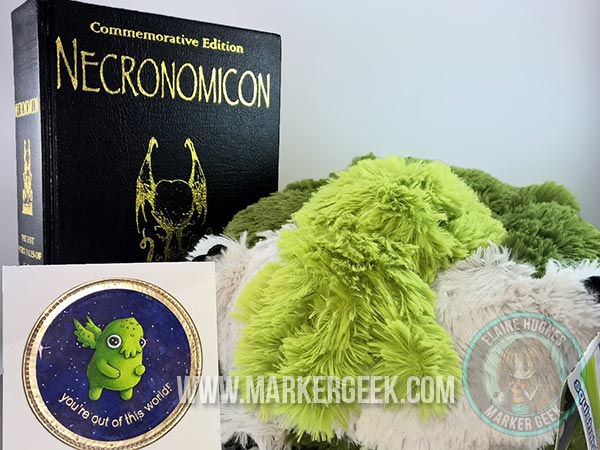 If you like supernatural horror and have yet to test the Lovecraftian waters, jump in and grab a copy of the Necronomicon *. Watch out though, there might be something a little less adorable than Baby Cthulhu lurking. 😉 The plushie is a Squishable Cthulhu *. I must confess I'm a teeny bit addicted to Squishable soft toys, one of my favourite Christmas gifts last year was a Squishable Hedgehog * (he's kind of huge and totally huggable). Growing up is totally optional, people!
Stamp & Other Details:
The stamp featured on my card is Stampotique Originals Baby Cthulhu. I love him so much that he has the honour (along with the rest of my Stampotique collection) of being one of the very few wood mounted stamps I still own!
UK readers: I buy my Stampotique Originals stamps from Art From The Heart here in the UK, at the time of writing this post Baby Cthulhu is still in stock. I can recommend the service from AFTH, having been a happy customer for quite some time!
I die cut the image and mat layer using Lawn Fawn Large Stitched Circles dies. I used Versamark ink and Ranger Liquid Platinum embossing powder to emboss the stamped sentiment from Mama Elephant – Starry Night (I curved the sentiment when placing it on my acrylic block – great way to get more from your clear sentiment stamps) and to heat emboss the larger circle to create a coordinating mat.
The bright stars on this galaxy were created with a Uni-Ball White Signo Pen UM-153*. This is my favourite white pen for adding small details.
I create my own card blanks using a Fiskars High Precision Personal Paper Trimmer *, a Martha Stewart Scoring Board * and bone folder * (I don't like the plastic scoring tools, I use a bone folder and have had mine for several years).
Copic Marker Colour Palette: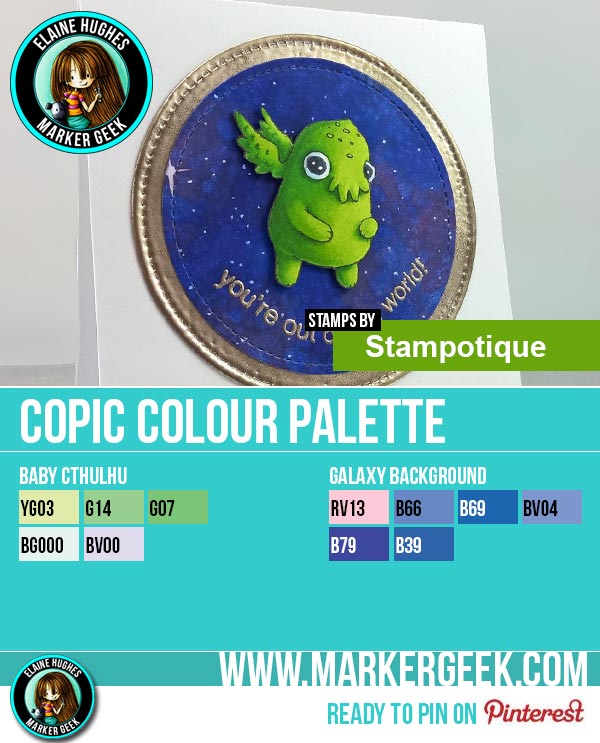 Thanks for stopping by!
I hope you have enjoyed today's post as much as I enjoyed creating it for you.
Don't want to miss out on future posts? Subscribe to my RSS feed in your favourite blog reader or subscribe via email using the form over in the sidebar.
Please note that in order to assist with the running of this blog I do use affiliate links from time to time and there may be some in this post, denoted with a *. Please see my About Page for more details.