It seems a little crazy to me that my last blog post was in mid-August. I have been wanting to post an explanation for over a week now, and just haven't found the energy. Today is the day!
The past few weeks have been an emotional rollercoaster, and sadly I can't say that it is over yet. You may be aware from posts here and on my Instagram feed in the past year or more that our beautiful dog Taika aka Miss Pig has been unwell. We discovered at the end of 2014 that her symptoms were actually most likely due to a form of pancreatic cancer.
We spent most of this year managing her symptoms well with diet. Unfortunately a few weeks ago some of the more serious symptoms returned, and she had a couple of partial seizures. She went for a CT-Scan two weeks ago, which thankfully showed no evidence of any spread, but also didn't clearly show any masses in the pancreas (apparently this is fairly common since they can be quite small). We have made the decision to go ahead with surgery, which is happening in just over a week.
Here she is, and as you can see she looks great. Another great example of how outward appearances can be utterly deceptive.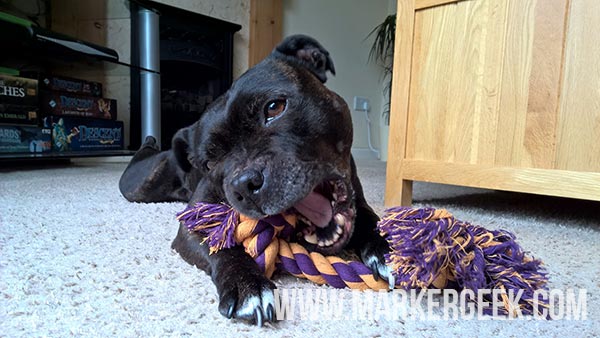 As you will hopefully understand, my mind hasn't exactly been on creating and blogging. I'm spending as much time with my girl as possible, and trying not to overload myself with stress. I feel quite guilty and frustrated, because I have so many ideas and plans, but I really need to slow down and re-prioritise right now.
I'm not sure when I will be back to regular blogging, so please bear with me! I will be back, it just depends on how the surgery goes, and what happens following it. I'm hoping to at least do some therapeutic colouring, and will try to post some photos to my Instagram account, so if you would like to keep up with little snippets of what I'm doing, I'd love to see you over there.
If you would like to keep our girl Taika in your thoughts, that would be hugely appreciated. She needs all the positive vibes she can get!