Read on for my latest card featuring new Stamping Bella Edna Needs a Martini rubber stamp, coloured with Copic Markers. Post includes a Copic colouring video and Copic Marker Colour Map.
The Latest News:
If you missed yesterday's post you may want to take a look for details of all my Marker Geek Monday articles for Stamping Bella: Marker Geek Monday Update. There are lots of useful tips, colour combos etc. included in the posts so far, whether you're just getting started on your colouring adventures or you've been colouring for a while!
As you may have gathered from all the sudden activity over here during the latest Stamping Bella release, I'm back to regular blogging! It has taken some time for me to find my feet and my creative mojo again. While I never stopped colouring, making cards, taking photos and blogging was just more than my poor cluttered brain could cope with! I have been making up for it though, and will be sharing lots of cards and colouring fun with you here over the coming months (I realise this may seem like an invitation for the universe to have some fun with me, so I'd like to state for the record that it is in fact not 😉 ).
Our little four legged weirdo is doing pretty well at the moment (touch wood, fingers crossed etc.). We've had plenty of ups and downs though, as diabetes is a tricky customer, particularly with her added complexities! Lots of stress, tears and long chats with the vet.
Stamping Bella Edna Needs a Martini Card:
Here's the card I created for the latest Stamping Bella release using the fabulous new Edna Needs a Martini rubber stamp. I know Edna has been a popular lady, and I am sure that popularity will only continue to rise! I didn't use it on today's card, but she does come with a great sentiment (as do most of the Stamping Bella images).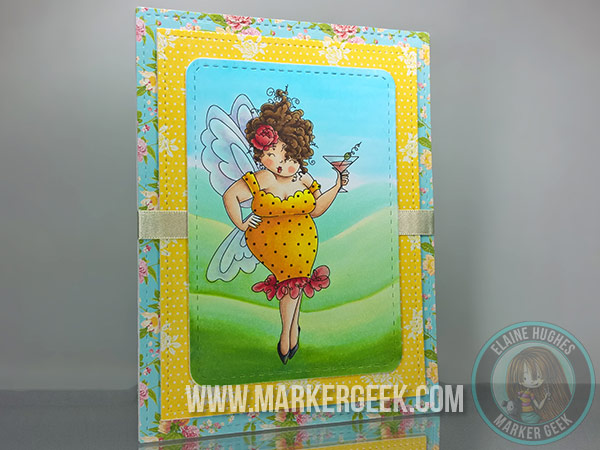 I coloured a simple landscape background for Edna. Looks like she's hovering somewhere peaceful to enjoy that martini!
I stamped the image with Memento Tuxedo Black ink on Make it Colour Blending Card (my favourite for colouring with Copic and other alcohol based markers) before colouring with Copic Markers.
The patterned papers I used are a mixture of digital papers from the Carina Gardner Only Sweetness and Echo Park Petticoats & Pinstripes digital paper packs printed on cardstock using my CANON Pixma iP7250 printer *.
I used a mix of dies from the Lawn Fawn Stitched Rectangles sets and Lil Inker Designs Stitched Rounded Rectangles.
I create my own card blanks using a Fiskars High Precision Personal Paper Trimmer *, a Martha Stewart Scoring Board * and bone folder * (I don't like the plastic scoring tools, I use a bone folder and have had mine for several years).
Copic Marker Colouring Videos:
I coloured Edna Needs a Martini a second time and filmed it! Here's a speed colouring video giving you a nice overview of how I coloured the image. I always find it enjoyable watching other people's speed colouring videos and I hope you enjoy this one.
Watch below or over on YouTube.
I filmed Copic marker colouring videos for all of the images in the latest Stamping Bella release. You can find all of these over on my Marker Geek Youtube Channel in my Stamping Bella Video Playlist (which includes other videos featuring Stamping Bella images including my Copic Galaxy colouring video previously seen in the blog post: Copic Galaxy Background Colouring Video).
Copic Marker Colour Palette / Copic Colour Map:
If you purchase stamps from Stamping Bella, you will be able to obtain a free Copic Colour Map showing the colours used on the product images seen on the packaging and website. See HERE for details. So if you would like to see the colours I used on the image featured on my card above, and you have purchased Edna Needs a Martini, follow the instructions to get your download!
I have a bonus Copic Colour Map for you today, showing the colours I used on the version I coloured in my video above.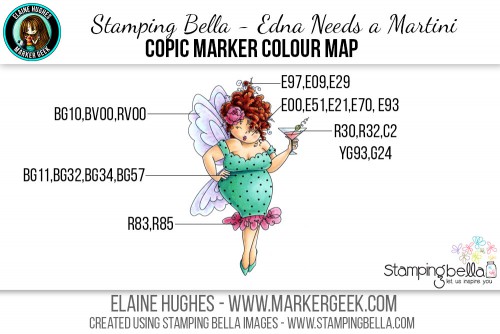 Thanks for stopping by!
I hope you have enjoyed today's post as much as I enjoyed creating it for you.
Don't want to miss out on future posts? Subscribe to my RSS feed in your favourite blog reader or subscribe via email using the form over in the sidebar.
If you want to keep an eye on what I'm colouring on a daily(ish) basis, follow me over on Instagram where I share frequent peeks at the colouring I'm doing along with other day to day snaps.
Please note that in order to assist with the running of this blog I do use affiliate links from time to time and there may be some in this post, denoted with a *. Please see my About page for more information.