Read on for my latest card featuring the Stamping Bella Flowersbehindmybackabella rubber stamp, coloured with Copic Markers.
Marker Geek Monday:
It's Monday! I know, not generally that exciting, but it does bring a healthy dose of colouring fun with it in the form of Marker Geek Monday. 😉 I'm over on the Stamping Bella blog again today with my regular Marker Geek Monday post. This week focuses on colouring pleats and folds with Copic markers (the principles will work for other mediums) and includes a video and a step by step graphic for you to save and refer to. Pop on over and check it out: Marker Geek Monday Copic Pleats and Folds Step by Step with Colouring Video.
I also have a video to share with you in this post, showing how I coloured the background on my card below, so make sure you drop back here or keep on reading before you check out the Stamping Bella blog!
Stamping Bella Flowersbehindmybackabella Card: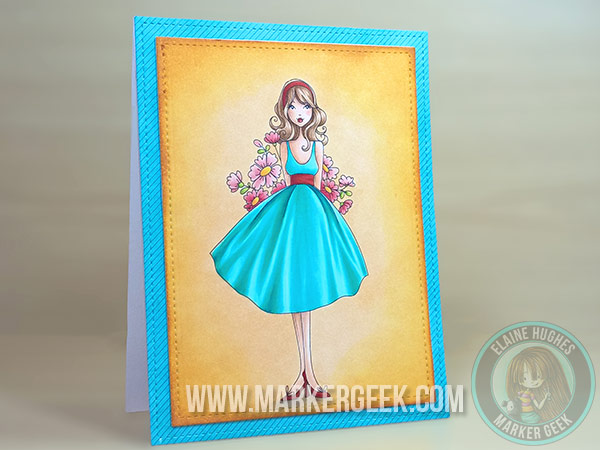 Stamp: Stamping Bella Flowersbehindmybackabella.
I stamped the image with Memento Tuxedo Black ink on Make it Colour Blending Card (my favourite for colouring with Copic and other alcohol based markers) before colouring with Copic Markers. You can find a Copic Colour Map for this image towards the end of this post.
The background was coloured using Copic Markers with Distress Inks to finish off. You can see exactly how I did this in my video below! This is a technique my lovely friend Delphine rocks on a regular basis. It's a great way to make your image pop, while keeping things simple.
As you can see, I didn't use a sentiment on this card. I like to have a selection of "multi purpose" cards in my stash ready for any occasion. This one would be perfect for an everyday notecard, a thank you card or a birthday card. You never know what might crop up! The image does come with a sentiment stamp though, which reads "A huge thank you for all you do".
The patterned paper I used comes from a digital paper pack printed on cardstock using my CANON Pixma iP7250 printer *.
I used a mix of dies from the Lawn Fawn Stitched Rectangles die sets.
I create my own card blanks using a Fiskars High Precision Personal Paper Trimmer *, a Martha Stewart Scoring Board * and bone folder * (I don't like the plastic scoring tools, I use a bone folder and have had mine for several years).
Copic Marker Colouring Videos:
You can find a number of videos showing how I colour over on my Marker Geek Youtube Channel. All my Stamping Bella related videos can be found in a Stamping Bella Video Playlist.
Over on my Marker Geek Monday post on the Stamping Bella blog today you will find the video showing how I coloured the pleats/folds in the dress with my Copic markers, along with some tips in the post itself. Here I have a quick video showing how I coloured the Copic Marker and Distress Ink background for my image before popping it on a card.
Plus here is the speed colouring video showing how I coloured the whole image:
Copic Marker Colour Palette / Copic Colour Maps:
If you purchase stamps from Stamping Bella, you will be able to obtain a free Copic Colour Map showing the colours used on the product images seen on the packaging and website. See HERE for details.
Here is a little bonus colour map showing how I coloured the image on today's card: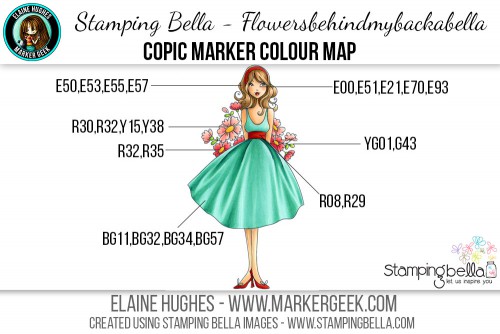 Thanks for stopping by!
I hope you have enjoyed today's post as much as I enjoyed creating it for you. Don't forget to join me over on the Stamping Bella blog today for my Marker Geek Monday blog post.
Don't want to miss out on future posts? Subscribe to my RSS feed in your favourite blog reader or subscribe via email using the form over in the sidebar.
If you want to keep an eye on what I'm colouring on a daily(ish) basis, follow me over on Instagram where I share frequent peeks at the colouring I'm doing along with other day to day snaps.
Please note that in order to assist with the running of this blog I do use affiliate links from time to time and there may be some in this post, denoted with a *. Please see my About page for more information.