Read on to find out about my latest blog feature – Colouring Book Therapy. This week you can read my thoughts on Imagimorphia by Kerby Rosanes and Staedtler Ergosoft colouring pencils, plus watch an Imagimorphia colouring video and a flip-through of the book.

Colouring Book Therapy:
Although I am largely very much a "Marker Geek" with a focus on colouring stamped images using Copic Markers, I also love to use a variety of other colouring mediums and exercise my colouring muscles in different ways. For a while I have been dipping into colouring books, which if you follow me on Instagram probably hasn't escaped your notice!
In this new blog feature I will be sharing my colouring book adventures with you, with reviews, photos and colouring videos. Join me each weekend for some colouring book therapy! It's an ideal way to unwind and de-stress as we stampers and cardmakers have known for a while. 😉
Join me below as I talk about one of the colouring books I am currently working in, read my thoughts on some reasonably priced pencils and check out the first of two colouring videos showing me colouring one of the pages in the book (part two will be posted next week).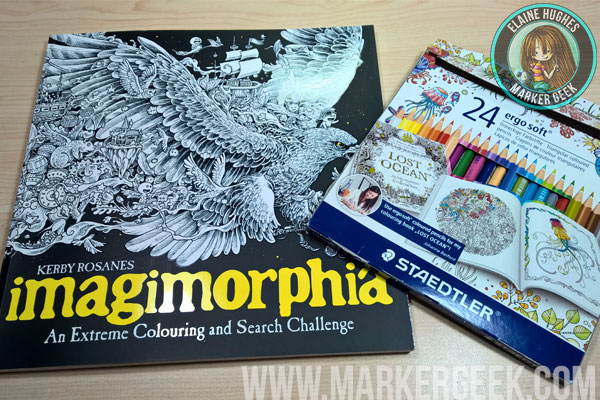 Imagimorphia Colouring Book by Kerby Rosanes:
I will start by stating that I have been a fan of Kerby Rosanes' work for quite a while. I love his style, blending beautifully realistic and detailed imagery with cute and quirky doodles. His work is amazing, so much to see that you could lose yourself for hours. I love following his Instagram account @kerbyrosanes and catching a glimpse of his creative world. It helps that thematically he draws many of my favourite things from wild animals to popular media characters.
I have a few of Kerby's colouring books now, of which Imagimorphia* (US link*) is the latest. It truly does not disappoint, with so many beautifully detailed pages and double spreads. The invitation is wide open to go wild and be creative with colour, and I've seen some gorgeous finished pages online (search social media for #imagimorphia ).
The paper in Imagimorphia* /US link * (and the previous book Animorphia* / US link *) is very good by colouring book standards (please note I am in the UK and have the UK edition published by LOM ART). It takes coloured pencil well – even with the student quality Ergosoft pencils I was able to layer fairly well. I am expecting similar or better results with my artist grade pencils.
I would not advise using watercolour or other paints in this book, unless buckling/wrinkling doesn't bother you and/or you are happy to sacrifice the other side of the pages. I know that some colourists have been using Derwent Inktense Pencils* (US link*) with great results, however I don't feel I have quite enough experience with them, and I am a little too attached to all of the pieces in my book to experiment too heavily.
I tested out my Zig Clean Colour Real Brush Pens* (US link*)but found that while they didn't seem to readily bleed through to the other side, you can see the shadow clearly through the paper. A quick test with some of the other pens I have on hand showed that as you would expect, alcohol based markers bleed through immediately. The Staedtler Triplus fineliners seemed to fare the best, as they did not bleed through and the shadowing was much less than with other pens. I think that at least for the time being I will be sticking to coloured pencils in my copy, although I am tempted to test some Golden Absorbent Ground* (US link*) on one of the pages to see if that helps!
Here's a quick look at the beautiful illustrations in the book, to help you decide if it is something you would like to colour yourself!
Staedtler Ergosoft Pencils Review:
Although I do own some of the more expensive, artist quality coloured pencils, I do like to test out more budget friendly options, both for recommendation purposes and because I like to have some travel-friendly colouring options available for colouring on the go.
Johanna Basford recommends the Staedtler brand pencils, including the Staedtler Ergosoft Pencils, so I thought I would pick up a pack and try them out.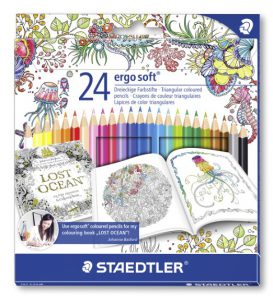 Details:
Staedtler Ergosoft Coloured Pencils come in a range of 24 colours.
They are available in a variety of packs, including a stand-up style box.
The pencils have an ergonomic triangular shape.
They have a soft and richly pigmented lead.
They have what Staedtler call an A.B.S or Anti-Break-System, which is basically a white protective coating that reinforces the pencil core and increases break-resistance.
They are produced using wood from certified, sustainably managed forests.
I purchased the 24 pack of Staedtler Ergosoft pencils* in the Johanna Basford packaging from Amazon UK. These are shown as RRP £20 but I paid around £12, which is the price at the time of writing this post. They are also available in the Staedtler Stand-Up Box (you may have seen this style of packaging if you have purchased Staedtler Tri-Plus fineliner pens* US Link*). Again, the Staedtler 24 pack Ergosoft Pencils in the stand-up style box* (US link*) appears to be around £12-13 on Amazon UK at the time of writing this post.
My Thoughts:
I found myself pleasantly surprised by the Staedtler Ergosoft pencils overall. They lay down colour nicely, without requiring heavy pressure and didn't feel scratchy. The triangular shape is comfortable and pleasant to hold. The colours seemed to blend quite nicely, not as well as the more expensive artist quality pencils, but certainly better than I had expected and enough to give pleasing results in my colouring book.
I'm not sure if I perhaps received some defective pencils, or if perhaps my set was a little worse for wear following transit, due to the set being in the thin Johanna Basford themed cardboard packaging rather than the plastic stand-up case. A few of the pencils in my set were prone to breakage from the outset. I didn't notice this at first as the blue pencils I started working on my page with were absolutely fine and seemed strong. When I started work on the fur, I ran into some issues. I have sent an email to Staedtler and will update this post when I hear from them about this. Overall though, the anti-break coating does seem to work well, as the cores are fairly soft and lay down nicely, but for the most part seem to remain quite strong.
The fairly flimsy cardboard packaging for the Johanna Basford branded set of pencils was disappointing. If purchasing again I would definitely opt for the stand-up case, which offers more protection and a convenient storage option (especially if you intend to use them while out and about). A quick look at the reviews on Amazon shows that this is a feeling many people seem to share.
One drawback is the limited colour range. The Ergosoft pencils come in a range of 24 colours. This can be a good thing – a wider range of colours can be overwhelming, especially if you're just starting out, and a smaller selection is easier to transport when travelling. Also the pencils do blend fairly well, so you are able to achieve a reasonable variety in colouring by blending different shades.
Overall I found the Staedtler Ergosoft pencils pleasant to use, and felt that I could achieve nice results with them. I would certainly pop them in my bag for travelling with. At home though, my more expensive artist-quality pencils will remain the "go to", unsurprisingly. I would definitely recommend these pencils to someone just starting out with coloured pencils, looking to see if the medium is a good fit for them, or for someone purely interested in enjoying the hobby without blowing the budget!
To see the pencils in action you can watch my video below or over on Youtube. If you enjoy the video I invite you to subscribe, as colouring book videos will be a regular feature in addition to my usual stamping and colouring videos.
Adult Colouring Book Videos:
You can find a number of videos showing how I colour over on my Marker Geek Youtube Channel. All of my Colouring Book Therapy videos will be collected into my Colouring Book Therapy Playlist.
Thanks for stopping by!
I hope you have enjoyed today's post as much as I enjoyed creating it for you.
Don't want to miss out on future posts? Subscribe to my RSS feed in your favourite blog reader or subscribe via email using the form over in the sidebar.
If you want to keep an eye on what I'm colouring on a daily(ish) basis, follow me over on Instagram where I share frequent peeks at the colouring I'm doing along with other day to day snaps.
Please note that in order to assist with the running of this blog I do use affiliate links from time to time and there may be some in this post, denoted with a *. Please see my About page for more information.