Click through for the latest instalment in my new blog feature – Colouring Book Therapy. Read my review, check out a flip through of the book and watch me colour a page in the Rainforest Escape colouring book by Jade Gedeon with Derwent Inktense Pencils.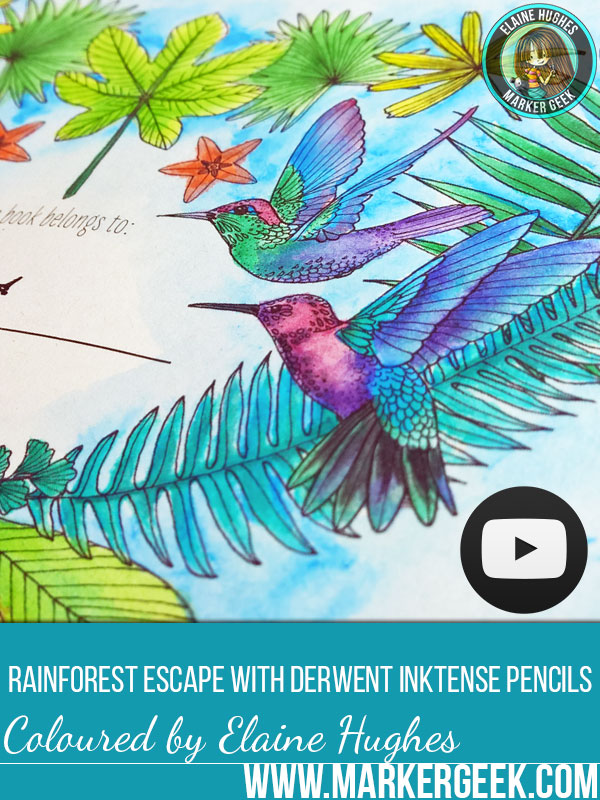 Colouring Book Therapy:
Follow me on Instagram for regular work in progress pics! I tend to share whatever I'm colouring over there, including stamped images and colouring book pages.
If you missed the first posts in this new series click through to check them out:
Rainforest Escape Colouring Book by Jade Gedeon:
Rainforest Escape is a gorgeous book, filled with beautiful illustrations by Jade Gedeon of We Dream In Colour.
The book has been printed on a nice heavy, textured watercolour paper. The pages are single sided, with large fold out double spreads. All of the pages are perforated for easy removal, and there is a nice margin between the edge of the design and the perforation. The binding is a stitched lay flat binding, which is really nice. I wish more colouring books used this.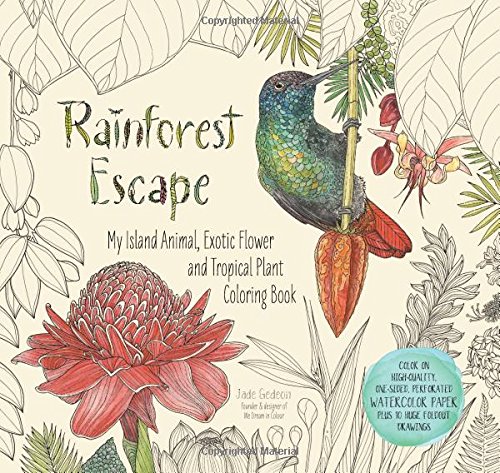 There are around 36 single page designs in the book and 10 large fold-out designs. Plenty of colouring fun to be had! The designs are a nice mix of scenes, repeat patterns, objects, botanicals, wildlife and buildings. You can get a look at them all in my flip-through video below.
One thing to note about the paper in this book is that while it is watercolour paper, it is more absorbent and "thirsty" than the watercolour papers I am used to using. This wasn't a huge problem for me when colouring the page in my video below, but it did make colouring the background more difficult than I anticipated. Watercolour isn't my usual medium, and I have limited experience so this could also be a factor! The paper did buckle, but not enough to cause me any concern.
The paper is a cream colour and probably a little more yellow in tone than I'd usually prefer, but I found when testing some mediums and colouring the first page that the colours came out quite nicely.
Rainforest Escape Flip-through Video:
I put together a quick flip-through of the book so you can check it out and get a good feel for the style.
Watch the video below or in HD over on YouTube.
For my first page in this book I tried out my Derwent Inktense Pencils. I haven't experimented with them that much, so this was very much a "play" session! In fact my intention with this book is to start experimenting more with my underused watercolour mediums. I seem to have been collecting pencils, paints etc and not using them, so this is a great excuse to experiment and have some fun with my stash.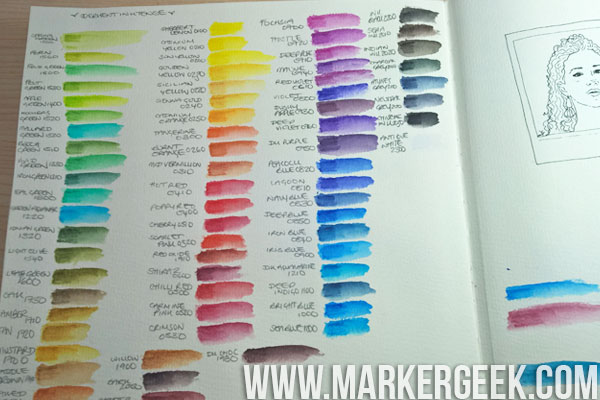 As you can see there is some handy space in the back of the book where I created a colour chart for my Inktense pencils to see how the colours look on the cream paper. I also used some of the space to test a few other mediums. I'm thinking the Zig Clean Colour Real Brush Pens both with and without water might be next up for some fun in this particular book!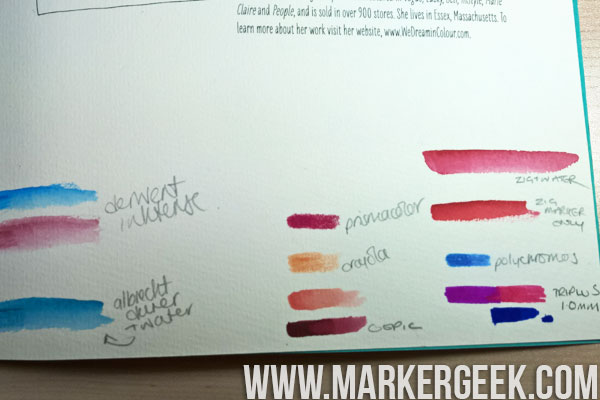 Copic and other alcohol based markers will obviously bleed through, although that really isn't a problem since the designs are single-sided. So as long as you put some sheets of paper in between the pages to protect the one underneath, bleeding shouldn't be a real problem. The texture of the paper may not be great for alcohol based markers though, and I'd anticipate some feathering across lines. I don't really see myself using Copic markers in this particular book.
At the end of the book, as you may have seen in the flip-through video above, there are captions/descriptions for some of the illustrations. These are really nice to have, both to help identify things you may not be familiar with and just to add some interesting commentary. The small versions of the images are also handy if you want to plan out colour schemes and test mediums.
Other Info and Links:
UK based readers can find Rainforest Escape on Amazon UK* Jade Gedeon's other book Island Escape* is also available.
US based readers can find Rainforest Escape on Amazon US* Jade Gedeon's other book Island Escape* is also available.
Colouring Rainforest Escape with Derwent Inktense Pencils:
I coloured the name plate page in Rainforest Escape using Derwent Inktense Pencils* (US link *) and an aqua brush.
Watch the video below or in HD over on YouTube.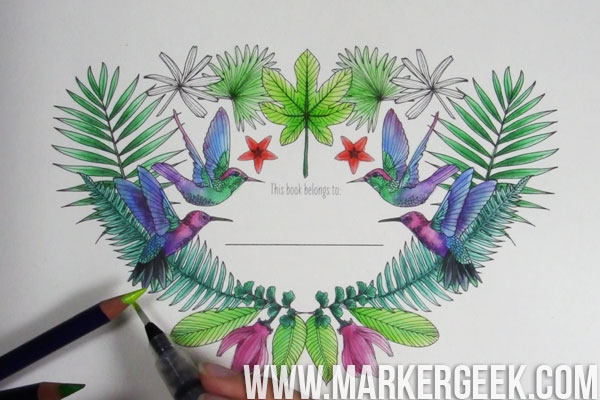 As you can see, I used the aqua brush to pull colour from the pencils and apply to the paper.
I'm not thrilled with how the blue background turned out, but since this book is intended to be a fun learning experience for me, I'm learning to let go and be ok with it. 😉
More Adult Colouring Book Videos:
You can find a number of videos showing how I colour over on my Marker Geek Youtube Channel. All of my Colouring Book Therapy videos will be collected into my Colouring Book Therapy Playlist.
Thanks for stopping by!
I hope you have enjoyed today's post as much as I enjoyed creating it for you.
Don't want to miss out on future posts? Subscribe to my RSS feed in your favourite blog reader or subscribe via email using the form over in the sidebar.
If you want to keep an eye on what I'm colouring on a daily(ish) basis, follow me over on Instagram where I share frequent peeks at the colouring I'm doing along with other day to day snaps.
Please note that in order to assist with the running of this blog I do use affiliate links from time to time and there may be some in this post, denoted with a *. Please see my About page for more information.