Read on to find out what I'm up to for the latest session of TheDailyMarker 30 Day Colouring Challenge!
TheDailyMarker 30 Day Colouring Challenge:
I'm so excited that Kathy Racoosin (@kathyrac over on Instagram) is running another session of her TheDailyMarker 30 Day Colouring Challenge! I missed joining in the last one (or two?) due to life and my lack of mojo, which made me a little sad as the challenge is such fun both because of the colouring and the community Kathy has cultivated around it.
Since I colour nearly every day anyway, I thought that once again I would add a little personal challenge into the mix. I will be colouring a Stamping Bella stamped image every day for the challenge, and filming as many of them as I can! I will be posting every day on my Instagram account (@markergeek) and uploading to my Marker Geek YouTube channel as regularly as possible. I will also pop a round up post here on the blog each week, so you don't miss any of the fun.
Make sure you check out Kathy's TheDailyMarker blog after you're done here, to see full details on how you can join in. You don't have to colour every day to participate – just colour when you can and share on Instagram and Kathy's blog. It really is a lot of fun!
Stamping Bella Nice To Meet You Hoppy Poppy
Copic Coloured Image and Colouring Video:
Here's my colouring for today! It isn't the only colouring I've been doing, but it is the image I chose to do for my personal #thedailymarker30day challenge!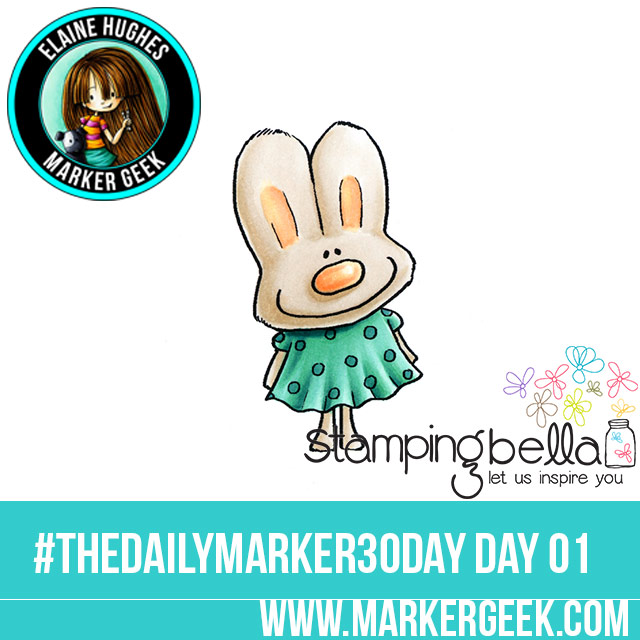 Stamp: Stamping Bella Nice To Meet You Hoppy Poppy.
I stamped the image with Memento Tuxedo Black ink on Make it Colour Blending Card (my favourite for colouring with Copic and other alcohol based markers) before colouring with Copic Markers.
Copic Marker Colouring Videos:
You can find a number of videos showing how I colour over on my Marker Geek Youtube Channel. All my Stamping Bella related videos can be found in a Stamping Bella Video Playlist.
Here's a short video showing how I coloured Hoppy Poppy with Copic Markers.
Copic Marker Colour Palette / Copic Colour Maps:
If you purchase stamps from Stamping Bella, you will be able to obtain a free Copic Colour Map showing the colours used on the product images seen on the packaging and website. See HERE for details.
Here is a bonus Copic Colour Map for the Hoppy Poppy image above!
Thanks for stopping by!
I hope you have enjoyed today's post as much as I enjoyed creating it for you.
Don't want to miss out on future posts? Subscribe to my RSS feed in your favourite blog reader or subscribe via email using the form over in the sidebar.
If you want to keep an eye on what I'm colouring on a daily(ish) basis, follow me over on Instagram where I share frequent peeks at the colouring I'm doing along with other day to day snaps.
Please note that in order to assist with the running of this blog I do use affiliate links from time to time and there may be some in this post, denoted with a *. Please see my About page for more information.