No card or colouring today, just a quick update!
Taika Update:
On Monday 3rd October I posted about struggling with a stressful week. Firstly I'd like to give you a little update on Taika and how she's doing. As we'd hoped, the vet feels that a 4-6 week period of rest should help, followed by some physiotherapy. I'm trying to keep her as quiet as possible, and have rearranged things here to facilitate that, while allowing me to get on with other things too. As I'm writing this post she's downstairs in the living room, with some music on. She always seems most relaxed when we play dance music, preferably with plenty of bass. 😀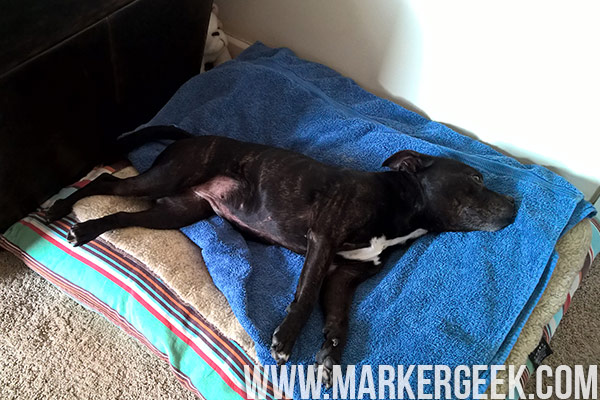 Thank you to everyone who sent messages of support both here and on my Instagram and Facebook profiles. Your support and encouragement is always hugely appreciated.
One upside to this stress-filled blip: it has served as a timely reminder to stop overloading myself. I have a tendency to try to do too much, all at once. I had a fairly daunting list of plans for October, and hadn't realised how much that in itself was contributing to my stress. Having to deal with Taika forced me to revise my plans and in fact, do away with most of them. The world hasn't ended, contrary to the nagging shrew in my brain. 😉
New Blog Schedule:
With all that in mind, I'm revising my blog schedule. Rather than attempting to post three card-making and colouring posts during the week, followed by a colouring book post at the weekends, I will be posting three times a week on Mondays, Wednesdays and Fridays. During Stamping Bella releases I may also post on weekends, but that will not be a regular occurrence.
Mondays: colouring tutorials/combos/general info
Wednesdays: cards and possibly colouring tutorials/combos
Fridays: colouring book posts
I will continue to upload colouring videos whenever I am able. I am hoping this will be at least once a week, more during Stamping Bella releases.
You can of course, find me most days posting on Instagram. I'd love to see you over there. It is probably the best way to connect with me. Instagram profile: @markergeek. I love sharing snapshots of what I'm up to, and checking out everyone else's pics too.
Thanks for stopping by!
I hope you have enjoyed today's post as much as I enjoyed creating it for you.
Don't want to miss out on future posts? Subscribe to my RSS feed in your favourite blog reader or subscribe via email using the form over in the sidebar.
If you want to keep an eye on what I'm colouring on a daily(ish) basis, follow me over on Instagram where I share frequent peeks at the colouring I'm doing along with other day to day snaps.
Please note that in order to assist with the running of this blog I do use affiliate links from time to time and there may be some in this post, denoted with a *. Please see my About page for more information.