I've got a pretty CAS card for you today featuring Stamping Bella Balloonabella in coloured pencil. I'm also sharing my thoughts on PENCIL SHARPENERS!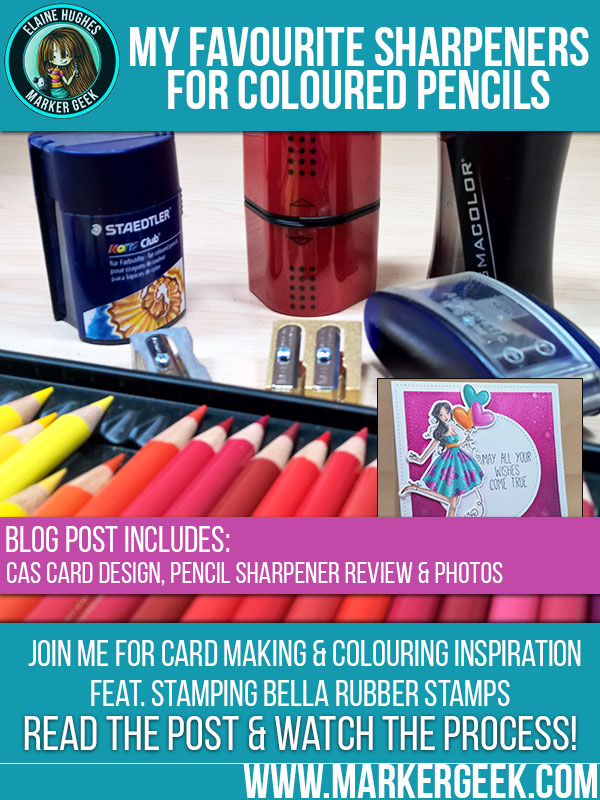 Marker Geek Monday:
It's Marker Geek Monday! To check out my post on the Stamping Bella blog click through here: Balloonabella in Coloured Pencil. The post over there includes a colour map showing all the colours I used on Balloonabella for the card below.
While you're there be sure to have a browse through all the posts and enjoy the fantastic inspiration on offer from the rest of the Design Team.
Balloonabella CAS Card:
Here's my card, with full supply details below.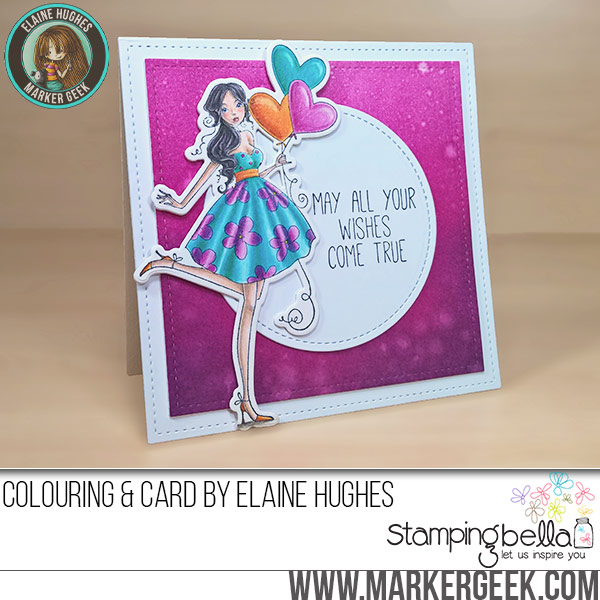 Card Making Supplies:
Stamp: Stamping Bella Balloonabella (incl. sentiment)
Die: Coordinating Cut It Out die for Balloonabella (purchase the bundle to save 15%).
Note: If you're in the UK you can find Stamping Bella stamps at Dies to Die For.
The image was coloured with Faber-Castell Polychromos Pencils UK link*/US link* on Strathmore Bristol (Vellum Surface) UK link*/US link*.
I stamped the sentiment using Ranger Archival ink in Jet Black UK link* / US link*. I used my MISTI stamp tool UK link*/US link* for all stamping.
I created the background paper using Ranger Tim Holtz Distress Ink Mini pads UK link*/US link*, the Mini Blending Tool UK link*/US link* and a spray bottle filled with water to spritz over it.
The layers were die cut using Lawn Fawn Stitched Square and Stitched Circle die sets. Lawn Fawn Dies UK link*/Lawn Fawn dies US link*
Colouring using Coloured Pencils:
If you would like to see how I colour using coloured pencils, you can watch the video below or in HD over on YouTube.
In the video above you will see exactly how I approach the process of colouring a stamped image using coloured pencils. I used the same approach when colouring Balloonabella.
Pencil Sharpeners for Coloured Pencil:
I wrote a post earlier this year sharing my opinion on two popular coloured pencil brands: Faber-Castell Polychromos and Prismacolor Premier. You can read that post here: Colouring with Polychromos Pencils Vs Prismacolor.
One of the main concerns when colouring with coloured pencils is sharpening them. Maintaining a nice sharp point is key in achieving great results and one of my main frustrations with the Prismacolor Premier pencils has always been sharpening them. With that in mind, I've been playing with pencil sharpeners!
I have acquired several different brands of pencil sharpener in my quest for THE ONE!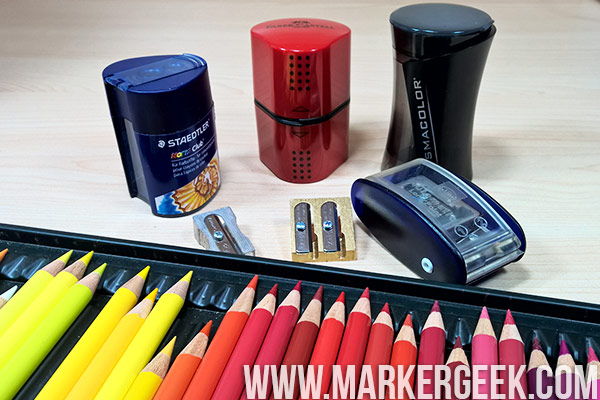 Note: the traditional art of sharpening pencils with a knife is not on my list of options, not least because I am relatively clumsy. 😉
In my current collection of sharpeners, I have:
Faber-Castell Trio Tub Sharpener UK link*/US link*: great for the Polychromos pencils and many others, but not so good for the Prismacolor Premier pencils in my experience.
Staedtler Noris Club Tub Sharpener UK link*/US link*: pretty good, and does a great job on most pencils. Variable with the Prismacolor pencils.
Sanford Prismacolor Sharpener UK link*/US link: I found this sharpener seemed good initially, then after several pencils the same old problems started to occur.
All of these sharpeners retail at around the same price as my two favourites below, but are not in my opinion, anywhere near as good. Unfortunately, while you might expect a sharpener from the same company that manufacture the pencils to be up to the task, that doesn't seem to be the case. I've provided links for all the sharpeners above, but I don't really recommend them. Of the three, the Faber-Castell and Staedtler sharpeners are better than the Prismacolor, but the two I'm about to share offer far better value for similar money.
My Favourite Pencil Sharpeners:
Two strong favourites have emerged and earned a permanent place on my desk. Both of these do a fantastic job on both the more durable Polychromos pencils and the softer, breakage prone Prismacolor Premier pencils.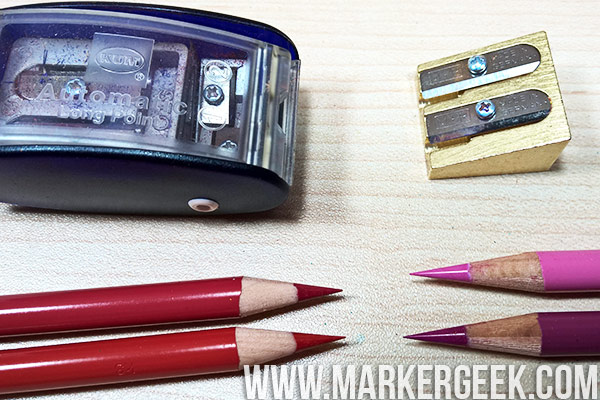 KUM Automatic Long Point Pencil Sharpener UK link*/US link*: this one has two holes. One side shapes the wood and the other side shapes the lead, giving you a nice long point. There is an automatic stop, so you don't go too far. This sharpener also comes with two replacement blades in the back of the case. There are also holes on either side for pointing the leads on mechanical pencils.
This one needs a little practice to get used to the lead shaping step. You need to be quite gentle, and at first it might feel like it isn't doing anything, tempting you to put a little more pressure on. Give it a few turns and you will start to feel it working – putting more pressure on will lead to the point breaking and you will need to start over again.
Mobius & Ruppert Solid Brass Twin Wedge Pencil Sharpener UK link*/US link*: this German made pencil sharpener may just have edged out the KUM Automatic to take my top spot. It is a fantastic quality pencil sharpener, and creates a beautiful point with ease in just one step as opposed to the KUM sharpener's two step approach as described above. The length of the point is very similar to that achieved with the KUM.  This sharpener is also very easy to clean due to the nice open space around the blade edge.
TOP TIPS:
Replace your blades! Keep some sets of spare blades on hand. A sharp blade is really important in making sure that your pencil sharpener functions well. If the blade is getting old and dull, it will chew up the wood and put stress on the pencil core. So, if your pencil tips are looking a bit ragged and the point keeps breaking in the sharpener – try a new sharpener or if possible simply change the blade!
Cheap pencil sharpeners can be great at first, but the blades dull quickly. I prefer to use a more expensive sharpener with replaceable blades. If you consider the cost of wasting expensive pencils compared to the cost of buying a quality sharpener and replacement blades, the choice seems obvious!
Turn the sharpener, not the pencil! Hold the pencil in your non-dominant hand and turn the sharpener, not the pencil. This helps you to avoid putting too much pressure on the pencil when sharpening (it's also a bit easier on your hands, I find). This technique is one of the reasons I prefer the Mobius & Ruppert sharpener to the KUM Automatic Long Point, since it is easier to hold and turn.
Final Note:
While I still prefer the quality of the Polychromos pencils (and wish that Prismacolor would improve the quality of their wood casing, and quality control overall), the Prismacolor pencils still have a place in my "toolbox" because of the positive differences they have from the Polychromos pencils (opacity, colour range, price). Now that I have found a way to sharpen them without so much stress, I'm more likely to reach for the Prismacolors and use them in conjunction with my other pencils. I'm hoping this post will help you too!
Thanks for stopping by!
I hope you have enjoyed today's post as much as I enjoyed creating it for you.
Don't want to miss out on future posts? Subscribe to my RSS feed in your favourite blog reader or subscribe via email using the form over in the sidebar.
If you want to keep an eye on what I'm colouring on a daily(ish) basis, follow me over on Instagram where I share frequent peeks at the colouring I'm doing along with other day to day snaps.
Please note that in order to assist with the running of this blog I do use affiliate links from time to time and there may be some in this post, denoted with a *. Please see my About page for more information.