If you follow me on Instagram you have probably seen my recent colouring in one of the Harry Potter colouring books from Studio Press. Last week I shared my finished postcard and colouring video for the Gryffindor Crest postcard here on the blog; today I'm sharing the video I filmed while colouring Slytherin's Crest using coloured pencils. Click on through to check it out!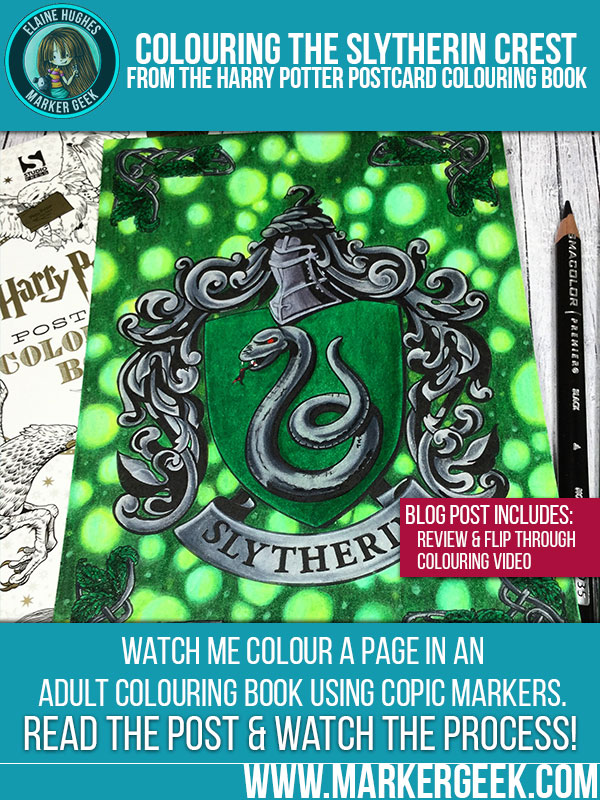 As you will see below, I got even more carried away with this one than I did with the Gryffindor Crest! Since I opted to use coloured pencils this time it also took much longer and almost wore my hand/arm out in the process.
First a quick recap on the Harry Potter colouring books if you're just joining me! If you read last week's post you can skip on ahead to the colouring below.
Harry Potter Colouring Books:
I have a few of the Harry Potter Colouring Books in different sizes: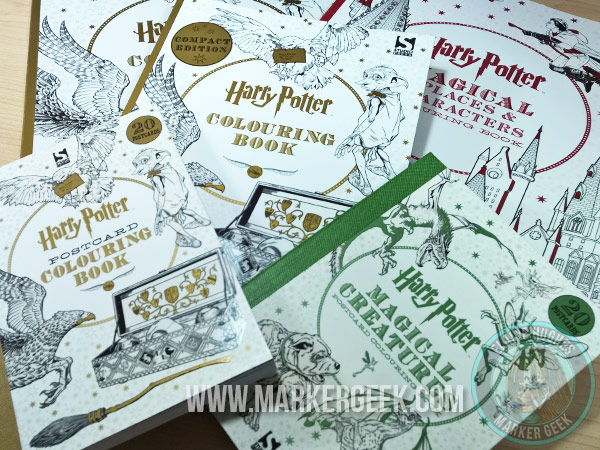 Watch the flip through videos in the playlist below or in HD over on YouTube.
Here in the UK all of the books are published by Studio Press and are of a decent quality. The larger and compact editions feature double sided page designs, the postcard editions are single-sided with the usual postcard markings on the reverse and the postcards are a nice heavyweight cardstock.
The larger editions include some full colour images from the films in the back, which is a nice touch for reference purposes.
Colouring Slytherin's Crest:
I decided to follow on from last week's post by colouring another of the Hogwarts house crests postcards from the Harry Potter Colouring Book Postcard Edition UK Link* / US Link*. This time I went with Slytherin.
Here are some photos of the page in a few stages.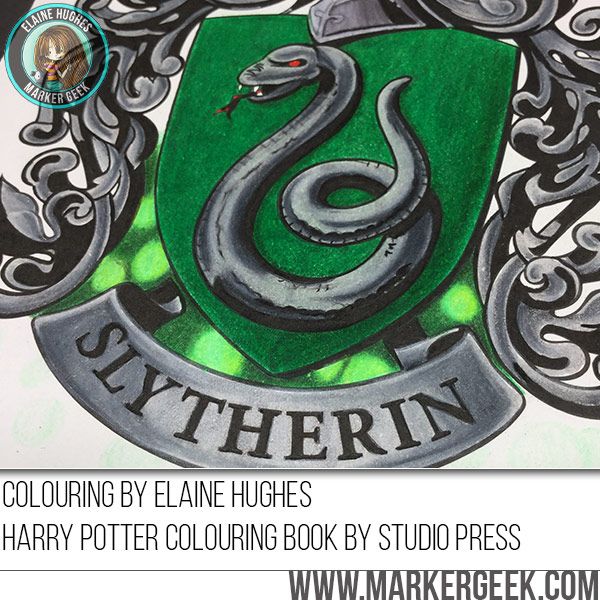 Originally I intended to try out colouring a bokeh background using coloured pencils, but that plan evolved into something a little more bubble like. Not entirely surprising, given that I associate Slytherin with potions! 😉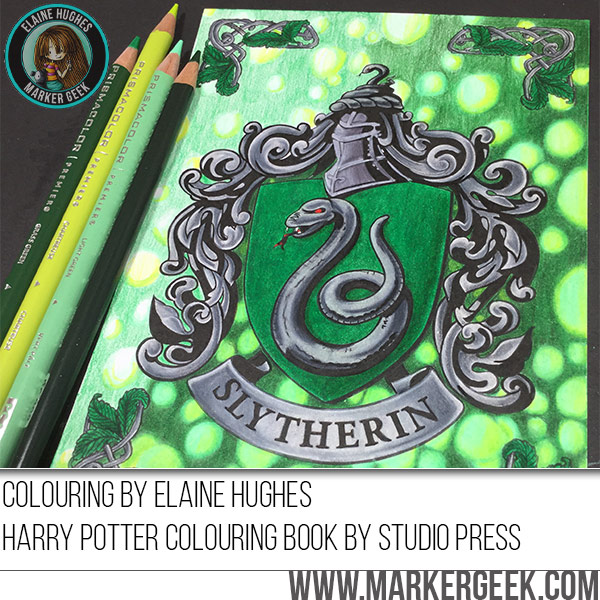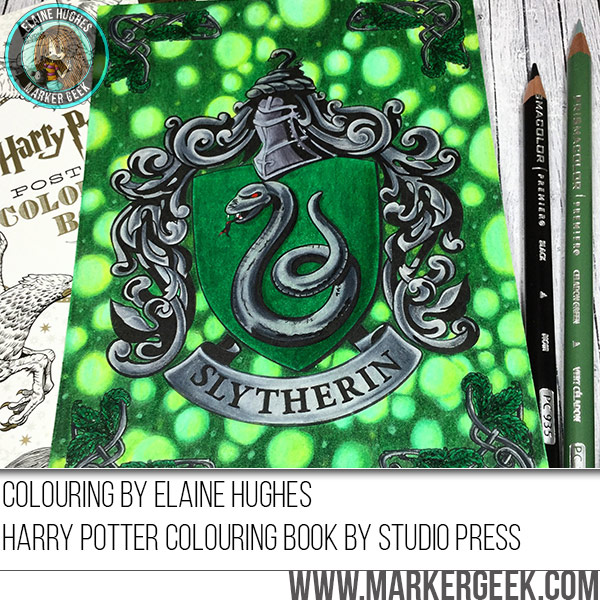 Colouring Supplies:
Book: Harry Potter Colouring Book Postcard Edition UK Link* / US Link*
Colouring Medium: Prismacolor Premier Pencils UK Link*/US Link*
PLUS Crayola Super Tip pens UK Link*/US Link*
Sharpener: Mobius & Ruppert Solid Brass Twin Wedge Pencil Sharpener UK link*/US link*
I picked up the tip to use cheap water based markers like the Crayola Super Tip pens as a base from Dede Willingham. As you will see in the video I used these on the crest to give a coloured base to work on top of with my coloured pencils, and it really made that part of the colouring much faster.
Copic Colouring Video:
It is a long video, as the background took quite some time!  I have included a shorter, top speed version too for those of you that prefer shorter videos.
Long Version:
Watch the colouring process in the video below or in HD over on YouTube.
In this long version you will be able to see the pencil colours I am using.
Short Version:
Watch the colouring process in the video below or in HD over on YouTube.
Previous Harry Potter Colouring Book Posts:
You can see more Harry Potter themed colouring in my previous posts:
If you'd like to see my works in progress then don't forget to follow me over on Instagram!
Thanks for stopping by!
I hope you have enjoyed today's post as much as I enjoyed creating it for you.
Don't want to miss out on future posts? Subscribe to my RSS feed in your favourite blog reader or subscribe via email using the form over in the sidebar.
If you want to keep an eye on what I'm colouring on a daily(ish) basis, follow me over on Instagram where I share frequent peeks at the colouring I'm doing along with other day to day snaps.
Please note that in order to assist with the running of this blog I do use affiliate links from time to time and there may be some in this post, denoted with a *. Please see my About page for more information.