Join me today for a look at the Matthew Williamson Fashion, Print and Colouring Book with flip through and colouring videos!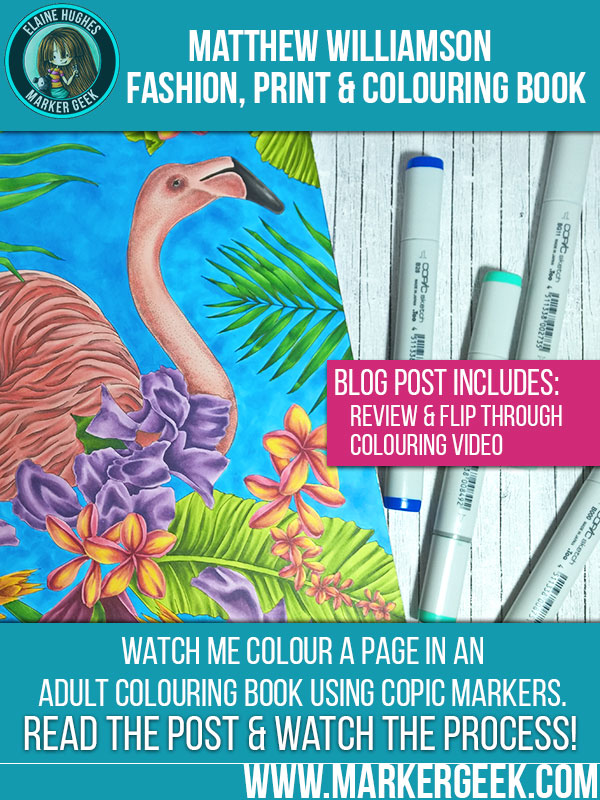 Matthew Williamson Fashion, Print and Colouring Book:
I recently received a copy of British fashion designer Matthew Williamson's new colouring book from the publisher Laurence King. Please note that I am in the UK and throughout this post am referring to the UK edition of the book, however I have checked with the publisher and the US edition should be the same.
Opening the package I was delighted with the size and presentation of the book, which is approximately 33cm x 25cm or 13″ x 9.75″ and features a beautiful cover design. The book is paperback with a matte finish card cover. Part of the cover design has been left uncoloured, offering the option of easily personalising your copy.
Matthew Williamson Fashion, Print and Colouring Book: UK Link*/US Link*.
Inside, the book is a little different from any of the other colouring books in my personal collection. Beautiful inspirational photographs, notes from the designer, coloured design artwork and catwalk photographs precede each colouring page. More than just a colouring book, this is an exploration of Matthew Williamson's design process and inspirations.
I think this book would appeal as much to fashion devotees as it will to colouring enthusiasts, sitting beautifully on either coffee table or colouring desk!
Colouring Book Flip Through Video:
I filmed a quick flip through to give you a good look at the content of this book. As you will see it really is quite different from most of the colouring books on the market.
Watch the video below or in HD over on YouTube.
The full colour photographs in the book provide all the inspiration you need to add colour to the designs. No need to head to the computer to look at photos of flamingos online – it's right there! I really like when colouring books include this as a feature.
You will see in the colouring video below that the book lays flat, which is always a nice feature in a colouring book. The colouring pages are single-sided and are printed on a sturdy cardstock, which is coloured on the reverse (see the flip through video above).
Quick Note on Colouring Mediums:
The paper the colouring designs are printed on is quite smooth. If using coloured pencils without any blending medium you may not be able to layer a great deal. However, if you used an acrylic wash over the pages first, this might help give a little extra tooth. I've been watching Dede Willingham doing this with her colouring books, and it works really well (it also helps speed up the colouring process and reduces the amount of layering you need to do to achieve a nice even coverage of colour). Using a light hand will also help, of course (something I need to practice with pencils myself 😉 ).
One minor complaint is that the book doesn't feature any blank pages, which means that in order to test colouring mediums for this post I had to use one of the colouring pages. It's by no means a deal breaker, but it would be nice to see testing/scratch pages featured in more colouring books as they are so useful.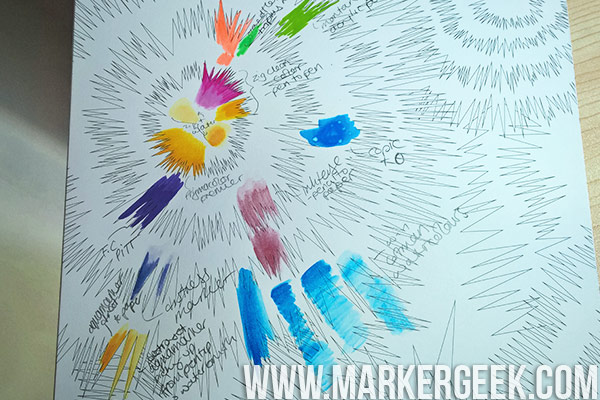 I tested my Zig Clean Color Real Brush pens (watercolour pens). They did not seem to work well on this paper when used directly on the paper. Attempting to blend using the pens only on the paper did not work. Water-based pens such as the Stabilo 68 and Staedtler TriPlus work fine.
I would suggest that if wanting to try watercolours, then using actual paints, or picking up colour from a watercolour pen or pencil directly using a wet brush would be the way to go, rather than trying to apply them to the paper before using water to blend them. The paper doesn't seem ideal for watercolours, but a quick test with some Winsor & Newton paints and an aqua brush worked well. As with most colouring books, I'd caution against using too much water, I don't think the surface of the paper would stand up to it.
Copic Markers worked beautifully, as you will see below!
You should note that there are 16 colouring pages, plus one smaller design on thinner paper and the repeated dragonfly design on the inside of the cover (front and back). At RRP £15.95 ($24.95 USD) this is comparable to the artist editions of books like Johanna Basford's Secret Garden (also published by Laurence King), which is a similar size and includes 20 pages for £14.95 with no additional content.
You can find the book here: Matthew Williamson Fashion, Print and Colouring Book: UK Link*/US Link*.
Using Copic Markers in Colouring Books:
I'm often asked about colouring in colouring books using Copic or other alcohol based markers. This is definitely something you can do, if you bear a few things in mind.
You need to choose a book with single-sided page designs, or be prepared to sacrifice the design on the reverse of the page you colour.
The paper is unlikely to be similar to that which you usually use for alcohol based markers. Be prepared to adapt your colouring technique to suit the paper. You may not be able to layer as much ink, or the colourless blender may not work as expected.
Make sure you place some sheets of paper behind the page you are working on, as bleed-through is to be expected and may mark the next page. I'd also recommend doing this when using any medium "just in case", particularly coloured pencils or gel pens as they may cause indentations in the next page which would affect how your colour goes down on that page.
Colouring the Flamingo Page using Copic Markers:
I found that Copic Markers UK link*/US link* worked really nicely in this book. Colouring on the sturdy cardstock page was fairly similar to colouring on smooth Bristol paper.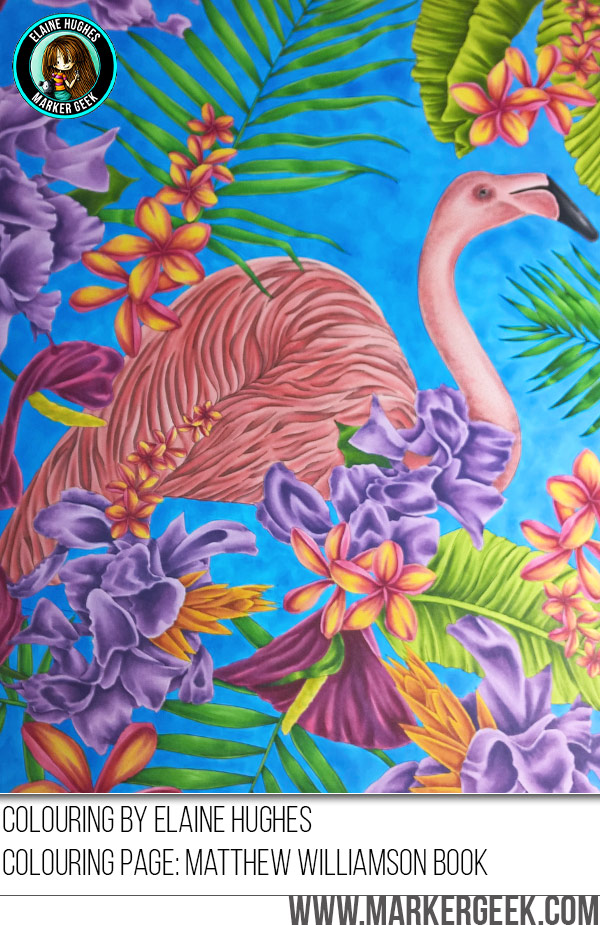 Copic Colouring Video:
Watch me colouring the flamingo page using Copic markers in the video below or in HD over on YouTube.
You can find the book here: Matthew Williamson Fashion, Print and Colouring Book: UK Link*/US Link*.
Other Posts You Might Enjoy:
Thanks for stopping by!
I hope you have enjoyed today's post as much as I enjoyed creating it for you.
Don't want to miss out on future posts? Subscribe to my RSS feed in your favourite blog reader or subscribe via email using the form over in the sidebar.
If you want to keep an eye on what I'm colouring on a daily(ish) basis, follow me over on Instagram where I share frequent peeks at the colouring I'm doing along with other day to day snaps.
NOTE: I received a copy of the book in this post from the publisher for review. My opinions remain my own, and aside from the free book this post is unpaid.
Please note that in order to assist with the running of this blog I do use affiliate links from time to time and there may be some in this post, denoted with a *. Please see my About page for more information.