Following on from my baby card earlier this week I've got a sweet unicorn card to share with you!
As I mentioned in my post on Wednesday, if you follow me on Instagram you may be aware that last weekend Paul and I went to meet our new baby nephew – Theo. He's three weeks old now and utterly delicious. We're looking forward to seeing both Theo and his big sister again tomorrow. Wednesday's post featured the card I created for Theo, and today I'm sharing the card I created for his big sister!
Stamping Bella Set of Unicorns Card:
I could also have used the Set of Dragons for our niece, as she is dragon obsessed! She loves horses and unicorns too though, so I thought I'd use the unicorn set for her card.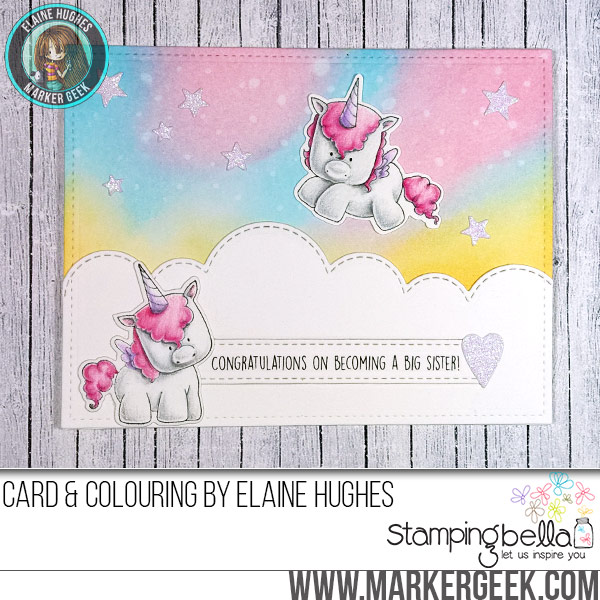 The Unicorns stamp set comes with four adorable unicorns, and you might notice that the leaping/flying unicorn in the set doesn't face the same way as the one on my card. I had the card layout in mind before I started out, so I decided to try mirror stamping to get the unicorn facing the way I wanted it to! I discovered that the Stamping Bella Mirror Mirror/Cardstock Matcher Stamp is PERFECT for this technique, along with the MISTI stamping tool of course.
A full supply list can be found towards the end of this post.
Mirror Stamping with the Mirror Mirror/Cardstock Matcher Stamp:
Watch the stamping process in the video below or in HD over on YouTube.
NOTE: In the video I used my usual Make it Colour Blending Card for stamping, which is a very smooth paper. For the pencil coloured images on my card above I used a textured paper, so the mirror impression did not come out quite as well – no problem – I simply used a Copic Multi-liner in the 0.1 nib size to trace the lines of the image and fill in any gaps.
I die cut both of the unicorns on my card using the coordinating Cut It Out die sets. For the mirror stamps unicorn I simply traced around the die, then used a light-box to help position it on the reverse of the paper.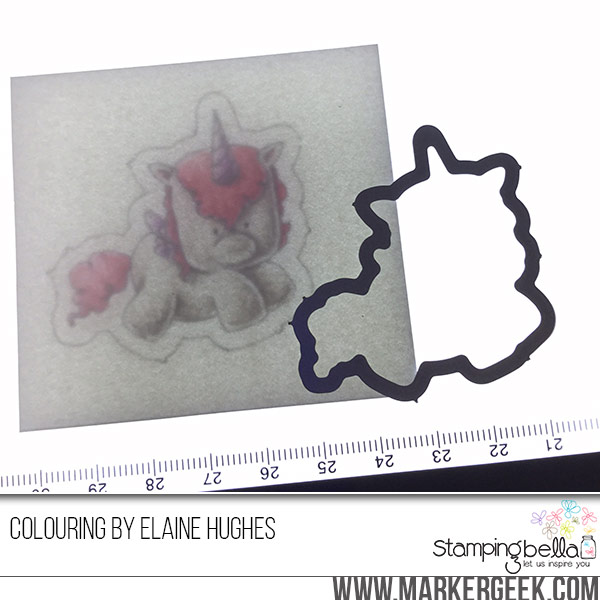 As you can see, I could probably have skipped the outline tracing step!
After die cutting I used a ball ended stylus tool on the cut edges to finish them nicely.
Card-Making Supplies Used:
Rubber stamps: Stamping Bella Set of Unicorns stamp set (coordinating die set also used), Stamping Bella Unicorn Sentiments stamp set (coordinating die also used). Stamping Bella Mirror Mirror/Cardstock Matcher stamp for the mirror stamping technique.
The entire Stamping Bella January 2017 release is also now available to pre-order here in the UK at Dies to Die For!
The image was coloured using Prismacolor Pencils UK link*/US link* on paper from a Stonehenge 8×8 paper pad UK link*/US link* – I really like this paper for coloured pencil work.
I use my MISTI stamp tool UK link*/US link* for all stamping along with MFT Hybrid Ink in Black Licorice.
I created the sentiment on my computer and printed on cardstock using my CANON Pixma printer */US link* before die cutting.
I created the background using Distress Ink Minis UK link*/US link* and water in a spray bottle.
Along with the coordinating dies for the stamp set I also used the following dies:
Lawn Fawn Stitched Rectangle die sets. Lawn Fawn Dies UK link*/Lawn Fawn dies US link*
Mama Elephant Landscape Trio Creative Cuts die set UK link (DiestoDieFor) / US link (MamaEle)
Memory Box Hearts & Stars die UK link*/US link* also available at DiestoDieFor in UK
I used the Memory Box Hearts and Stars die with white glitter paper UK link*/US link* to embellish the card and add an extra touch of magic. 😉
I create my own card blanks using 300gsm cardstock, a Fiskars High Precision Personal Paper Trimmer */US link*, a Martha Stewart Scoring Board*/US link*. and bone folder*/US link*.
Prismacolor Pencil Colours Used:
I used the following colours on both little unicorn images:
Warm Grey 10%, Warm Grey 20%, Warm Grey 50%, White, Magenta, Rose, Lavender
Prismacolor Pencils Note & Offers:
Just a quick note regarding Prismacolor coloured pencils. I have previously noted my complaints about the quality of these pencils and my preference for other brands due to sharpening and breakage issues. Recently I picked up a new set of these pencils and found that I am experiencing far less problems, in fact I have experienced hardly any breakage when sharpening the new set. Hopefully this means that they have addressed some of the quality control issues!
To see the pencil sharpeners I use read this post: Stamping Bella Card & My Favourite Pencil Sharpeners
At the moment here in the UK the Prismacolor Premier 150pc set is under £100 and over in the US the Prismacolor Premier 150 pc set is currently $86.99 which are great prices for the full set of pencils.
Thanks for stopping by!
I hope you have enjoyed today's post as much as I enjoyed creating it for you.
Don't want to miss out on future posts? Subscribe to my RSS feed in your favourite blog reader or subscribe via email using the form over in the sidebar.
If you want to keep an eye on what I'm colouring on a daily(ish) basis, follow me over on Instagram where I share frequent peeks at the colouring I'm doing along with other day to day snaps.
Please note that in order to assist with the running of this blog I do use affiliate links from time to time and there may be some in this post, denoted with a *. If you purchase using them these links provide me with a small commission at no extra cost to you. Please see my About page for more information. Thank you as always for your support – it is greatly appreciated.