I am so excited to share the third day of peeks for the Fall 2017 release at Stamping Bella. The stamps keep getting cuter!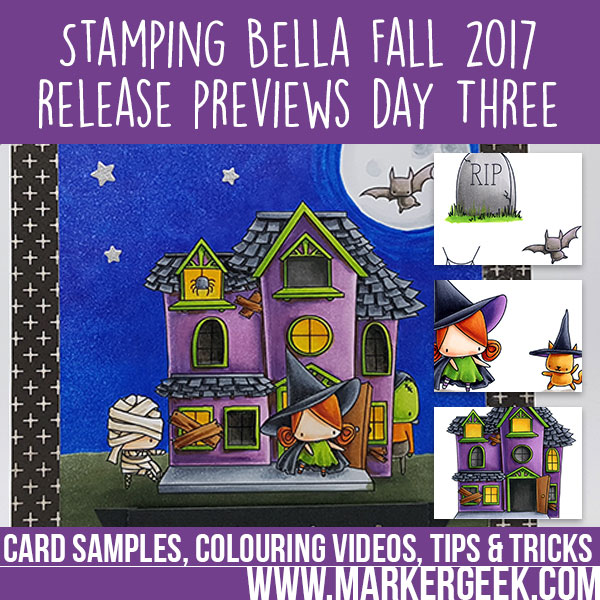 Stamping Bella Fall 2017 Release
I am a complete sucker for quite a number of things. One of the biggest? Halloween stamps. I don't send Halloween cards, but I love to play with Halloween themed images (and use them to create birthday cards etc). So today? Definitely one of my favourite peek days. You will see why.
The stamps and coordinating dies will all be available to order as of Monday 4th September 2017 at Stamping Bella.
UK/Europe based readers: lovely Tracy at Dies to Die For will have the release on order so make sure you stalk her for them!
NOTE: as with previous releases, I have filmed the colouring process for each new stamp set. This time however, I'm going to upload the videos on a one or two per day basis, so you can enjoy each one and not be overwhelmed by content! Make sure you don't miss any by subscribing to my channel!
Littles Haunted House Scene: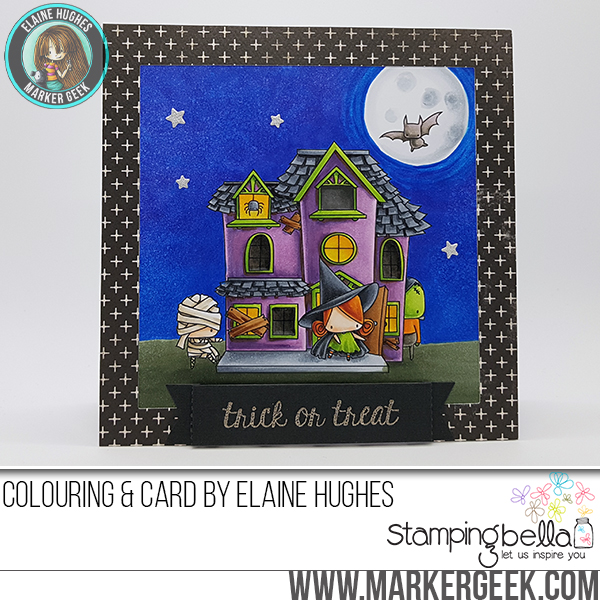 I may have hyperventilated just a touch when I saw this stamp. The cuteness…I can't even.
The sentiment on this card is from a new sentiment set you will get to see in full on another of the peek days this week!
I added a really quick and simple background, creating the moon in the same way that I did for the card in my Colouring a Magical Night Sky Scene with Copic Markers post from last year (which includes a video).
I also added some shine to some of the windows and a little glitter pen to the witch, which you can see a little better in this photo: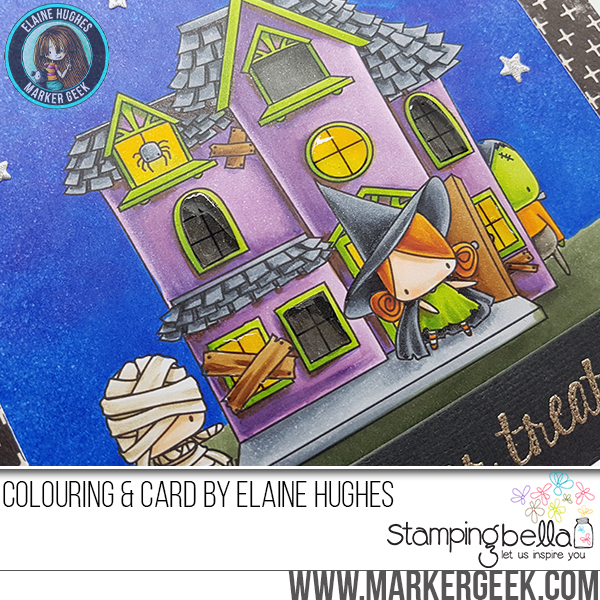 Supplies:  Copic Markers, Make it Colour Blending Card, Mama Elephant Sentiment Banner die, Ranger Liquid Platinum embossing powder, Ranger Glossy Accents, Wink of Stella Clear Glitter Pen, Memory Box die and silver glitter card for the stars
Littles Haunted House Scene Colouring Video:
This one just had to be the colouring video for today. Watch me colouring this amazing image with Copic markers in the video below or in HD over on YouTube!
Full Copic marker details are provided in the video.
I had so much fun colouring this stamp. SO. MUCH. FUN.
NOTE: there is also a separate version of the Haunted House, which comes as the house on its own, with no characters in the scene – perfect for creating your own scenes with the other Littles sets or your own stamps. I'll show a close look at all of the stamps together on another day soon so you can see how everything compares! The bat and spider you see on the Haunted House scene above also come as separate stamps in the Little Bits Halloween Outdoor Decor set with a couple of other stamps. That bat…I love him, perhaps a bit excessively.
Little Bits Little Witchies:
I've mentioned being a sucker, right? Cute witches…they get me every time, and this pair are no exception. So cute it actually hurts a little bit! Ha!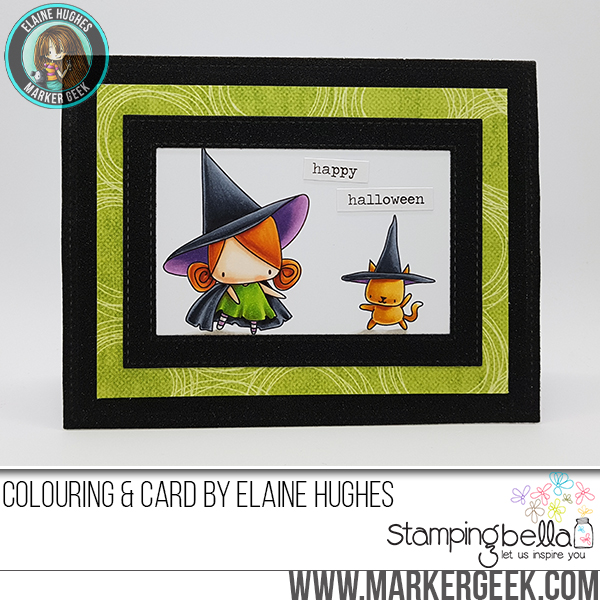 Supplies:  Copic Markers, Make it Colour Blending Card, MFT Dienamics Stitched Rectangle Frames die set, black glitter cardstock, Wink of Stella Clear Glitter Pen
That's it for today from me!
Visit the Stamping Bella Blog:
For more info and to see all the other stamps being previewed today, along with gorgeous samples from the rest of the design team, make sure you visit the Stamping Bella blog. Comment on the preview posts over there for each day to be in with a chance of winning something from the new release!
See you tomorrow with more peeks and another colouring video (or two)!
Thanks for stopping by!
I hope you have enjoyed today's post as much as I enjoyed creating it for you. Join me tomorrow for more peeks at the upcoming release.
Don't want to miss out on future posts? Subscribe to my RSS feed in your favourite blog reader or subscribe via email using the form over in the sidebar.
If you want to keep an eye on what I'm colouring on a daily(ish) basis, follow me over on Instagram where I share frequent peeks at the colouring I'm doing along with other day to day snaps. You can also follow my page on Facebook if you'd like to connect over there.
Please note that in order to assist with the running of this blog I do use affiliate links from time to time and there may be some in this post, denoted with a *. Please see my About page for more information.