First things first, I know, it has been a while since I posted! Since October in fact. I've been busy behind the scenes colouring for Stamping Bella, and creating posts for the Stamping Bella blog, but until recently just haven't had the time or energy to create or post for my own blog! Why? We completed on a house purchase at the end of October, then hit some problems with the house that needed fixing and couldn't move in until early December! Moving house AND preparing for Christmas was not my favourite combination. I've been playing catch up and trying to find my mojo ever since. We put together an awesome new crafty space for me at the start of this month however, and I'm getting back into my stride, so watch out! 😉
In the meantime, I've got some cards and colouring videos to share for the NEW STAMPING BELLA SPRING 2018 RELEASE! Whoop! Join me to check them out.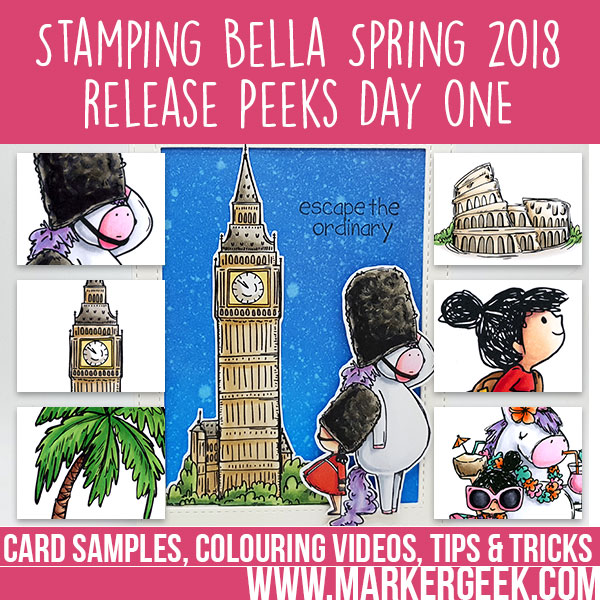 Stamping Bella Spring 2018 Release
Once again, our Bella – Emily – has come up with an awesome release. It's HUGE, but oh so brilliant. My hand hurt after colouring it all, but I had an absolute ball! Today we're showing off a BRAND NEW LINE! If you like unicorns and adventure, you stand no chance of resisting. 😉
The stamps and coordinating dies will all be available to order as of Tuesday 6th March 2018 at Stamping Bella.
UK/Europe based readers: lovely Tracy at Dies to Die For will have the release on order so make sure you stalk her for them!
NOTE: as with previous releases, I have filmed the colouring process for each new stamp set. This time however, I'm going to upload the videos on a one or two per day basis, so you can enjoy each one and not be overwhelmed by content! Make sure you don't miss any by subscribing to my channel!
Rosie & Bernie in London & Rosie's Big Ben:
Meet Rosie and her best friend Bernie! As you can see, Bernie is a unicorn. It's entirely possible that you can only see Bernie if you happen to be Rosie, or if you're well versed in the magic of unicorns. 😉
Alongside the new Rosie & Bernie stamps there are some fab landmarks in the same bold, expressive lines. These could of course be used on their own, or together with Rosie & Bernie as I've done, to create fun scenes. That's the thing about Rosie & Bernie you see, they love to travel!
I also used the new Adventure Sentiment set on this card, which includes a fab mix of quotes and sentiments that you will see on my cards today and throughout the peeks!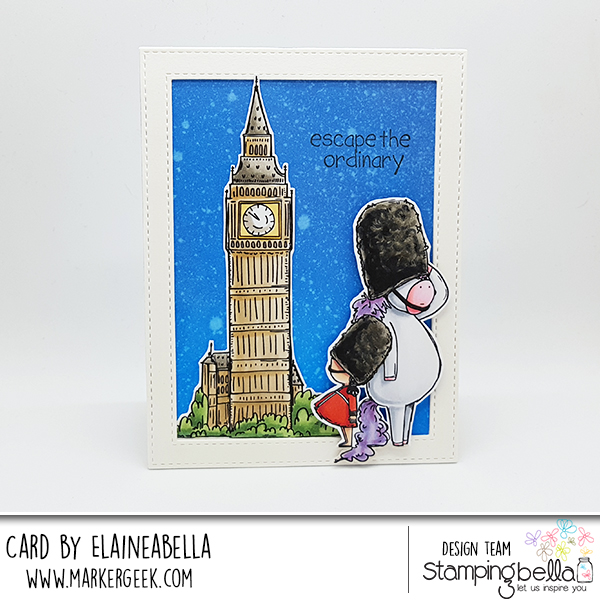 Supplies: Make it Colour Blending Card, Copic Markers*, MFT Stitched Rectangle Frames die set, Distress Oxide Ink*
Rosie & Bernie in London and Rosie's Big Ben Colouring Video:
Watch me colour both the Rosie's Big Ben and Rosie and Bernie in London stamps in the video below or in HD over on YouTube.
Full Copic details are provided in the video. NOTE: I have left this video in "real time" so you can see exactly how long it took me to colour these stamps, and get a close look at how I coloured them. This might be a useful one to watch if you want a good look at how I colour a furry texture!
A Tale of Two Rosies stamp set: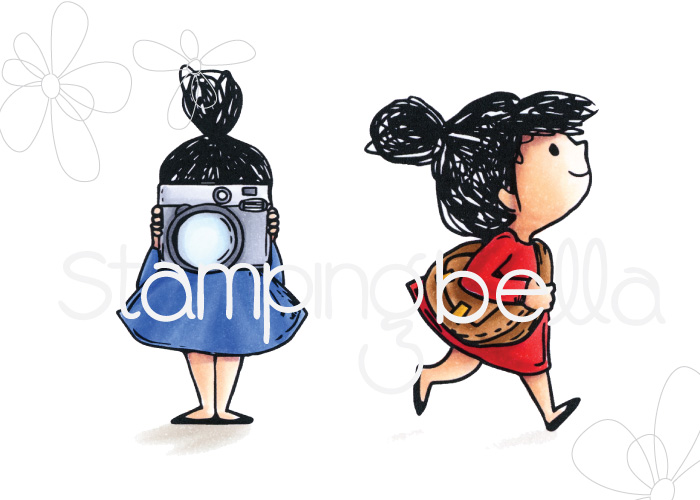 Rosie also appears on her own in this two stamp set, perfect for popping in front of the landmarks or using on their own. I used a Rosie on her own with one of the sentiments from the new Adventure Sentiment set.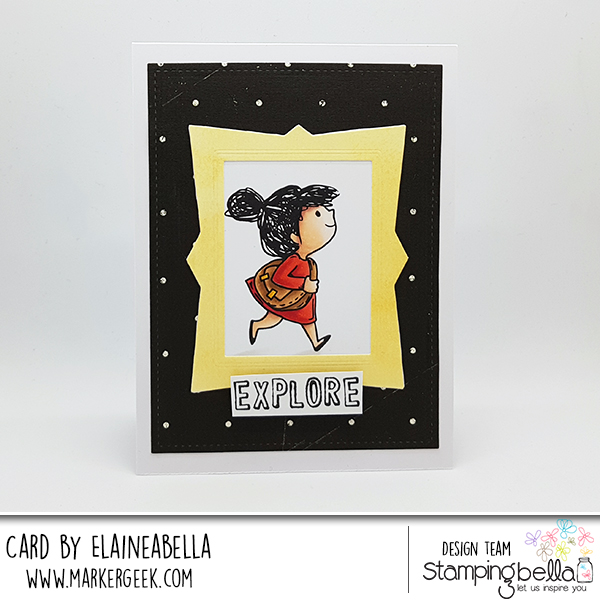 Supplies: Make it Colour Blending Card, Copic Markers*, Paper Smooches Frame Die
Rosie & Bernie in Hawaii and Rosie's Palm Tree:
For this card, I popped the fabulous Rosie and Bernie and Rosie's Palm Tree images in front of the Beach Backdrop stamp from last year! I love combining new releases with older stamps, and this just proves how useful those backdrop stamps are (you'll be seeing more of them on my cards for this release).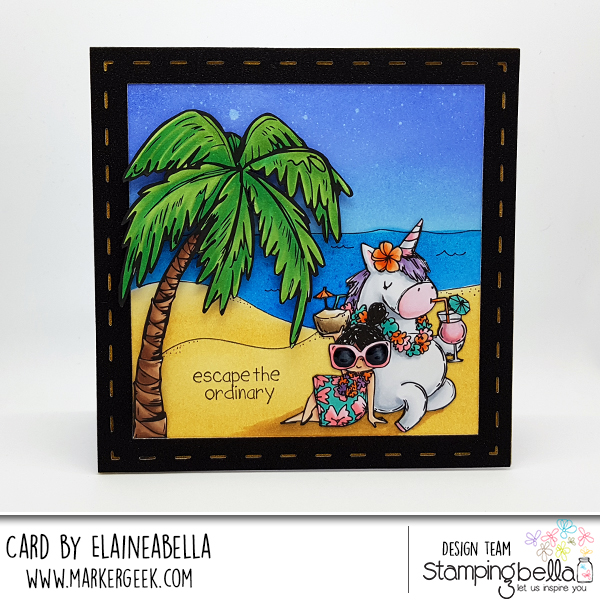 Supplies: Make it Colour Blending Card, Copic Markers* Stamping Bella Beach Backdrop stamp
NOTE: I created the frame around the image using my shiny new toy, which I'll be talking about in a post very soon!
Rosie & Bernie in Hawaii and Rosie's Palm Tree Colouring Video:
I've got a second video for you today, again sharing how I coloured both the Rosie & Bernie stamp and the coordinating backdrop. Watch them come to life in the video below or in HD over on YouTube.
That's all from me for today, I hope you're feeling inspired! Now it's time to…
Visit the Stamping Bella Blog:
For more info and to see all of the stamps being previewed today, along with gorgeous samples from the rest of the design team, make sure you visit the Stamping Bella blog. Comment on the preview posts over there each day this week to be in with a chance of winning something from the new release!
Thanks for stopping by!
I hope you have enjoyed today's post as much as I enjoyed creating it for you. Join me tomorrow for more peeks at the upcoming release.
Don't want to miss out on future posts? Subscribe to my RSS feed in your favourite blog reader or subscribe via email using the form over in the sidebar.
If you want to keep an eye on what I'm colouring on a daily(ish) basis, follow me over on Instagram where I share frequent peeks at the colouring I'm doing along with other day to day snaps. You can also follow my page on Facebook if you'd like to connect over there.
Please note that in order to assist with the running of this blog I do use affiliate links from time to time and there may be some in this post, denoted with a *. Please see my About page for more information.